A place for every weekday
Nights out in Portland for free
Nights out in Portland for free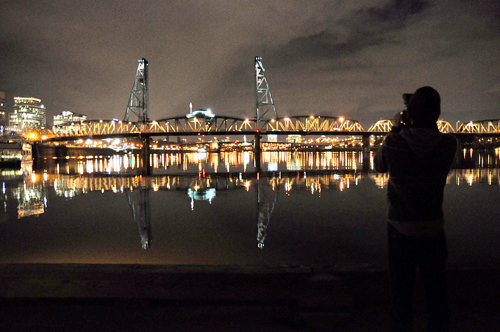 Monday
Start the week off right with Monday Movie Madness at 8:30 p.m. at the fabulous Pix Patisserie, where you can watch Monty Python and the Holy Grail, Top Gun and other such classics. If you answer the weekly trivia question correctly, you get a free macaroon!
Tuesday
On Tuesday night, head over to Powell's Books—the mothership—and wander through the maze of shelves, taking in the delicious fragrance of old and new books. Bring a bag of your old textbooks with you to sell at their Buy Back counter, then take that cash and grab a coffee to go. Head up to Pittock Mansion with someone you love, sit on the benches and take in the beauty of our city between sips of warm brew.
Wednesday
In case you didn't know, Wednesday is "bridge night," and it's not your grandmother's kind of bridge! Fill a thermos with piping hot cocoa (or whatever strikes your fancy), grab a friend and a camera and take pictures of yourselves at each of Portland's eight fantastic bridges with the breathtaking array of city lights as your backdrop. Then, if you're freezing, go out and shake your tail feathers at a free concert (www.concertcoop.com ).
Thursday
Get an injection of fine culture the first Thursday of every month as art galleries downtown and in the Pearl District stay open late and invite the public in for free. There are usually some yummy drinks and eats too. Or you could head over to the Museum of Contemporary Craft, which also has free admission every first Thursday.
Friday
And, finally, what better way to end your week than by watching the latest episode of Portlandia at the Mission McMenamins? Check their website for showtimes.