A night out can get your blood pumping
A night out can get your blood pumping
Yoga
5405 SE Woodward St.
971-570-1384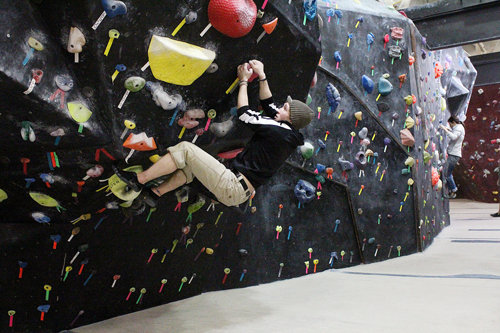 Unwind after a long day at school with a free yoga class offered at Franklin High School. Experience the local, unpretentious, community feel this class offers, with a friendly instructor and an inclusive environment that caters to all experience levels. You won't feel embarrassed if you don't know how to do the Cobra. It's a great way to let your hair down and meet some new friends at the same time. "Siddhasana" and "bhujangasana" your way to a serene, transcendent evening.
Rock climbing
6050 SW Macadam Ave
503-246-5111
410 NE 17th Ave.
503-719-7041
Scale the wall at one of the world's largest rock-climbing gyms, The Circuit Gym, found right here in Portland. With a choice of two locations, it is a fun, social and invigorating way to spend an evening. Grab a friend or two and get ready to flex your muscles as you scale your way to the top. But don't worry—you don't have to be a pro; if you're a little shaky, they have Beginners Night on Saturdays after 5 p.m. At only $10 with a student ID, it's the perfect way to spend a night and get your heart rate up.
Andrea's Cha Cha Club
832 SE Grand Ave.
503-230-1166
If you're itching to put on your dancing shoes and don't know where to go, look no further than Andrea's Cha Cha Club. A hotspot for salsa dancing, this small, intimate club definitely gets hopping, so don't be fooled by the quiet upstairs atmosphere. Once you go downstairs, you'll find that your hips begin to move automatically to the pulsating music. On Thursdays, they have a live band, so head over after 10 p.m., have a couple drinks and then let loose. And if you don't have a partner, there are plenty of eager dancers ready to pull you onto the dance floor.
'80s Video Dance Attack
McMenamins Crystal Ballroom
1332 W Burnside St.
503-225-0047
When you need a little '80s music infusion, Friday nights at the McMenamins Crystal Ballroom is where it's at. The funky Portland landmark, where it's promised that "On any night, anything can happen," is the place to be if you want to get your Running Man on. On Friday nights, you're invited to an '80s Video Dance Attack. With hundreds of classics playing, from Wham! to Pat Benatar, you'll wish you'd worn your neon scrunchies and parachute pants. And all the while, you can dance along with the music videos projected on a huge screen. It'll be too legit to quit!
Jai Ho! Bollywood Bliss Dance Party
McMenamins Crystal Ballroom
1332 W Burnside St.
503-225-0047
Don't deny it; your favorite part of Slumdog Millionaire was when they rolled the credits and the epic dance sequence had you wishing you lived in a Bollywood world. Well, you can—for a night. The McMenamins Crystal Ballroom turns into little India every second Saturday and features incredibly catchy music that will keep you dancing for hours. Going with a group of friends is the best way to do it, and while DJ Prashant fuses old and new-school dance tunes, he'll also give you a some pointers in a workshop beforehand. You won't regret this visit to Portland's own Bollywood.