On the morning of Weds., Oct. 18, Amy Bossard, a southeast Portland resident, was shocked by a message she encountered in front of her neighborhood bar: "We like our beer like our violence: Domestic."
The owner of Area 52 bar in Portland's Brentwood-Darlington (BD) neighborhood did not claim responsibility. He said a "vagrant" with their own chalk must have written the sign.
No matter who wrote it, however, neighbors are outraged.
"As neighbors, we're all trying to create a safe space" said BD resident Stephanie King. "A sign like that…doesn't create a safe space for people in the community or, really, anybody."
Area 52 on SE 52nd Avenue and Bybee Boulevard, unmistakable for its large black-and-white alien mural, frequently advertises live music and food specials on a sandwich-style chalkboard outside the building. It's a small but lively hub on the weekends and most evenings: usually a half dozen people are seen smoking on the front patio while music echoes from inside.
"We positively would never, ever, ever have anything like that on [the chalkboard]," said owner Ryan Goosmann. "I can't believe there would be some vagrant that would do such a thing."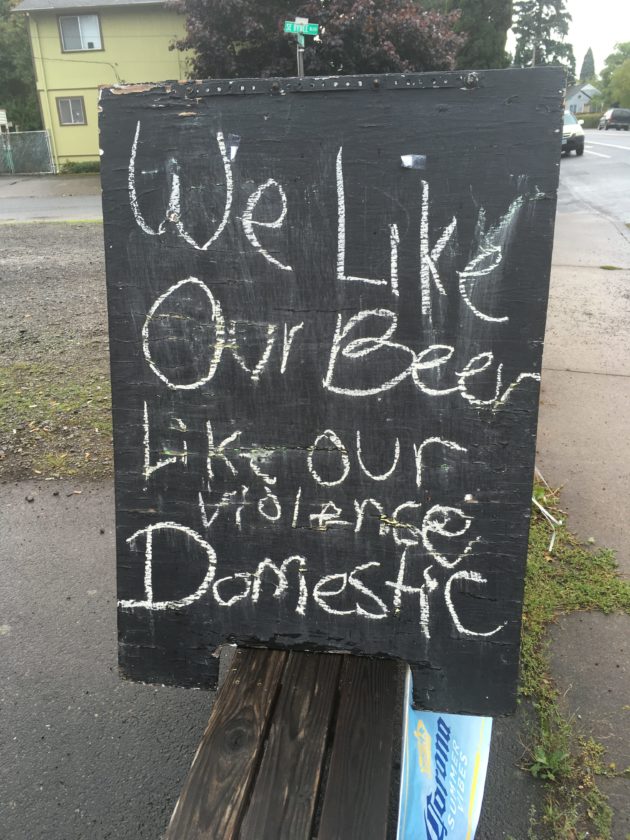 Bar Manager Dorma Williams lives next door to the bar. She closed the business down last night and said someone must have written the message this morning.
"That has nothing to do with us," Williams said. She added that Goosmann, also the owner of Total Quality Construction in Newberg, Ore., does not frequent Area 52 often. Williams said he couldn't possibly be responsible either.
Some locals are skeptical, however. Anthony Schoepfin, son of the owner of Mehri's Cafe and Bakery across the street, said he's not surprised by the sign. Over the summer he saw another "degrading" message on the sandwich board, but he could not remember the details.
"It's definitely their handwriting," Schoepfin said. He added that after Goosmann bought the business a few years ago, he didn't keep regular hours. Area 52 regulars, finding the bar closed, would come to Mehri's to ask, "what is going on with this place?"
Schoepfin said he called Goosmann at his construction business number during that time to ask what the bar's schedule was. "[Goosmann] said 'we open when we want to.'" Schoepfin added, "They're not very nice people."
Goosmann sounded befuddled on the phone with Portland State Vanguard this morning. "What the hell is 'violence domestic'?" Goosmann asked, adding that Williams called him earlier to tell him about the sign. Goosmann said she told him the sign said "Monday night football" as of last night.
"I don't want that kind of publicity for my damn tavern," Goosmann said.
But it won't be Goosmann's tavern for much longer. He is in the process of selling Area 52.
Linda, a BD resident who did not want her last name published until she is the official owner, said she and her husband plan to close on the bar at the end of next month.
The sign "is making me feel sick to my stomach," Linda said. "It's horrifying. And to think that somebody that works there did this? That has me absolutely irate."
Linda can't be sure an employee wrote the sign, but like Schoepfin, she doesn't think the handwriting "looks much different" than usual.
Linda added she thinks Area 52 is "one of the biggest eyesores in the neighborhood." She said she, her husband and her friends have seen a lot of "questionable" customers come to the bar.
Otherwise proud BD residents aren't happy with this incident and the kind of publicity it brings.
"The owner, the manager, and the neighborhood are all on notice and are angry," Bossard wrote on Facebook. "Some, however, are willing to sweep it under the rug so as not to bring any more negative publicity to a neighborhood that we ALL work so hard to make livable."
Brentwood-Darlington has been labelled "Felony Flats" in the past for its proximity to SE 82nd Ave. and its traditionally low-income demographic. The neighborhood's vicinity to the Springwater Corridor Trail has attracted homeless campers and dilapidated vehicles to its public roadways and vacant homes.
Local neighborhood leaders and the neighborhood's new neighborhood watch group, as well as members of the Moose Lodge down the street from Area 52, continue trying to keep BD on a positive trajectory.
"Obviously it's an unfavorable thing that doesn't make our neighborhood look good," said King. "But I think also if we continue to remain silent, it's tacit approval."
Goosmann said he should have security footage from last night, and he will look through it to try to find the perpetrator. Williams thanked the Vanguard "for bringing it to our attention," and promptly erased the board.
Linda said she will be remodeling and repainting Area 52 and changing its name. As a parent and grandparent that lives just a few blocks away, she hopes to attract customers like herself that want to be able to walk somewhere safe and enjoy a drink.
"I don't want to shun anybody away," Linda said, "but I definitely want to clean [the bar] up and make it a place in the neighborhood that people want to hang out [in]."
King looks forward to positive changes coming of this incident. Hopefully, King said, "we can grow a bridge to make a stronger community and go from there."
[Updated 4 p.m.: With additional interview with Area 52's expected new owner Linda]