Aramark and Portland State Housing and Residence Life representatives are looking to improve service for and communication with students.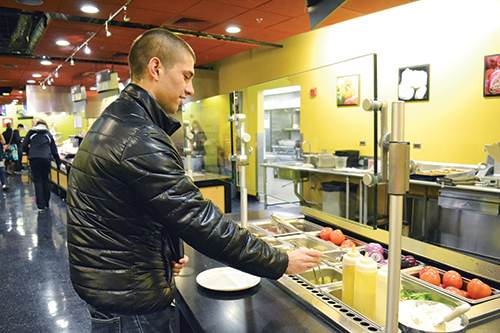 Aramark and Portland State Housing and Residence Life representatives are looking to improve service for and communication with students.
To that end, a food service committee is currently in the works and set to launch at the end of the month.
According to Tim Kellen, food service director for Aramark, the group would bring together students and staff to communicate with the PSU community about current food service news such as updates to prices and menu specials, among other things.
"It's more of an information gathering and information giving [opportunity], [convening] once a month on average," Kellen said. One focus for the committee is renovation projects concerning Viking Food Court in Smith Memorial Student Union, Victor's Dining Hall in Ondine Residence Hall and the Meetro Cafe in King Albert Residence Hall. Renovation projects will involve menu revisions and painting.
Also involved with the committee is Christina Shafer, assistant director of residential education.
Shafer won't officially be on the committee but will focus on communication and feedback with resident students who dine at Victor's.
"I won't be sitting on the committee, but my involvement will be making sure the committee has representation from housing and getting students involved," Shafer said.
Student feedback at Victor's is collected in several ways, including napkin notes, which allow students to provide feedback on napkins, and dining surveys.
Kellen's project of renovating menus aims to make them more student-friendly in terms of pricing while also establishing a broader menu for catered events.
"If [there are] any renovation projects, we need to know what they're looking for in dining services," Kellen said. "That's what the committee is for…to give somebody a place to vent or ask if something can be done."
According to Shafer, students will be directly recruited for the committee.
Kellen believes having a group of students and faculty will help accomplish his goals for the renovation projects while improving overall communication.
"It's just a better way of communicating with everybody," he said.
Shafer hopes the committee will help students express themselves better when they're unsatisfied.
"A lot of times, people who are unsatisfied feel like they don't have a voice and don't know how to utilize that [dissatisfaction]," she said.
Irina Alonso, a senior social science major, is concerned about how the committee intends to grow and where financing will come from. "I would love to hear what they have to offer at a hearing," she said.
Kellen believes the food committee's timing is good for helping with the design of the physical and menu overhaul.
"We've done a little bit of painting, but I think we need to do more than paint the walls every summer," he said.
Kellen was motivated to start the committee because he has managed several similar groups at other schools during his career.
"You get the involvement from everybody, and it's not just Aramark making the decisions," Kellen said. "We're not here as a corporation, we're here as PSU Dining, to make it successful for PSU."
Shafer decided to represent the committee in order to help first-year students care about their food.
"It's in their best interest[s] because they're eating there," Shafer said. "Most students are coming from their parents' homes, where they've not done their [own] cooking, traditionally."