Or, how I learned to stop worrying and explore my city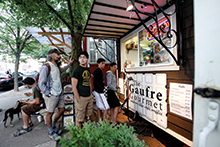 So you're new here. That's cool. Welcome.
At this point, you may be unfamiliar with all the amenities that Portland has to offer. It's cool, friend; I got your back.
Here's what to do around campus when you're not studying or getting a bum to buy you beer.
Alder Food Cart Pod
Southwest 10th Avenue and
Alder Street
Director Park
Southwest Ninth Avenue and Yamhill Street
Transit: Streetcar to Southwest 10th Avenue and Alder Street
You may have heard from somewhere that Portland has a lot of food carts. This is true. You may also hear that certain pods are better than others. That part is wildly subjective. So allow me, your guide, to toss my hat in the ring.
The Alder pod is over an entire block of carts. Among them are some of the highest rated carts around—Frying Scotsman fish and chips, Eat This! flatbread sandwiches, El Cubo de Cuba Cuban food, Addy's Sandwich Bar, Gaufre Gourmet and
many more.
After grabbing your food, skip O'Bryant Square to the north and walk the extra block to Director Park. It's cleaner and cooler, and you won't be ogled by ne'er-do-wells.
Ground Kontrol
511 NW Couch St.
Transit: MAX Yellow or Green Line to Northwest Fifth Avenue and Davis Street
If you're from anywhere else, Ground Kontrol is that place to which you take people who are from wherever it is that you used to live. When they leave, all it takes is a suggestive shrug to get them super jealous.
Ground Kontrol is a "classic arcade" with a full bar and food menu after 5 p.m. Minors are welcome from noon to 5 p.m. It's an arcade straight out of Tron, and it has the games to back it up—from either Tron era. Its selection of pinball games is the largest in the entire Northwest, and they have great DJs six nights a week.
The Roxy
1121 SW Stark St.
Transit: Streetcar to Southwest 10th Avenue and Stark Street
Wherever the night may take you, there's one place where scads of late-nighters end up, and it's the Roxy. Open 24 hours (but closed Mondays), this downtown staple has been slinging greasy spoon fare for close to 20 years, and how lucky that one of Portland's only non-Denny's 24-hour eateries is so close to campus.
If you're going to do partying right, make sure you close out the night with a huge plate of grub. Writer's choice: the Siegfried & Roy—a plate of fries smothered with cheese and your choice of gravy.
Jimmy Mak's
221 NW 10th Ave.
Transit: Streetcar to NW 10th Avenue and Couch Street
If you prefer your evenings devoid of arcade games and flashing lights, look no further than Jimmy Mak's, Portland's oldest jazz club. The space is very intimate, has wonderful acoustics, and is perfect for dates if you're looking to impress.
Every night features a different act, with weekdays usually featuring club residents. I personally recommend Tuesdays or Thursdays, when Mel Brown takes the stage with his septet and B3 organ trio,
respectively. Just remember to dress up—this ain't no Portland dive, Jack.
Santería/Mary's Club
703 SW Ankeny St.
Transit: MAX Yellow or Green Line to SW Pine Street
Truth be told, there's nothing we Portlanders love more than strip clubs. Don't bother asking around, the numbers are there—Portland has more strip clubs per capita than any other city in the U.S. And if there's one thing we love more than strip clubs, it's strip clubs with amazing Mexican food.
If the Roxy isn't quite your speed, then pop on over to Santería for some of the best Mexican food in the city. Here's the unifying catch: Santería's bathroom is shared with Mary's Club, Portland's oldest strip joint. Talk about a one-stop shop!