The Hawthorne Theatre is louder than usual; I'm close to the stage as mosh pits erupt behind me, though I'm too busy to gauge the size of the crowd. Chief Keef is onstage and only a few feet away, which is something I never thought I would see since my move to the West Coast.
Whether you like his music or not, the fact that most—if not all—charting hip-hop songs contain elements that reflect his influence on today's music. The heavy bass sound is unique to drill music, the subgenre of rap that Chief Keef and Young Chop created in a basement on the South Side of Chicago more than eight years ago.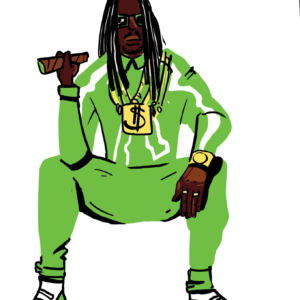 At face value, Chief Keef, also referred to as Sosa, has changed the entire rap industry with his straightforward lyrical content, carefree attitude and lack of regard for those who get in the way of his success. This is how Chief Keef, born Keith Cozart, cultivated such a loyal fan base, while simultaneously rubbing the music industry the wrong way with his work.
The first time I heard Chief Keef was back in Chicago in 2010; my brother initially played a popular song of his called "Bang." His simplistic, yet incredibly grim and honest lyrical content was unheard of at the time, and with these new ad-libs—similar to scatting in jazz—controversy quickly arose among the older hip-hop fanbase.
For better or worse, songs filled with ad-libs have become the norm in modern rap; take a look at the Billboard Hot 100 and see for yourself.
In the same way that Lil Uzi Vert does, "mumble rap," or rap minimalism, Chief Keef still takes this undeserved scrutiny years later. The key difference between drill music and rap minimalism is how dark and violent the content is in drill music.
I understand the arguments against this trend in modern hip-hop; some concepts should be straightforward. I see it as a matter of perspective, though. Take Keef's "Trust My Gun," with spiteful lines like "I don't trust no one but my gun." One could interpret some of his lyrical content as simple bragging and bolstering, but I see his lyrics as a reflection of society. I see this braggadocio as a proclamation of "making it" after struggling for his entire life—not simply unjustified gloating.
Some would say this is a perfectly acceptable critique of the subgenres, but Chief Keef has a lot to say about his life experience; Keef survived a gunshot by police in Chicago and had multiple attempts on his life as recently as June.
If rap music reflects the artist's environment, he has worked incredibly hard and come a long way from surviving a rough neighborhood. Chief Keef has the life experience and is one of the most influential artists of our generation. There is no denying his significance to mainstream music culture.