When Joe Cohn, legislative and policy director of the Foundation for Individual Rights in Education, brought his dialogue concerning free speech on college campuses to Portland State on March 18, the civil rights attorney focused on two central points.
Firstly, Cohn wants students to know that the right to free speech applies in full force on public university and college campuses. Students at public institutions of higher education have fully vested First Amendment and other constitutional rights.
For his second point, Cohn focused on the importance of being able to speak your mind and hear others speak theirs.
The driving engine of advancement
"Free speech has been the driving engine that has led to virtually every advancement in civil rights—from women's suffrage to desegregation—in our country's history, every single one," Cohn said. "The importance of free speech to a democratic society can't be overstated. If you don't vigorously defend freedom of speech on the college campus, we will condition future generations to accept that censorship is normal, routine, and that maybe it is even desirable."

Watch highlights from Joe Cohn's lecture on free speech issues in higher education. Video by Dylan Gansen/PSU Vanguard
The group Cohn represents, FIRE, is a nonprofit watchdog organization based in Philadelphia that works on civil liberty issues such as free speech and due process on American college and university campuses.
Cohn spoke for a half-hour beginning at 7 p.m. inside PSU's Native American Community Center and engaged the audience of 35 students, faculty and guests in questions and dialogue for about an additional hour afterward. The event was hosted by secular humanist groups Freethinkers of PSU and Center for Inquiry, Portland.
Troubling trends
In his speech, Cohn described what he sees as troubling trends in censorship on campuses nationwide and the potential dangers that could follow.
"People have a hard time imagining that if censorship becomes normalized, how it could be turned against them," Cohn said. "They perceive they aren't the ones who are in trouble. Then it seems like a great idea, but you aren't always going to be the one who is in charge."
Censorship manifests, according to Cohn, in campaigns to have speakers disinvited from college campuses, the refusal to allow unfavorable voices to be heard, and "the mistaken belief that we have a right to not be offended and that the right must be enforced on college campuses."
The last few years have seen speakers like Condoleeza Rice, Madeleine Albright, ex-Muslim human rights activist Ayaan Hirsi Ali, IMF head Christine Lagarde, and comedian Bill Maher, among others, all subject to these campaigns with mixed degrees of success.
PSU philosophy professor Peter Boghossian introduced Cohn's discussion with a statement regarding the zeitgeist of critical thought in society at large.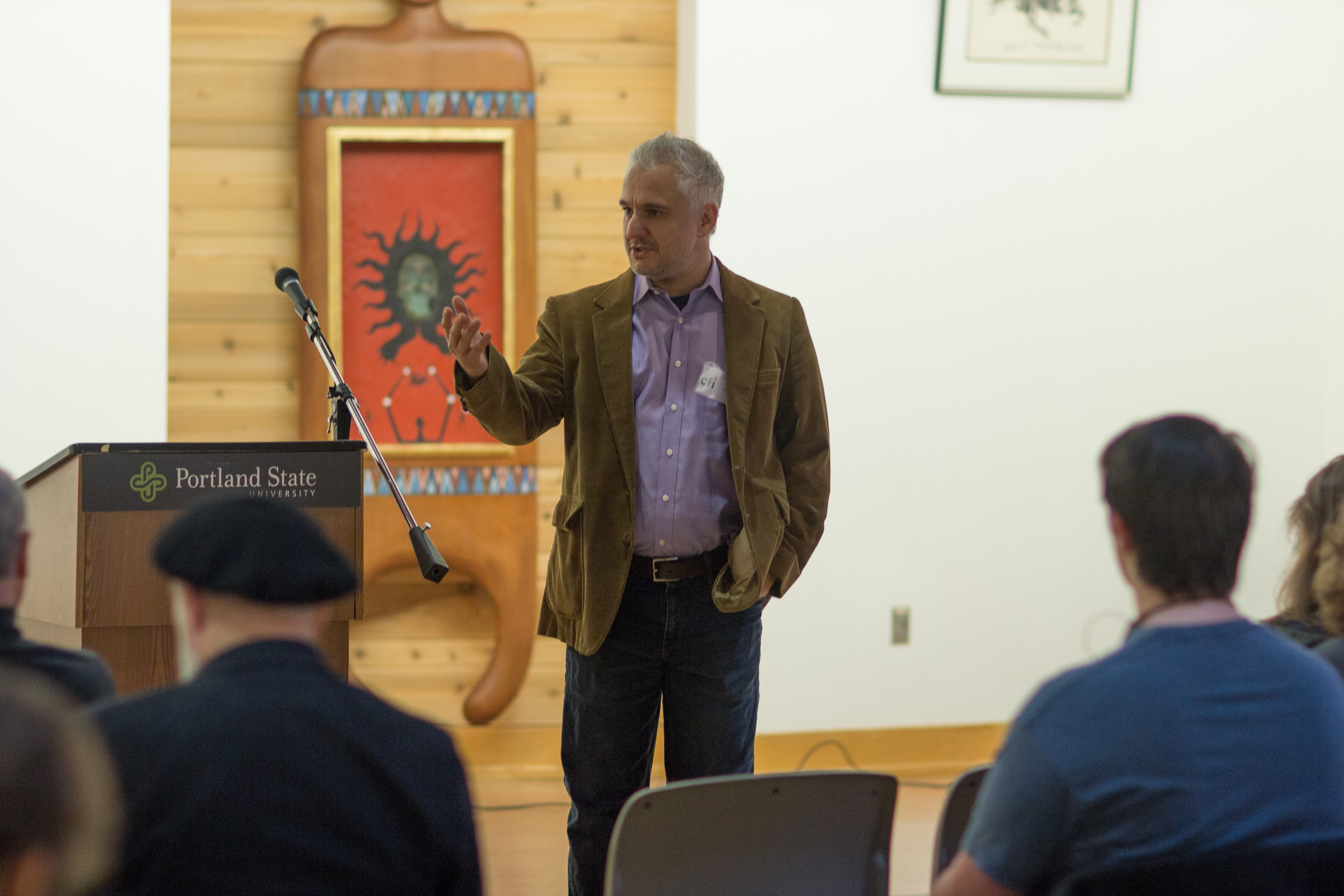 "People are brandishing free speech issues as some kind of far right, neo-conservative concept, which is just factually incorrect," Boghossian said. "It's absolutely, unequivocally untrue."
Cohn attributed the phenomenon to issues lamented in FIRE resident Greg Lukianoff's 2015 Atlantic article, "The coddling of the American mind," co-authored by NYU professor Jonathan Haidt.
"Lukianoff's article offers two assertions," Cohn said. "First, there is a movement taking place for making colleges safe places where students are shielded from words or ideas that could make some of them uncomfortable. The second is that this movement poses a real and significant danger to the scholarship and quality of education obtained at American universities."
Cohn cited incidents of protest demanding trigger warnings before assigned readings of F. Scott Fitzgerald's The Great Gatsby and Chinua Achebe's Things Fall Apart. He spoke of seemingly innocuous computer usage policies and schools requiring applicants to surrender access to their social media accounts.
Playing the game of self-censorship
Khalid Alshaikh, an attendee who earned his B.A. in political science from PSU in 2016, agreed with Cohn's views on the challenges of censorship in higher education.
"It's funny because university is supposed to be a melting pot of views," Alshaikh said. "I censored myself in class because I learned early on that if you write something the professor disagrees with, you get a bad grade. So you go along; you play the game."
PSU student Blake Horner asked, "How should students defend themselves from censorship by faculty in the classroom?"
In his response, Cohn cited an incident at a university this year in which a student blew the whistle on a professor's long, off-topic political rant when the subject was not germain to the course. Cohn also explained such issues have to be handled on a case by case basis. For example, in the humanities, a wide range of interpretations make the course insightful. On the other hand, when politics aren't related to course material, students shouldn't be graded differently because of their opinions.
Cohn closed with an appeal to student action.
"Now is a really important time to engage your administration critically about censorship and talk about ways that they can earn a green light from us [FIRE]," Cohn said. "FIRE is always available to work with the universities, and we need students to stand up and say that's the kind of university they want to go to."
PSU is presently not rated in the FIRE database of college rankings.
Disclosure Notice: Vanguard Multimedia Editor, Andy Ngo, is a member of Freethinkers of PSU and helped organize the FIRE event. Though Ngo did not participate in coverage of the event, we are disclosing this for the sake of transparency.