A devastating, 10,000 acre wildfire burns fierce in the Columbia River Gorge, sweeping up old-growth forest and decimating prime, natural areas. The blaze has displaced hundreds from their homes and is spreading quickly as winds pick up and temperatures remain in the upper 90s.
The fire reportedly started on Saturday, Sept. 2 by teenagers throwing fireworks into Eagle Creek Canyon near Punch Bowl Falls, one of the Gorge's most trafficked hikes. While it stayed within an area of around 3,000 acres over the weekend, the fire ballooned to more than 10,000 acres Tuesday morning.
The rapid growth prompted a level 3 evacuation notice for a massive, inhabited area around the burn zone, including Larch Mountain, Corbett, and Warrendale. All locals of those areas are now displaced as the fire remains uncontained.
The Red Cross set up a disaster relief shelter at Mt. Hood Community College where displaced people can congregate. "We had 20 people staying in the shelter overnight," said Monique Dugaw, regional director of communications for American Red Cross. "And [there were] another thirty or so that were camping in personal vehicles."
ARC workers are providing food, water, and emotional support to folks who had to leave their homes in the wake of the fire. One victim, Shelley Benfield of Corbett, said she was awake all night as flames approached.
"I was evacuated at 3:30 [in the morning]. There was so much ash, just like when Mt. St. Helens blew. I just started grabbing some stuff thinking, 'they're probably going to evacuate us,' and [then] I saw the search and rescue people coming."
Benfield grabbed her cat and a few clothing items, packed them into her camper, and fled. She wound up in the parking lot of Mt. Hood Community College where she waits for news updates.
Twenty miles west of the blaze, ash rains down and smoke sits thick all around the city of Portland. The smoke is so heavy that the skyline is hardly visible from just a few miles away, so thick that the National Weather Service issued an Air Quality Alert.
"Wildfires burning in the region combined with forecast conditions will cause air quality to reach unhealthy levels at times through Friday morning," NWS wrote in a statement. "Pollutants in smoke can cause burning eyes, runny nose, aggravate heart and lung diseases, and aggravate other serious health problems."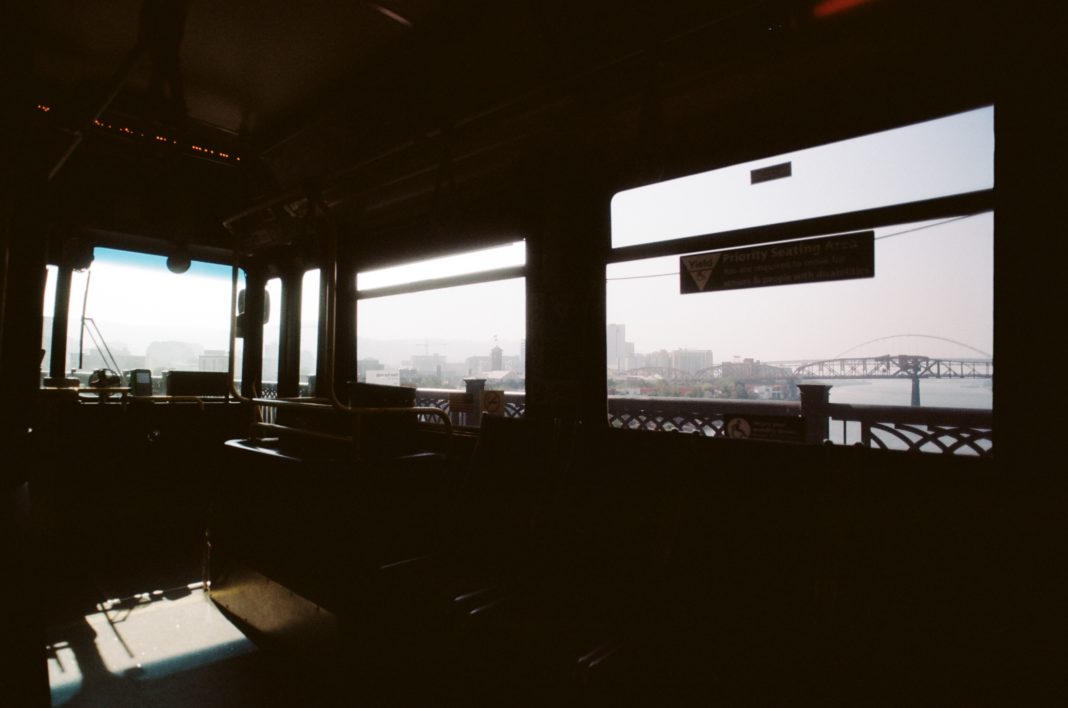 While some cover their faces with masks being handed out by doctors' offices, others are seeking refuge on public transit, like Patricia, a Portlander and mother of two. "I've never seen it like this in the city," she said. "I couldn't breath this morning, I was coughing so bad."
Temperatures are expected to drop in the coming week with a slight chance of rain on Thursday. But for now, the fire remains unconfined and continues to spread.