There's a bounty of wonderful things that a student can get from the free Harvest Share and Food Pantry here on campus. But what can you do with all that food before it rots in your fridge and pantry? Well, you can turn those victuals into one scrumptious fucking sandwich, that's what! So grab your free foodstuffs and make something awesome.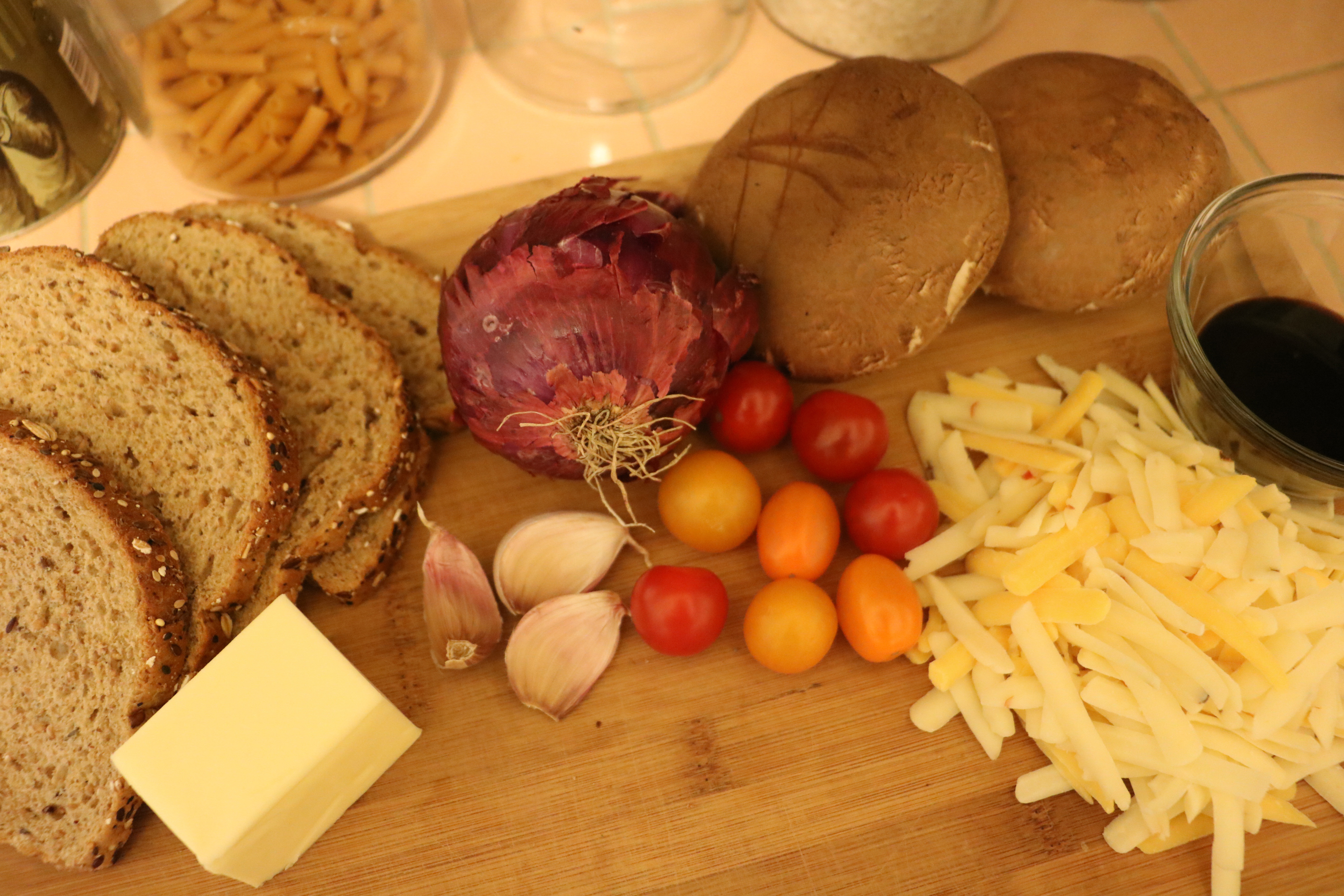 —4 slices of hearty, whole grain bread
—4–6 cherry tomatoes, split
—1 large portobello mushroom or 3 small portobellos, sliced
—½ of a red onion, thinly sliced
—1 tablespoon of balsamic vinegar
—½ stick of unsalted butter
—2 cloves of garlic, minced
—½ cup of shredded pepper jack cheese
—2 tablespoons of olive oil
—Salt and pepper to taste
1. In a medium-sized skillet, heat one tablespoon of olive oil over medium heat. When you start to see the oil ripple, place the sliced red onion in the skillet and toss. Cook the onions, stirring occasionally until they turn golden. Season with salt and pepper, then place the cooked onions in a bowl and set aside.
2. Toss the cherry tomatoes and sliced mushrooms in the balsamic vinegar. In the same skillet you cooked the onions in, heat the other tablespoon of olive oil and then add the tomatoes and mushrooms into the pan. Cook over medium heat until the tomatoes and mushrooms soften. Season with salt and pepper, then pour the mushroom mixture into the bowl of cooked onions, toss and set aside for later.
3. In a small saucepan, melt the butter and minced garlic together. Once melted, set aside and let cool for approximately five minutes.
4. Heat a large skillet or griddle over medium-high heat. Take the four slices of bread and brush each piece of bread with the garlic-butter mixture. Flip the slices over and evenly spread half of the cheese on two of the slices. On those same two slices of bread, place the mushroom mixture and then top with the rest of the cheese. Top with the other two slices.
5. Place the sandwiches on the griddle. Flip after two minutes and cook until the bread is golden brown and the cheese is melted. Remove from the griddle, cut the sandwich on the diagonal, and serve on your favorite plate. Enjoy!