Portland State hosted a panel of six students from different religious backgrounds titled "Unpacking Misconceptions" on Wednesday, April 26, 2017 in the basement of Smith Memorial Student Union. A Muslim student who organized the interfaith event and spoke on the panel said he intended it to be an opportunity to convene with people from diverse religious backgrounds, humanize these varying perspectives and educate one another through mutual understanding.
"On a daily basis you interact with people of different religions," the event organizer said.* "You say hi to them, but instead of asking those people about their religions and beliefs, we rely on the media to teach us about what these people we work with believe. The interfaith event was designed to be a place to share, not debate, personal beliefs with others from different backgrounds. People have misconceptions about what other people believe, and this event was intended to be a productive place to unpack those ideas with fellow students."
The student organizer made several remarks while on the panel, though a specific comment in response to an audience question has been widely shared on social media and later criticized by far-right media outlet Breitbart.
In spite of outside misconception, faiths unite against killing
During a question and answer portion of the event, the event organizer responded to a question.
A Christian member of the audience asked the organizer to clarify a specific part of the Quran that states killing an innocent person is like killing all of humanity. The audience member wanted to know how the organizer, a Muslim, would respond to rumors that this message refers to Muslims killing Muslims and that non-Muslims, "I suppose the term would be infidels," were not included in the innocents mentioned.
"So, I can confidently tell you, when the Quran says an innocent life, it means an innocent life, regardless of the faith, the race, like, whatever you can think about as a characteristic," the organizer stated. "And some, this, that you're referring to, killing non-Muslims, that is only considered a crime when the country's law, the country is based on Quranic law—that means there is no other law than the Quran. In that case, you're given the liberty to leave the country, you can go in a different country, I'm not gonna sugarcoat it. So you can on a different country, but in a Muslim country, in a country based on the Quranic laws, disbelieving, or being an infidel, is not allowed so you will be given the choice."
The organizer looked to a Muslim audience member for clarification, who went up to the stage.
"About the part where [you] do not befriend Christians and in Muslim countries I've come to believe that is allowed, to have different faiths," the audience member asserted.
He referenced an agreement between the founder of the Muslim Nation of Medina and Jewish people to work together in the event of an attack.
He went on to speak of the massacres of ISIS, a group he said he believes is not Muslim. "You have to look at why are there Christians in Syria and Egypt and these countries in the Levant region that have been under Muslim rule for the last thousand five hundred, four hundred, years," he said.  "It's because non-Muslims were allowed to live there, so it's perfectly okay for non-Muslims to live in Muslim lands and…it's absolutely not allowed to harm them or anything like that."
The panel's Christian representative, Risto Rushford also responded to a question about a second-choice religion.
"I look for wisdom wherever I can find it," Rushford said. "Sometimes I find it reading things that were written from an existential humanist, sometimes I find it from people who come from a Muslim background or from a Hindu background. I have discovered great insights from Muhammad Yunus; he wrote a book called Banker to the Poor."
Widely shared video clip leaves out event context
A video clip featuring only a portion of the organizer's quote that addressed the Quranic law about non-believers or infidels being "given a choice" has been shared on Twitter and Facebook without the preceding and following context. This comment from the organizer, widely shared out of context was met with significant criticism by audience members who accessed it through social media and right-leaning media outlets.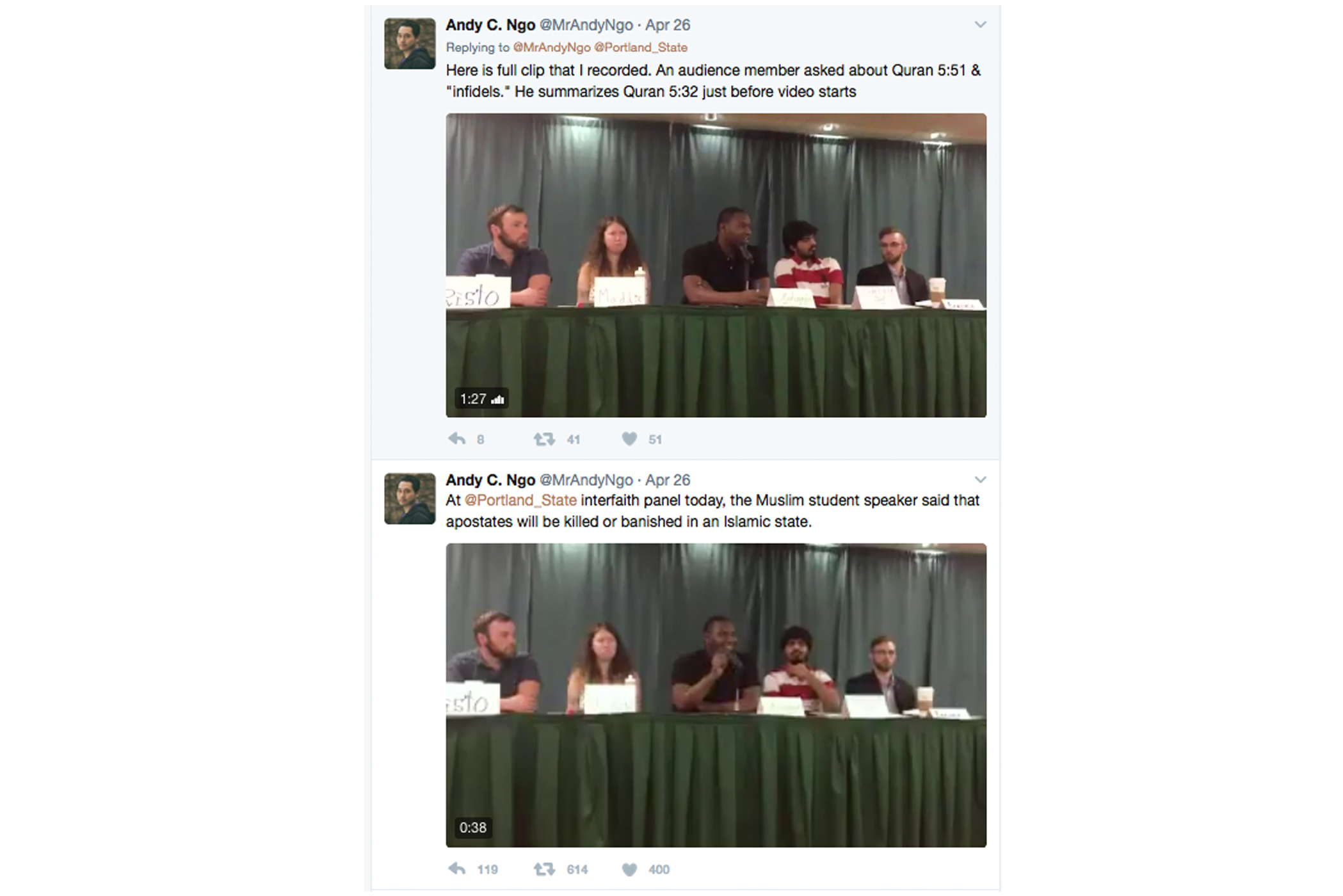 Another panelist, Benjamin Ramey, the representative secular humanist, also of Freethinkers, replied to the original tweet.
"As one of the panelists present at this event I would like to say that this speech is not taken out of context," Ramey tweeted.
PSU Assistant Professor of Philosophy Peter Boghossian contributed to the Twitter conversation as well.
"The same people who want to punch 'Nazis' are completely silent when it comes to certain people advocating mass murder," Boghossian wrote.
Event organizer responds
The event organizer responded to this controversy by stating he had a feeling he may have misspoke and sought clarification from the audience member, as seen in a second video from the event.
He noted that when the event began, one integral agreement about the panel was the understanding that none of the panelists are experts.
"I thought I would feel proud after putting something like this together," the event organizer said while shaking his head. "Not feel like this."
He expressed concern for his safety and for how the misinterpretation and misrepresentation could affect his family and community.
The general tone of the event itself was very different from the critical response to the shared video clip.
Jill Townley, associate director of the International Student Life Team at PSU, has worked with international students for the last 20 years. Townley moderated the Interfaith event and was excited about the safe place it provided for religious students.
"[Religious] international students feel compartmentalized and not authentic," Townley said. "[The interfaith event allowed students] to talk about spiritual beliefs in a safe place which is really beneficial. They can differ in a respectful way."
*As a result of the controversy surrounding portions of this event, the student asked that his name be omitted in the interest of safety
Editor's Note: The video clip mentioned in this article was originally shared on the personal social media accounts of a former editor and contributor to the Vanguard who is no longer working for the organization. While these clips were not produced or distributed by the Vanguard, the organization and its members have a responsibility to uphold ethical standards on all fronts. 
It is our assessment that this video clip was published and shared without context in a way that placed a PSU student in significant danger. As members of the PSU community, we are compelled to protect and support this student and urge readers to consider the explanatory nature of these comments and recognize the event's intent to foster inclusion and understanding. What could have been a dialogue of mutual understanding became a source of pain and fear for some of those involved.
The Vanguard is committed to minimizing harm and providing context that takes special care not to misrepresent or oversimplify in promoting, previewing or summarizing a story, as per the Society of Professional Journalists Code of Ethics.  
Markedly biased media outlets have featured the event organizer's comments without necessary context. The Vanguard does not endorse, condone or support the way this student was represented by said media outlets. We vehemently reject any association with this type of dangerous misrepresentation.