A starter list of cultural mainstays on or near campus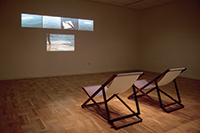 Portland hosts a variety of arts and cultural events throughout the year, and many of them thrive in the campus and downtown areas. Whether you prefer a night of music or fine arts, film or live performance, the city has plenty to offer across the entertainment spectrum.
Many of the nearest venues also offer special rates and accommodations for attending students: Be sure to check with vendors and websites before purchasing tickets. Here's a starter list for incoming students looking to fill their days and nights with high-minded diversion.
While this list is far from exhaustive, these options will give any incoming student a taste of what makes Portland a standout city.
Portland Art Museum
1219 SW Park Ave.
Located just north of Portland State's campus in Portland's Cultural District, the Portland Art Museum exhibits a breadth of artworks from across the world. Exhibits both historical and contemporary are
displayed in its many galleries, and the museum hosts an array of special programs throughout the year.
Be on the lookout for the museum's annual "Shine a Light" event this fall, a collaborative effort with PSU's Art and Social Practice program that features a variety of exhibitions, games and drinks throughout the evening.
Lincoln Hall
1620 SW Park Ave.
Currently the home of PSU's departments of music, theater and fine and performing arts, Lincoln Hall boasts several state-of-the-art stages and performance chambers. Look for a variety of performances during the year, including theater, dance and music produced both by students and by performers of international acclaim.
PSU campus galleries
All across campus, several galleries host a variety of art exhibits, including the work of students and regionally renowned artists.
At the Smith Memorial Student Union, the student-operated Littman and White Galleries show contemporary art from emerging artists working in the region.
Nearby, Neuberger Hall features the faculty-run Autzen Gallery. The university's Art Building, located on Fifth Avenue, features two galleries—the MK and the AB Lobby Galleries—showing curated programming on the building's first and second floors.
The Old Church
1422 SW 11th Ave.
Tucked against the western fringe of campus, the Old Church is a
historical building renovated and converted into a concert and event hall. The venue presents all sorts of performances, including classical ensembles and folk bands. In addition, the Old Church offers a free Sack Lunch Concert every Wednesday at noon.
5th Avenue Cinema
510 SW Hall St.
Portland State's own theater sits on the southern edge of campus beside Ondine Hall. This student-run cinema provides all sorts of viewing experiences for university students, staff and the general public. The cinema screens everything from old masterworks to cult hits, all shown in a non-digital film format. Selected films show all weekend, every weekend, with free popcorn provided at every screening experience.
As a non-profit entity, the cinema offers unbeatable rates for the general viewing public. Students and staff get in for free with their university ID, so keep an eye on their ongoing weekly schedule.
Northwest Film Center
934 SW Salmon St.
The Portland Art Museum's Northwest Film Center offers an alternative to the standard, Hollywood-heavy viewing experience. Every weekend, the film center shows a selection of foreign, art and/or vintage films at the Whitsell Auditorium in the downtown Cultural District. They also feature special exhibitions and events, such as juried film festivals and films with live scoring.