The goal of college is to find a sense of direction and purpose. After you think you have that, you have to find a general field of study you can focus your effort on and work toward getting a precious degree. A degree in what? That's the big question.
WHAT THE TECH?!
We get it: Tech is popular. The internet bubble burst a long time ago, but the tech universe seems to be expanding all the time. As such, it seems there will never be a shortage of jobs for computer science majors. The Atlantic published a top ten list of what degrees from which colleges have the highest return on investment and, to no one's surprise, all ten degrees were computer science.  
The career stats database Payscale estimates computer science majors earn a median salary of $81,984 annually, which is indeed a lot of dollars. It might even make Portland seem like an affordable city to live in.
Besides, once the world is taken over by robots you might be able to communicate with them. After you establish a baseline of communication you might be able to barter with them in order to see the 20th season of Game of Thrones.
Spoiler alert: In this season Doc builds a time machine to go back to the first episode when life seemed so simple. However, the show will probably be directed and produced by robots, and either the robots will be fascinated by pre-robot times or will ban all entertainment devoid of positive images of robots to make sure their human subordinates hold positive views of their robot masters. If that's the case, the only reruns allowed will be Futurama and The Jetsons.
For those of you under 25, The Jetsons was a zany television cartoon in color. The show was about the Jetson family who lived in space. They had a maid who was a delightful older lady-bot who was very helpful but also sad and frustrated.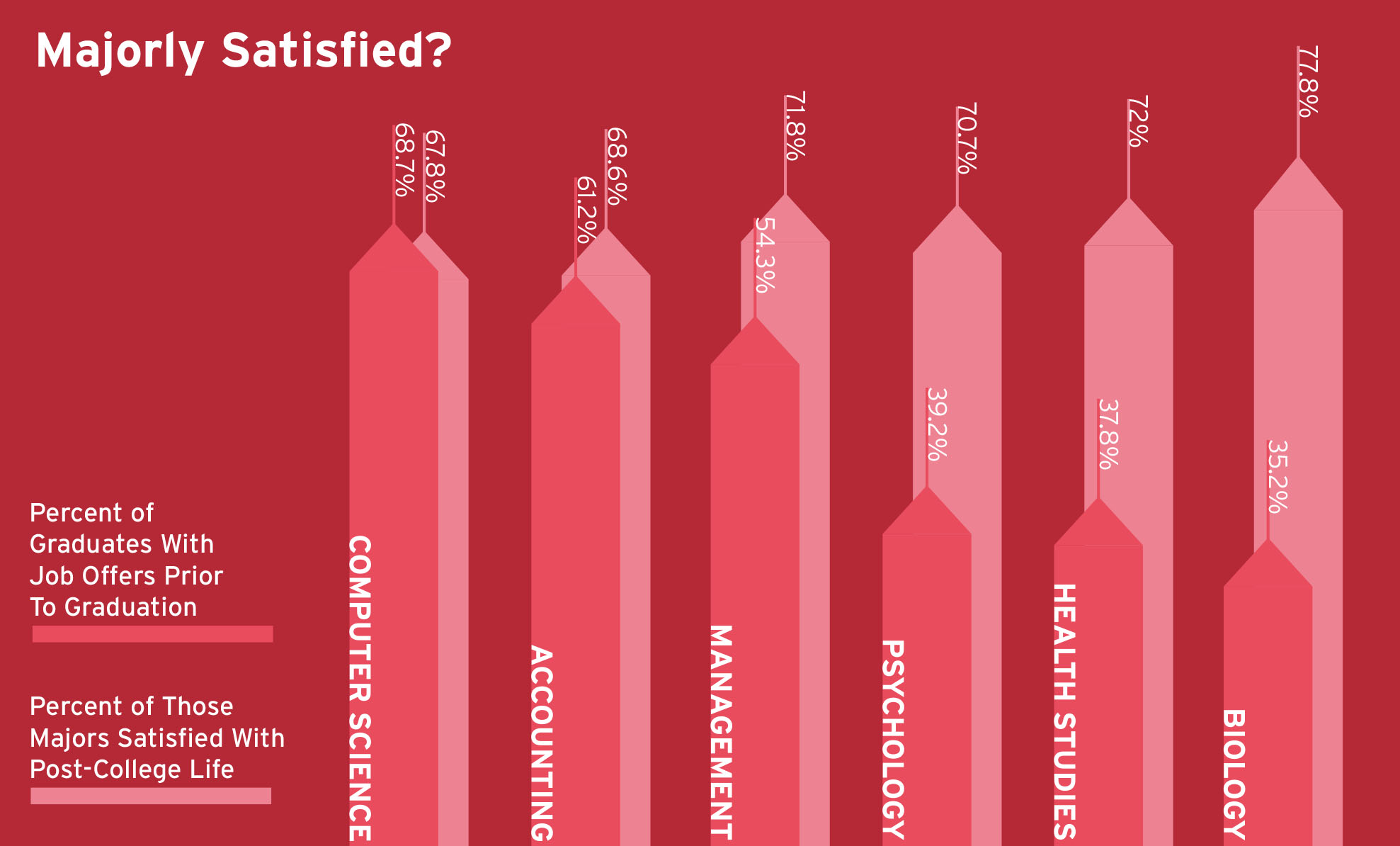 Most popular majors have high job placement rates
PSU reported that Management, Psychology, Health Studies, Biology and Accounting were the five most popular majors for undergraduate students. All five of these fields of study also had high job placement rates.
Forbes showed all five degrees had a high percentage of graduates with job offers before graduating; other sources went on to show those degrees also leave graduates feeling pretty satisfied with their decisions.
Percent of graduates with job offers prior to graduation
Computer Science 68.7 percent
Accounting 61.2 percent

Management (Business Administration) 54.3 percent

Psychology 39.2 percent

Health Studies 37.8 percent

Biology 35.2 percent
Percent of those majors satisfied with post-college life
Biology 77.8 percent

Management (Business Administration) 71.8 percent

Psychology 70.7 percent

Accounting 68.6 percent

Computer Science 67.8 percent
You can always change your major
While you do have to decide what classes to take, you can change your major later. Four years ago The Atlantic reported only 27 percent of graduates have jobs related to their majors. This should relieve some stress, because it allows you the flexibility of being in college and figuring things out.
Greg Flores is the associate director of Career Services at PSU, and he had a couple interesting pieces of advice. He was hesitant to recommend a major but said if you base your entire decision-making on pay, then you should probably just go be a petroleum engineer on an oil rig. It's dangerous, it's a lot of work, but it pays well.
He also said Advising and Career Services hosts a variety of tests and advisers available to help students who are unsure about what they want to do to narrow it down a little bit.
"Students should be actively engaged in the process of figuring these things out," Flores said. "Figuring out what makes students excited and navigating how those interests fit into the job market."
One of my favorite suggestions was to figure out who does the work you think you would be interested in doing and go talk to a couple of people in that field to make sure that the practical application is as interesting as you thought it would be.
Pursue the things you care about
Students interested in public service can go into public policy, healthcare, education, psychology or criminal justice and feel very satisfied by those occupations. Those who like crunching numbers could consider accounting.
Other people just really love comic books, and here at PSU you can get a Comics Studies degree. Still other people would be offended that there is no degree for graphic novels.
"Follow your bliss." Yes, I also hate that, but it's true. You have to pursue things that make you happy. You have to live a satisfying life. At the end of your life you want to be able to say, "Fuck yeah," I got that degree in Computer Science but was also fascinated by politics, so I got minors in Communications and Political Science, and at age 70 I brokered the peace deal that gave humans the same rights as robots in modern society. I can die a happy person. Or whatever. It doesn't matter to me what you do, but it should matter to you.
Everything you do in life shapes who you are, even if some of those things are things you wish you hadn't done. So if you're a philosophy major and you have an existential crisis during your last term and decide that you would rather work at the zoo feeding exotic critters, that's totally fine.
Take your time, and find out the things you like and the challenges you like to problem-solve. Life is flexible. Degrees are useful even if you work outside your major. Enjoy your time at college and enjoy exploring your interests. Go check out some of the awesome clubs on campus to see what type of stuff is enjoyable for you.
Resources at PSU
PSU is happy you're here. No, really, I can speak for them: I was at a Board of Trustees meeting and they really care about enrollment rates, so they definitely prefer you come to this college as opposed to others.
PSU has a lot of resources to help make your college experience as meaningful and useful as possible. If you want some help with a sense of direction, go talk to the fine folks at Advising and Career Services in room 402 of the University Services Building at the corner of SW 6th and Montgomery. They have drop-in hours from 1–3 p.m., Tuesday, Wednesday and Thursday during summer, and Monday–Friday once the fall term starts. Go see them. They want to help and they want to follow up with you to make sure your explorations are productive and helpful.
Additionally, say hi to random people on campus and see what they do: Maybe they're doing something you might find interesting.