While walking his dog at around 11 p.m. on Saturday, Dec. 16, Allen Mottard, a resident of the Park Plaza Apartments near Portland State campus found three recruitment flyers from the Neo-Nazi group Patriot Front.
Mottard said he found two flyers on nearby car windshields and one on a park bench outside Park Plaza's front door near SW Park Ave. and College St. Mottard shredded two of the flyers, and used the third to pick up his dog's excrement.
"My initial reaction was confusion and shock," Mottard said in an email. "Am I really seeing Nazi propaganda outside my home?"
"Personally, being a gay man of color in Portland, I'm deeply offended by the attempts to spread this ideology," emailed Portland resident Jeremy Alva, who also saw the flyers first-hand. "The friends I've discussed this with are both not surprised that these flyers were making the rounds, and also furious at the audacity of it."
According to the Southern Poverty Law Center, Patriot Front is an offshoot of the white supremacist group Vanguard America. VA was involved in the August 2017 "Unite the Right" rally in Charlottesville, Va., which turned deadly when alleged VA member James Alex Fields drove his car into a crowd of counter-protesters, killing 32-year-old Heather Heyer. Fields is charged with first-degree murder for Heyer's death.
The SPLC says Patriot Front was founded by 18-year-old Texan Thomas Rousseau in late August as "a spinoff group dedicated to bringing white nationalists together under an activist banner."
Rousseau was photographed marching at the "Unite the Right" rally alongside Fields.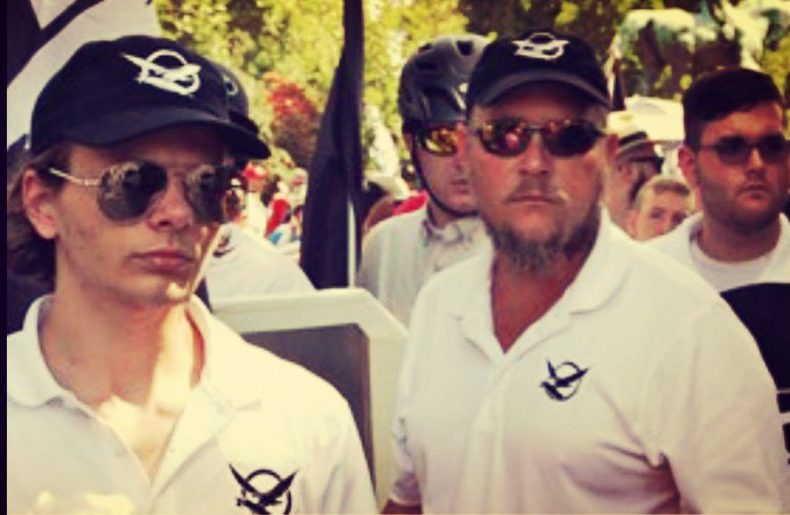 More Patriot Front propaganda flyers showed up in Tacoma, Wash. this fall. Twitter user @georgetownmike reported seeing Patriot Front flyers in Seattle, Wash. on Dec. 2.
Trinity University's Trinitonian reported finding flyers on the San Antonio, Texas campus on Dec. 6. School administrators sent a campus-wide email condemning PF's use of hate speech.
The bottom of the PF flyers found last night lists the group's website bloodandsoil.org. VA marchers chanted, "Blood and Soil," during the Charlottesville march on Aug. 12.

The flyer also displays an eagle gripping a hammer and sickle in its talons alongside the words, "Not Here, Not Ever."
Marxist ideology, like the imagery included on Patriot Front's flyer, is already unpopular among right-wing activists: local far-right protest group Patriot Prayer has led or participated in anti-Marxist marches since this summer.
Patriot Front's own Twitter account reports having recently participated in an anti-immigration rally in Southern California. A photo in the tweet shows activists carrying a banner that says "Deport them all. America is our birthright."
Other white supremacist groups have been spotted in the Portland area before. The region's Identity Evropa branch, previously coordinated by ex-recruiter Jake Von Ott, has been entangled in right-wing marches all year. Local skinheads have also appeared in the Portland area.
Von Ott said he is continuing to stay out of alt-right activism and knows nothing about Patriot Front.
"Portland's deeply racist history deserves to stay in the past where it belongs, and anyone trying to reignite this sort of hate will be met with fierce and fast opposition," Alva continued. "We won't have it now, and not ever."
White supremacist expert and former PSU professor Randall Blazak told Vanguard that Portland Community College and Clark College have also been receiving flyers similar to those found last night.
"It's really nothing new," Blazak said in an email. "There's always been an effort to recruit college students in an attempt to legitimize the movement as attracting "quality" white people instead of stereotypical rednecks. It's like spam."
Blazak continued, "Their view is that schools like PSU are loaded with white students who are 'sick of multiculturalism' and are on the 'front lines of the liberal war' on straight white male hegemony. They think they can get some white kids who think it's unfair that there is a Back Student Union and not a white one. And they probably can."
Blazak, along with the Oregon Coalition Against Hate Crime, wants to document the recruitment as much as possible, either by collecting actual flyers or photos of the flyers.
---
[Updated Dec. 17, 3:30 p.m. with Blazak response.]
This story is developing. Check back for ongoing coverage. Please email [email protected].com with tips.