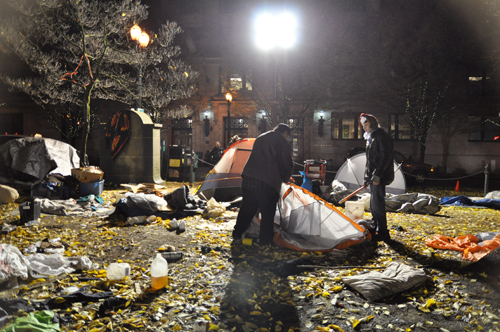 Some occupiers packed up and left, others anticipated arrest and planned to stay past midnight.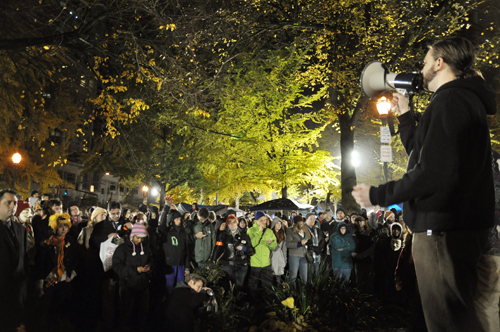 In Lownsdale Square, hundreds of supporters came to general assembly to speak about further actions to take.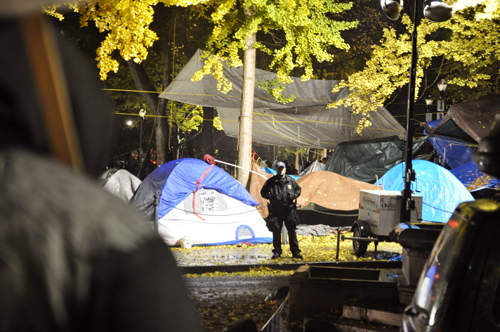 All around and in the parks policeman stayed posted.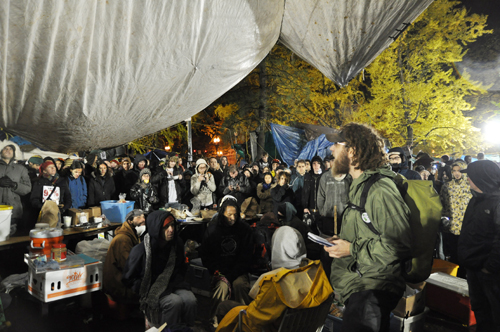 General assembly moved to Chapman square to get out of the rain and continue discussion.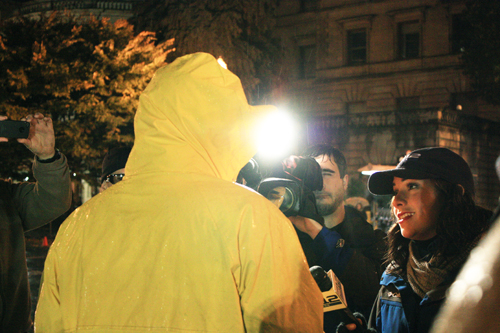 Every news station was at the demonstration. Here, Fox News interviews a supporter.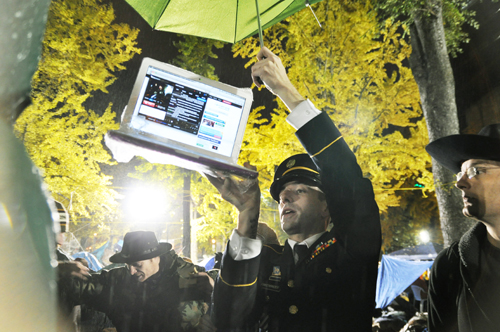 Over 30 Seattle Occupiers travelled down to Portland in solidarity and streamed the entire night live through someone's webcam.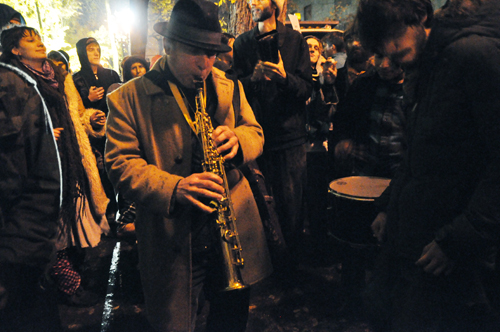 All around the two parks people played music and danced.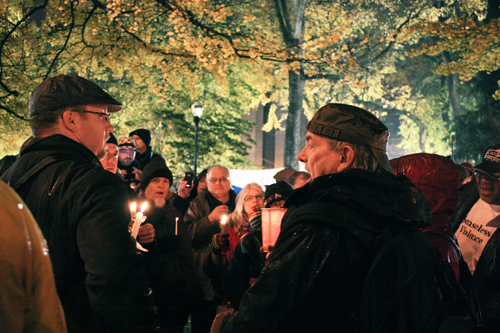 Quakers in solidarity with the Occupy Movement lit candles and sang, "This little light of mine."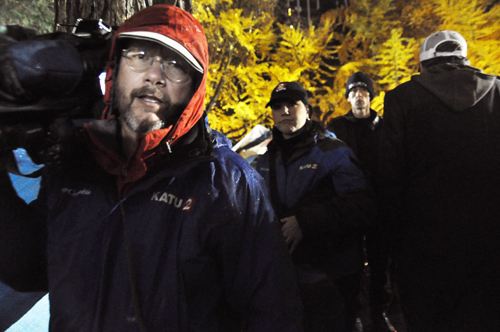 News stations covering then demonstration were escorted and protected by security and police officers.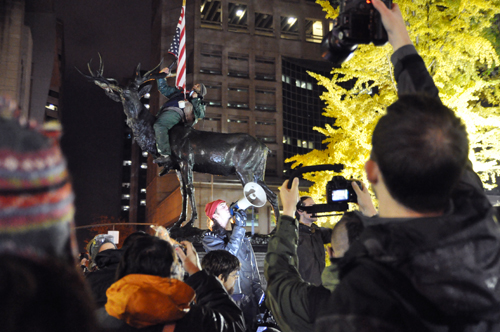 Rallies were formed all around within the three parks.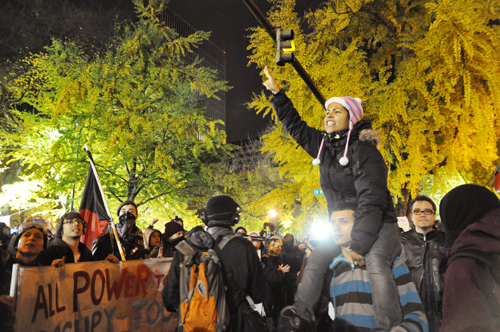 Excited participators yelling, "Who's streets?! Our streets!"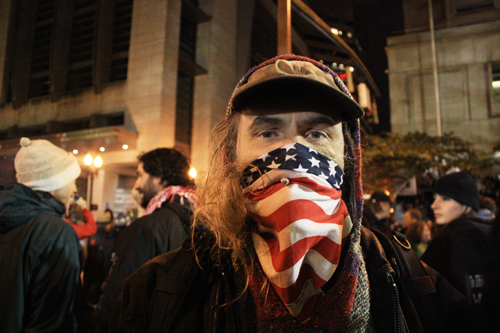 Supporters came prepared with bandanas soaked in vinegar, scarves, gas masks, and goggles in case of tear gas.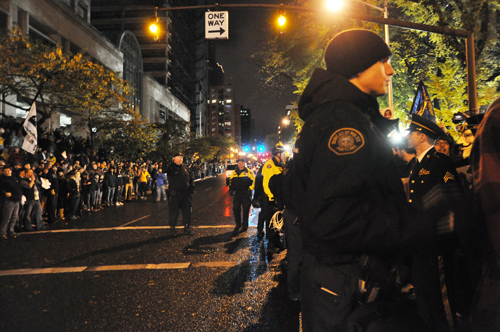 Thousands of people lined the streets and filled the justice center, and were monitored by the police to make sure they did not step out into the street.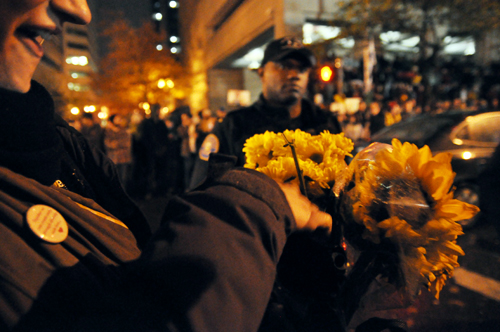 Flowers were passed out to police officers as well as protestors.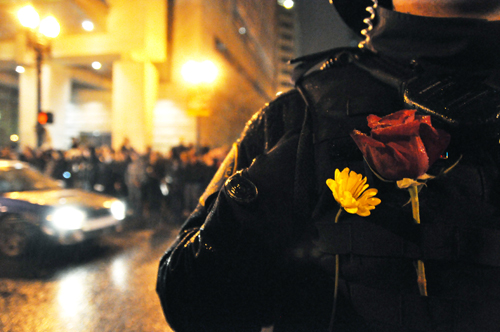 A police officer said he was given a flower and rose after being told he looked scary, so he wore them on his suit.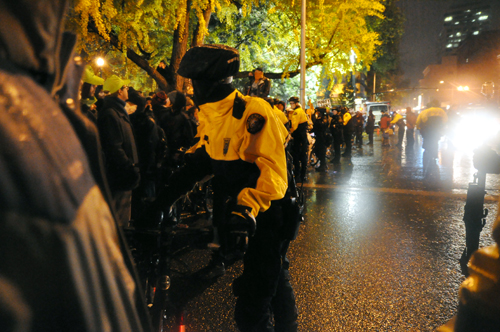 The police used their bikes to create a fence in attempt to keep people on the sidewalk.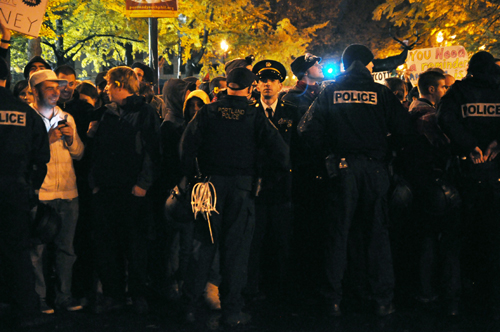 A former marine traveled down from Occupy Seattle and stood in the front of the line to help keep the line intact.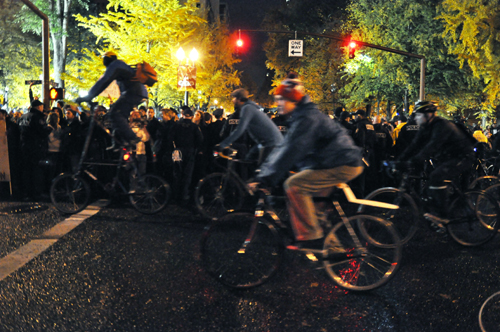 A group of bicyclists, all a part of the demonstration, rode around the block over and over again.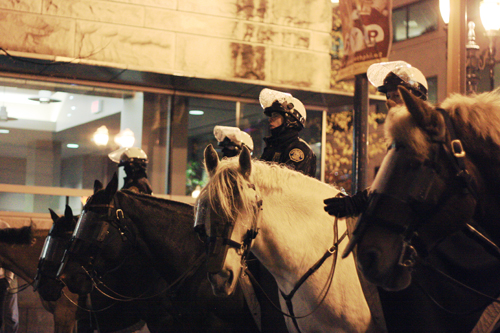 Riot officers stay prepared on horses.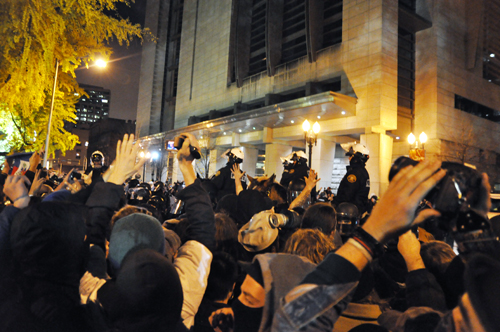 The police put on their riot gear, began pushing, and riot officers on horses attempted to plow through the crowd. A couple people were pepper sprayed and hit with a baton.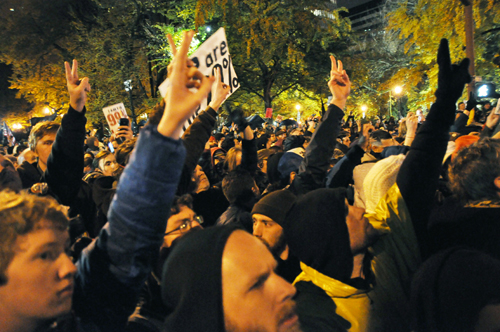 In response to the police, people took photos, threw their hands up, held up peace signs and yelled that they are not pushing back because this is a peaceful protest!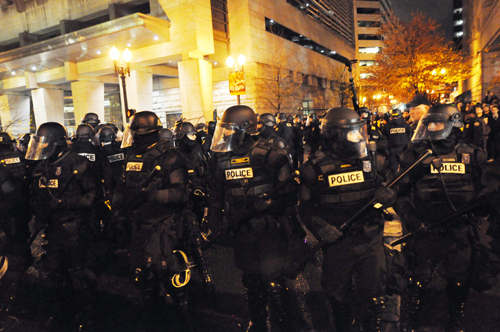 Riot officers lined up.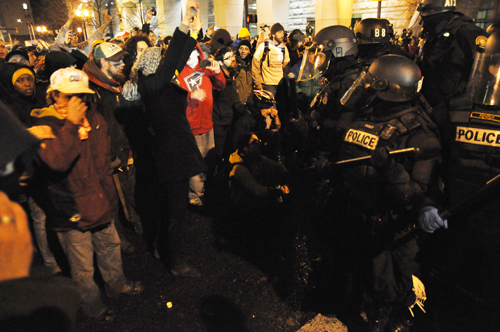 Face to face with riot officers, demonstrators tried to remain the length of an officer.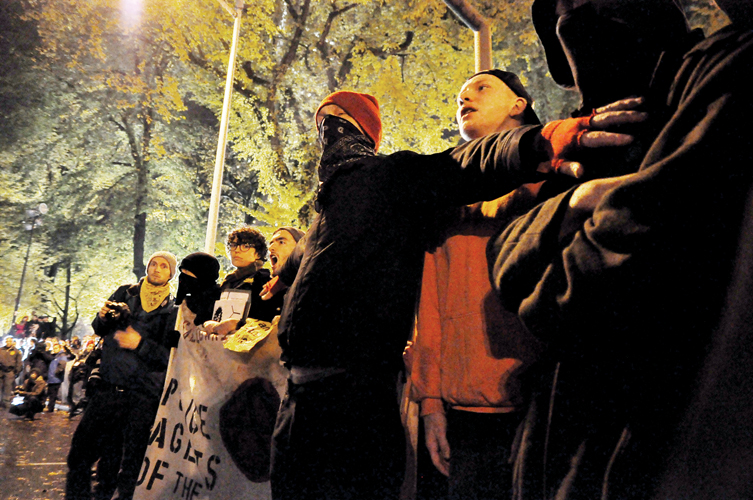 Protestors worked to maintain the line in order to not overwhelm the officers.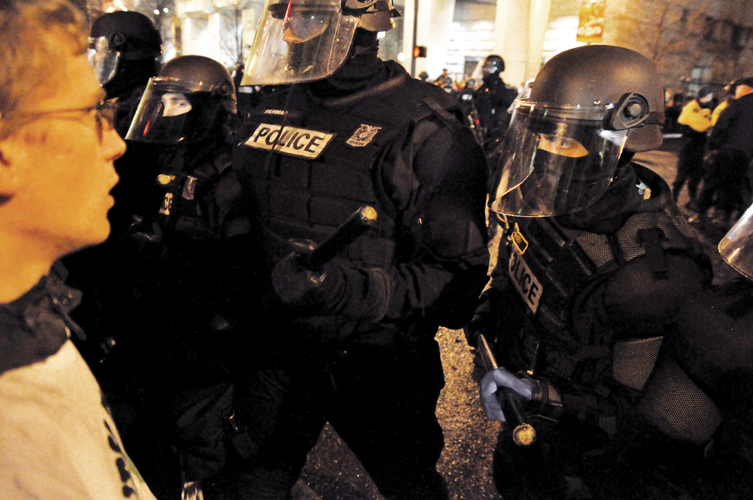 Riot police stood their ground.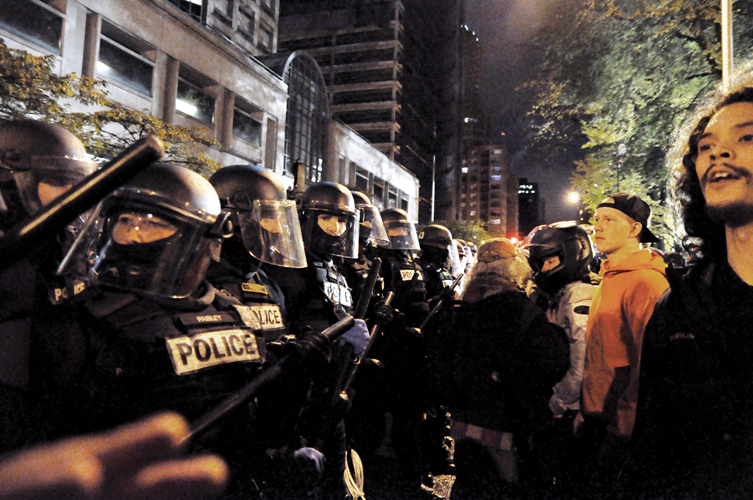 Protestors continued to speak to the police saying they are the 99% as well.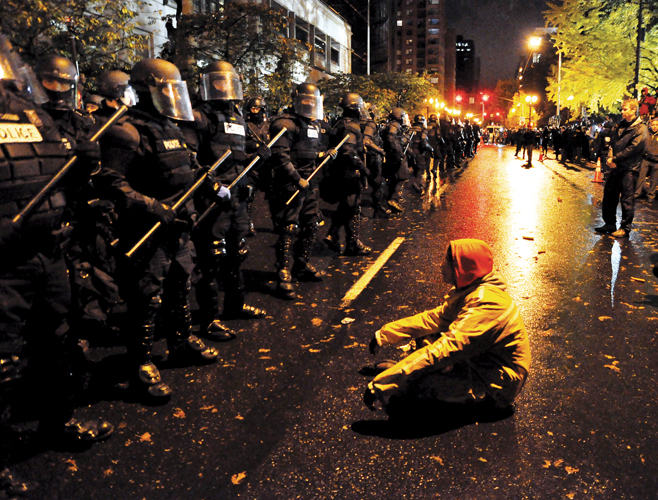 Many supporters sat down in front of the riot police.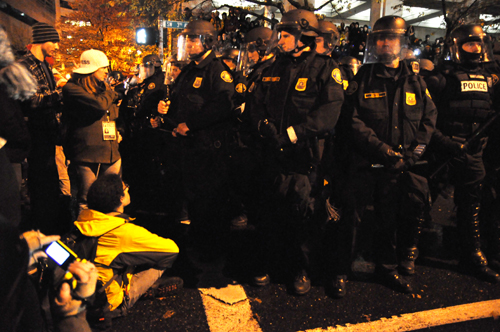 After hours of standing face to face, around 6:30 AM police officers decided to leave.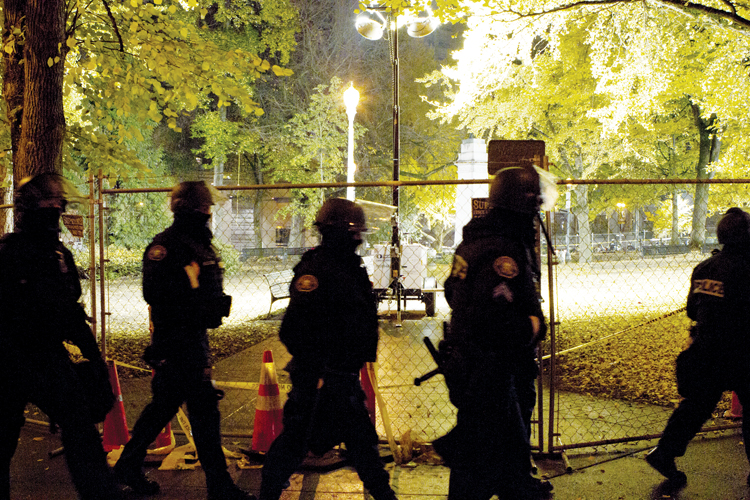 Officers outside of the fenced off park the next day.