Oregon's higher ed leaders ponder change
Major reforms to Oregon's higher education model are under discussion and the outcomes will affect students, faculty and administration.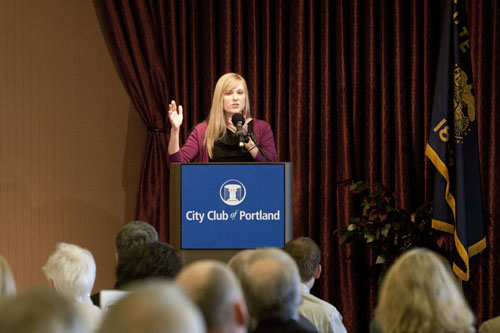 Major reforms to Oregon's higher education model are under discussion and the outcomes will affect students, faculty and administration.
On Friday, the recently appointed Chancellor of the Oregon University System (OUS), Dr. Melody Rose, along with three other leaders, discussed issues now facing Oregon's educators at the Portland City Club's Friday Forum at the Governor Hotel.
"Education is a crisis, and for the first time, adults are less educated than their parents," Rose said.
Oregon Governor John Kitzhaber has put together a plan to address many of the problems he sees.
His 40-40-20 plan, which aims to increase the number of Oregonians completing education beyond high school, has specific goals: By the year 2025, 40 percent of Oregonians will have completed a bachelor's degree or higher, 40 percent will have completed their associate's degree or another certificate and the remaining 20 percent will have their high school diplomas.
Rose pointed out that there are several other obstacles that students face while trying to complete their education.
"Today, the average student is poorer, borrowing more, and working harder," said Rose, noting that student loan debt is now outpacing credit card debt. That these factors have caused the normal length of college completion to stretch from four years to five and a half, she said.
"The key is that we need to get more students through faster," Rose said. "We have to start doing things differently to get better outcomes. Our system should reflect reality."
Among many options, Rose suggested an increase in the integration of online and hybrid classes as well dual credit for proficiency which would allow students to get some of their college work completed while in high school.
Ben Cannon, Kitzhaber's education adviser, also spoke Friday about how to best prepare to meet goals set by 40-40-20.
Cannon said two structural changes being discussed in legislature could go hand in hand toward achieving those goals.
Senate Bill 270 seeks to establish institutional boards at University of Oregon, Portland State and possibly Oregon Health and Science University.
"The institutional boards create more local autonomy and greater opportunity for student involvement and ownership at a campus specific level," Cannon said..
Senate Bill 242 would allow for the creation a single state board called the Higher Education Coordinating Commission that would serve as the connection between all of Oregon's universities and community colleges. This board would "ensure a holistic approach and a heavy student focus," Cannon said.
Emily McLain, executive director of the Oregon Student Association (OSA), spoke at the forum and shared that the OSA does not support of the creation of institutional boards, but * did hold some support for the creation of a statewide department.
"A statewide system is better and does not result as often in universities having to compete for resources," said McLain, highlighting that only major universities were interested in the institutional board idea. "Don't let big institutions get all of the attention."
While McLain generally supports the idea of a statewide system like the Higher Education Coordinating Commission, she expressed concern for the shrinking number of student representatives.
"Currently there are two students on board, now with the new proposal, there would be only one," McLain said.
Fellow speaker Heather Conroy, the executive director of the Service Employees International Union, also had some issues with the representation on the proposed board. Because most of the money for higher education comes from public funds, the public not only deserves a voice, but "we want one," she said.
Both McLain and Conroy agreed that the OUS doesn't need the decentralization that would come from creating institutional boards.
"Decentralization equals more money for administration," Conroy said.
Conroy also noted that while the ratio of administration to students has been rising, the ratio of faculty to students has been decreasing.
The proposals, explained Conroy, "are less about streamlining and more about shielding the decision makers."
Another worry is the ever-rising cost of tuition, McLain said. While she was relieved to hear that there has been a yearly 5 percent increase cap put on tuition, there is still not enough being done. In 15 years, tuition costs will double after an annual 5 percent increase.
Students themselves had a few suggestions, McLain added. Keeping tuition affordable and increasing both student and faculty seats were the most popular suggestions, she said.
"Sixty-eight percent of students graduate with debt and the average student loan payment is $250 a month, which for many is half the price of their rent," McLain said. "The main issues are debt and affordability."