Vangourd history: Old Portland does Halloween
There's no doubt about it: Portland loves Halloween. Despite the gloomy October weather, when the week of the 31st rolls around, there's never any shortage of ways to celebrate the spooky season. Between music, parties, performances and even a costume contest for pugs, Portland Halloween has something for every taste.
Portland State Vanguard explored the archives of the City of Portland, The Oregonian, Portland State, and the Oregon Historical Society Research Library to showcase the Vanport region's Halloween history.
More tricks than treats
In early Portland, pranks and mayhem were the names of the Halloween game. One 1910 Oregonian article describes "rowdyism" ranging from the relatively innocuous (false alarms called in to the fire department) to the life-threatening (a streetcar track blocked by a metal beam). The mayhem caused by these pranks was so disruptive that it occasionally had to be formally addressed by the mayor of Portland. In a 1907 letter from then-Mayor of Portland Harry Lane, a citizen complained about the annoyance of messenger boys blowing horns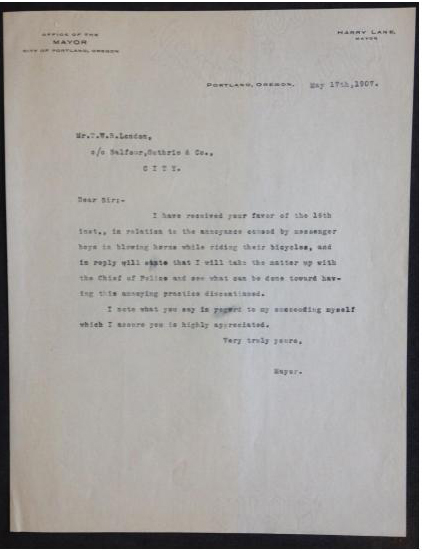 Parties and celebrations
Fortunately for the police, firefighters and streetcar operators, Halloween wasn't all pranks. Between bouts of mischief-making, Portland found time for some good, clean, spooky fun. Publicly-sponsored Halloween parties were one way kids kept busy for the holiday while adults could occupy themselves in other ways. Here's a flyer for a Halloween carnival sponsored by the Portland Communist Party in conjunction with the Portland section of the Young Communist League.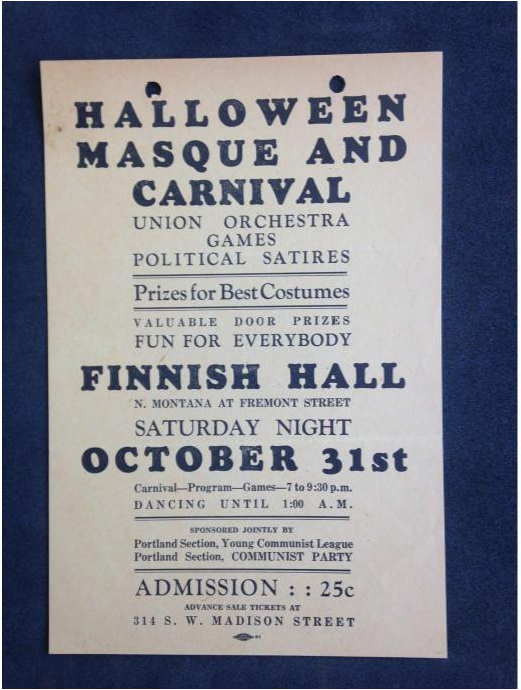 Halloween at Portland State
Vanguard archives offer a glimpse at how student life at PSU has changed, evolved and in some cases remained the same over the years. Halloween festivities are no exception.
A 1986 clipping (top right) announces the third annual Halloween show by drag performer and local celebrity Darcelle XV. Darcelle (b. Walter Cole, 1930) is the proprietor of the Darcelle XV Showplace in Northwest Portland and is known as the world's oldest drag performer.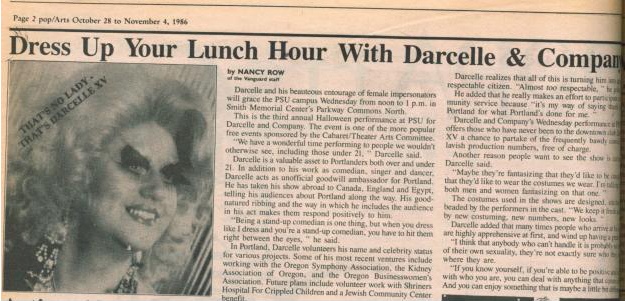 Of course, student celebrations weren't just limited to the daylight hours. A clipping from the Halloween 1991 issue of Vanguard (bottom) features an event at Portland nightclub Satyricon, known as the longest-running punk venue in the western United States. Over the course of its 24 years of operation, Satyricon, which opened in 1983 and officially closed in October 2010, featured a long list of well-known alternative bands including Nirvana, Green Day, Oasis, Pearl Jam, and Sleater-Kinney.