Dr. Jill Stein wasn't present at a planned campaign event last Sunday, Oct. 23. Master of Ceremonies and KBOO-FM host Theresa Mitchell gave us the news about halfway in: the Green Party candidate for president had to fly home at the last minute due to severe illness. According to Mitchell, Stein's throat was "so constricted, she [couldn't] even Skype it in."
Stein's stand-in keynote speaker, campaign manager and 2004 Green Party presidential candidate David Cobb, apologized for "being the understudy" while reminding the audience that "Jill Stein is, let us acknowledge, only human."

Video feature of the event.
The Vanguard spoke to several attendees throughout the event, and many in attendance agreed that the movement outweighs the person. As fellow progressive Bernie Sanders often said, "It's not about me: it's about us."
Joe Rowe, candidate for the 44th Congressional District (North Portland) asked us to worry less about voting for him specifically and worry more about opposing "corporate Democrat" Tina Kotek.
Speakers and attendees alike shared a passion for politics and "the possibility of another world." Eric Navickas, Pacific Green Party of Oregon candidate for U.S. Senate, delivered a speech on the destructive character of capitalism and the potential of a socialist democracy, a sentiment echoed by representatives from Socialist Alternative and Portland State University's International Socialist Organization.
Another PSU organization, Students United for Nonviolence, was represented by a three-person "peace team" advocating peaceful conflict resolution.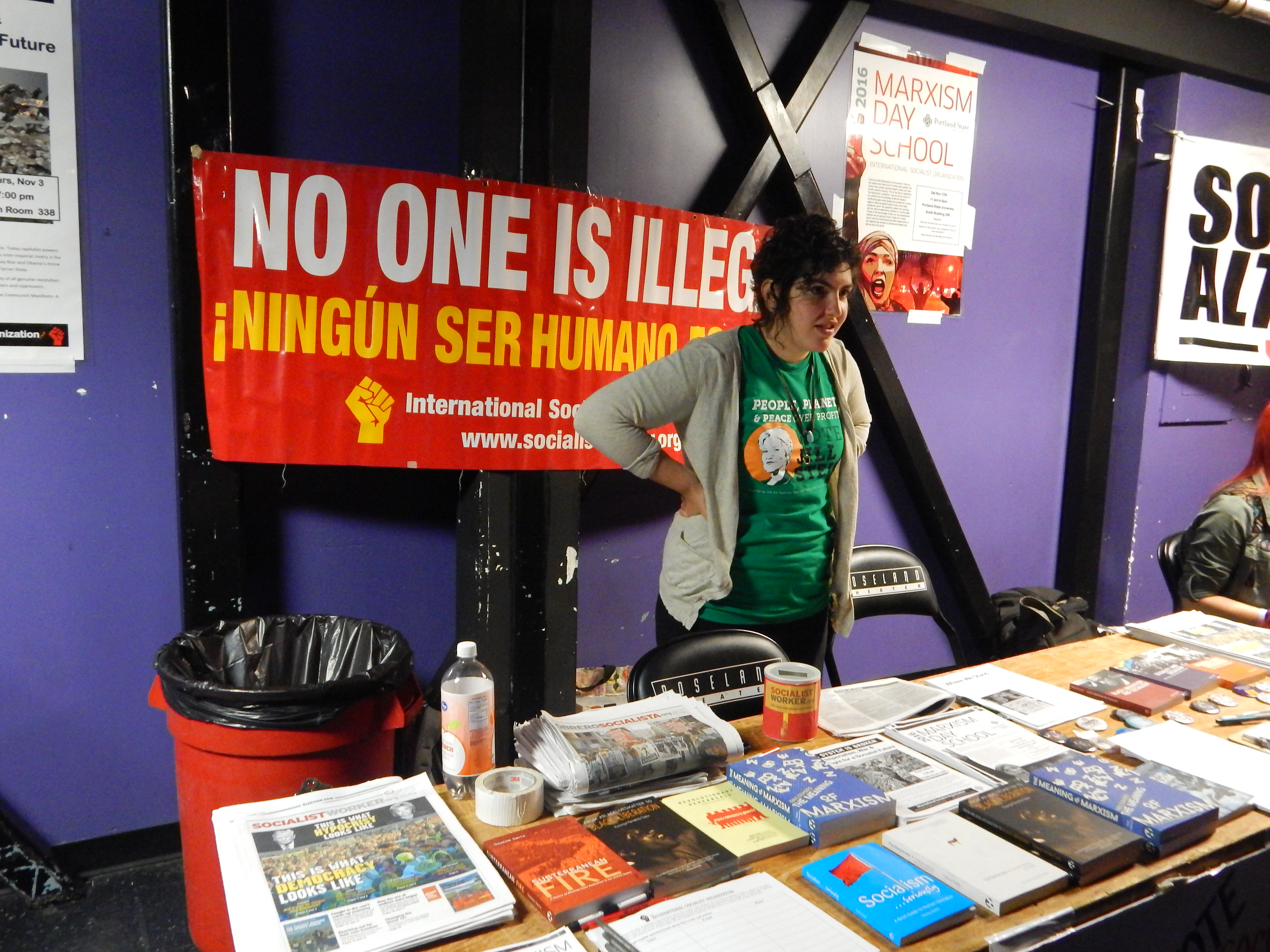 Alan Zundel, former political scientist and current Pacific Green Party candidate for Oregon Secretary of State, spoke about ranked-choice voting and campaign finance reform; David Delk, Oregon Progressive Party candidate for Congress, argued for the importance of stopping the Trans Pacific Partnership and ending corporate personhood; State Senate candidate and PSU Financial Aid Office veteran James Ofsink advocated for progressive, local climate change policies. Several people, including Cobb, talked about the tangible value of casting a so-called protest vote, referring to the "official minor party" status and increased federal funding that the Green Party will be eligible for if Stein receives five percent or more of the popular vote.
The event featured several local musicians, including rapper Mic Crenshaw and spoken-word artist Blacque Butterfly, as well as the NoPo Big Band, Scott Kalama and Jana Crenshaw.
Halfway through, socialist Seattle City Council member Kshama Sawant took the stage. In 2013 Sawant became the first openly socialist candidate to win a popular vote in Seattle since journalist Anna Louise Strong was elected to the Seattle School Board in 1916. Sawant spoke about the current election and the need to look beyond presidential politics.
After Sawant decried Trump as a monster and lamented about how Clinton has "all her political life defended the interests of billionaires [and] discredited herself," Sawant underlined the need for solidarity between ordinary workers and social movements such as Occupy Wall Street, grassroots efforts promoting marriage equality and LGBTQ rights, the Black Lives Matter movement, immigration and labor reform movements, indigenous rights groups and the struggle at Standing Rock, and the massive following Bernie Sanders gathered this election cycle.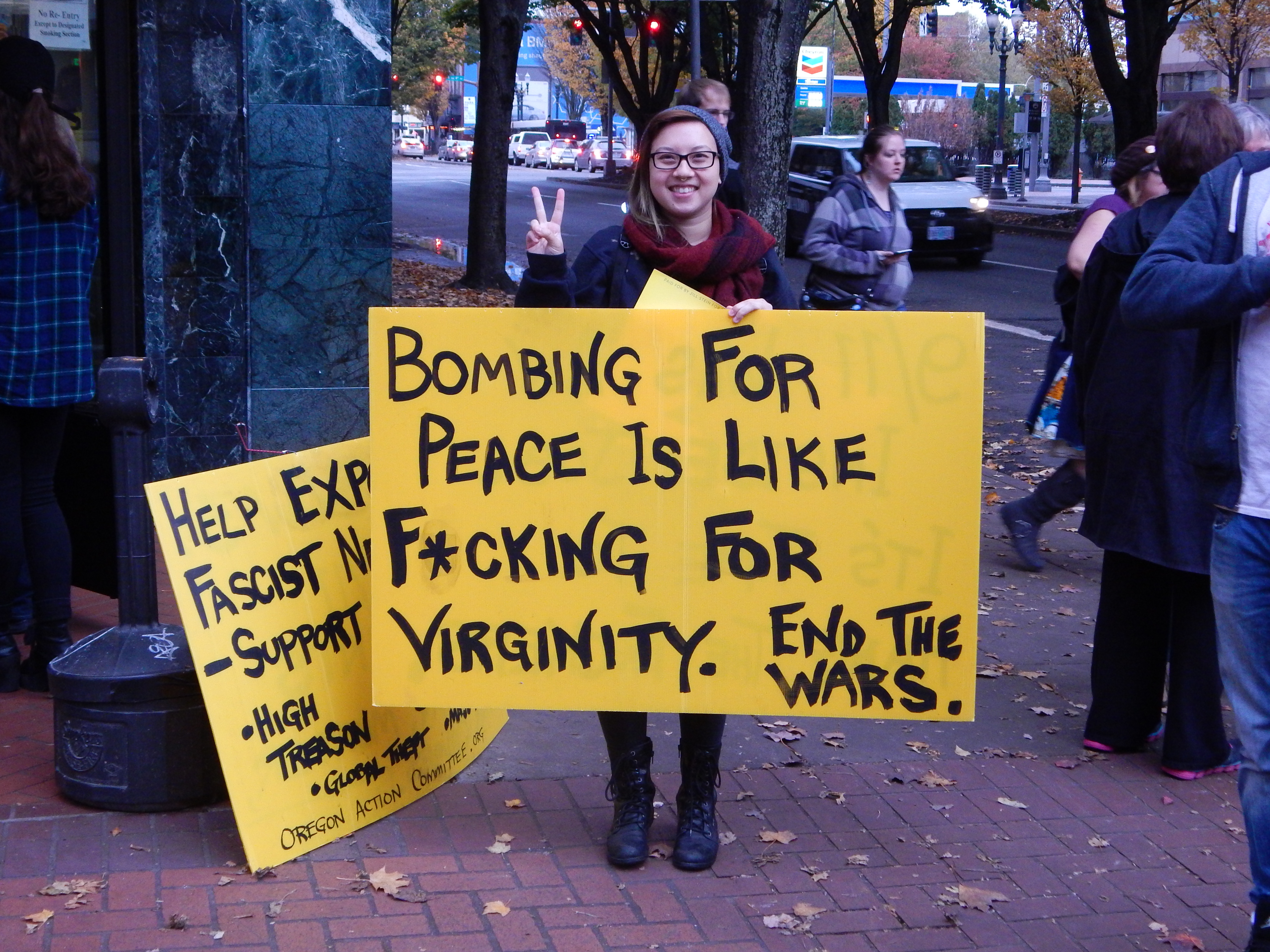 David Cobb, closing the evening, spoke of this same need for solidarity, enumerating social advances that have been made through the grassroots efforts of social movements and third parties, from universal voting rights and the abolition of slavery to social security and the 40-hour work week. He closed with a promise to the ruling elite: "We are everywhere, and we are coming for you."