The Weeknd, Gucci Mane, Nav and DJ PNDA's Oct. 6th show, Starboy: Legend of the Fall, at the MODA Center was a saturated, full-body experience designed to visually read differently between the present reality and the digital near past. The two main themes I noticed were masculinity (duh) and the exploration of the veil between the Star's fractal digital/print image and the totality of their natural reality.
I was outside my art bubble next to the VIP section on the MODA Center's floor and later moved to a section that gave me a great view without my camera obstructing anyone else's. It had been a few months since my last amphitheater show and at least 15 years since I'd seen a concert at the venue that forever in my heart is called the Rose Garden (email or tweet me to find out who I saw). It's a space that hosted Def Leppard and Poison a few months back. I'm done being condescending and dismissive of sports. Most of my friends aren't avid sports fans, but some are, and they're cool too, and they have their reasons.
The reasons I like Sports the Concept are how they ground players and participants in the present reality—likely why exercise alleviates, if not cures, depression and anxiety symptoms—and how they can heighten bodily awareness. This is also a venue where you can buy pickle peanut butter bacon burgers, so awareness is subjective. After all, your tongue is your body too.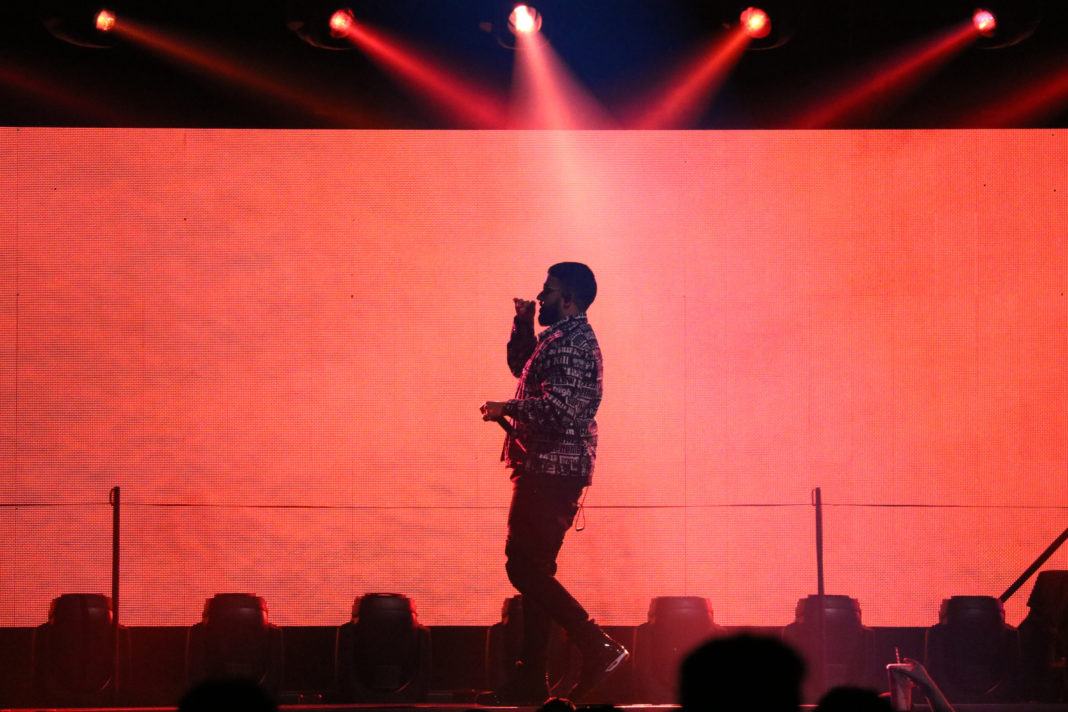 It took me an embarrassingly long time to realize how many people in the audience were sports fans. It should have been pretty obvious: arena show, thousands of people, somebody there was bound to be into anyone from the Timbers to the Portland State Vikings. But it's not until I heard someone say "Blazers" and looked over to men my height or taller with their girlfriends half our height in heels that this aspect of the audience became apparent. (Not sure if this is at all related, but I have now seen denim bondage pants on a human! Anachronistic 2000s nostalgia is in full bloom!)
All the performers were flawlessly proficient, which makes finding weak points in the performances pointless. Sure, all the use of gunshot audio leading up to The Weeknd (Abel Tesfaye)'s set is disconcerting during the first week after the to-date deadliest mass shooting of the 21st century on American soil. Statistically speaking though, gun violence and accidents didn't stop on that Sunday; we don't need more post-tragedy censorship like we saw in the wake of 9/11.
I started these thoughts during DJ PNDA's opening set. I think I've seen one person drum and mix music at the same time, but the U.K. drummer/music producer did it in front of thousands of people, which, from my anxiety-based perspective, is stunning. Then again, in an environment where any technical flub will be captured, replayed and analyzed to death, technical proficiency is par for the course.
Up next was Nav (Navraj Goraya), The Weeknd's XO label mate and a Punjabi-Canadian rapper only a handful of months younger than me. Nav's commercial career just turned two years old: he recently cracked the Billboard Hot 100 chart and saw Kylie Jenner lip-syncing his song on Snapchat (the app which I, the social media editor pushing 30, have downloaded but haven't set up). Nav performed songs like "A$AP Ferg," "Call Me," "Minute," and "Beibs in the Trap." He was not physically high energy, probably since he was an opener; broader scale, I don't think pop music now is as high energy as decades past. If I had to guess, it's because the ice caps are all melting and we're going to die, or maybe because slow-burning stars burn longer. Darkness, angst and melancholy are marinating in pop consciousness. When EDM seems like it's about pushing the limits of noise and volume, the conscious decision to scale back has meaning.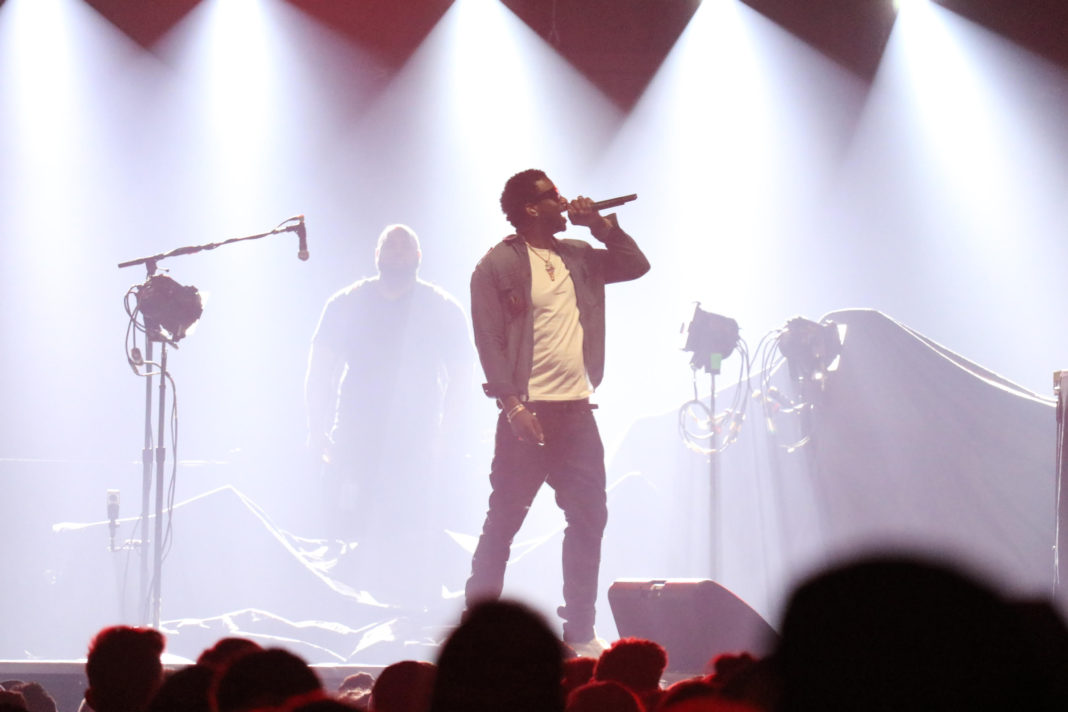 After Nav was Gucci Mane aka GuWop aka Radric Davis aka the Trap God. I didn't realize Gucci Mane's commercial music career is entering its second decade, nor did I realize his appearance on Rae Sremmurd's "Black Beatles" in 2016 was his first association with a #1 single, nor did I realize he's probably partially responsible for Marilyn Manson still having social capital, nor did I realize he's now a newlywed (congratulations!). I also wasn't expecting his live performance voice to be a higher octave than what I've heard on recordings, which isn't a negative, but a surprise.
Given that Gucci Mane was the second biggest name on the bill, it would have been great for him to have taken a bolder physical presence on the stage, which had a long runway. His performances included the Greg Street cover, "I Think I Love Her" immediately followed by his own "I Don't Love Her," and then "Both," "Back on Road," "Freaky Gurl," his "Black Beatles" section, and "Wasted."
Much of the visual art was for people who didn't go to art school but still want to experience creative expression. Much of what I saw and heard had little meaning beyond its surface but was significant in scale, design and execution. For example, the glitch visuals during Nav and Gucci Mane's sets probably had less to do with delayed gratification and more to do with blurring the line between professional polish and a rawness balancing non-refined sincerity. Another example was the fire and water fixtures in front of the MODA Center's box office, emitting equal columns of each element.
When The Weeknd's set started, a giant triangular structure suspended above the stage slowly, silently descended in one piece, then yawned open, revealing smoke and light almost as bright as the pre-totality eclipse sun. Due to the blinding light, I didn't notice The Weeknd was already center stage, singing between bright, mobile light beams. In the moment, I thought the beams represented prison bars, and that the literally dazzling optical effect I saw on his arms and chest was a piece of digitally enhanced fashion I will never be able to afford.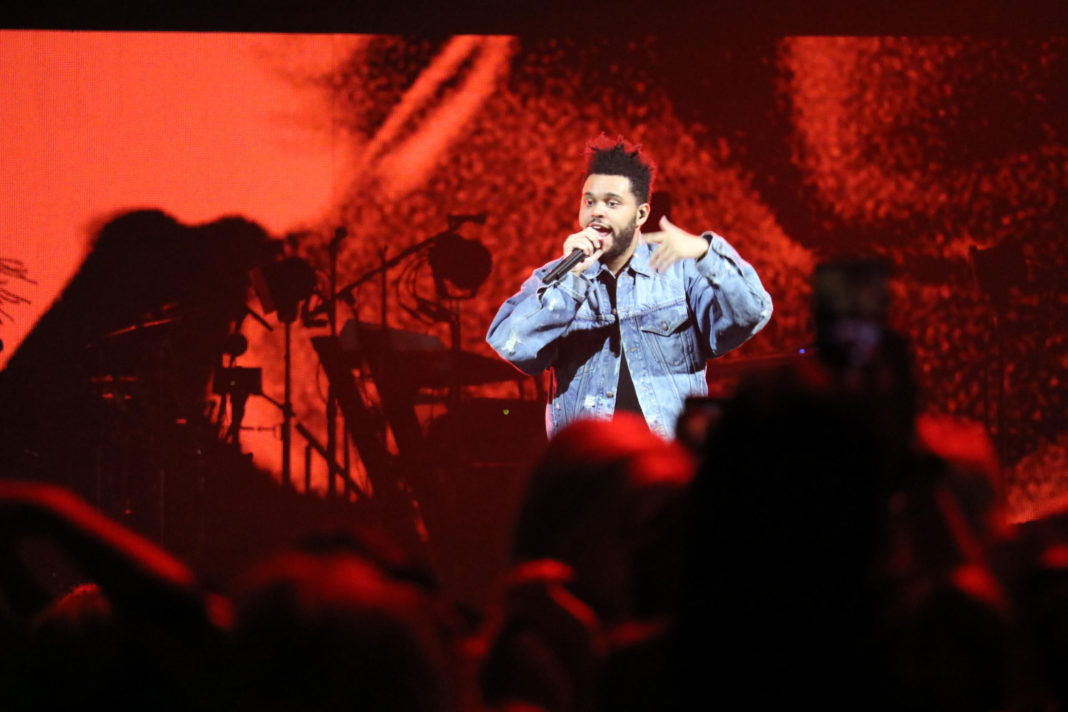 While moving from the photography to writing seats, I reviewed Portland State Vanguard's Instagram post and saw the intended effect as emulating a hologram. The structure breathed and bloomed with a soft flutter as The Weeknd sang "Starboy," "Six Feet Under," "Sidewalks," "Wicked Games," "Party Monster" (sadly not "Lust for Life" or "Prisoner," The Weeknd's other Lana del Rey songs), "Acquainted," "Rockin'," covers from Drake, Belly and Ty Dolla $ign and ultimately his biggest commercial hits, like "Earned It," "Can't Feel My Face," and the "The Hills" encore.
Possessing the ability to command the attention of 10,000+ people is almost too much for my squishy brain to comprehend. That all of us in the stadium had a unique, personal relationship to The Weeknd's music and artistry is also a little baffling. Kind of like the Corey Harper show, I know I wasn't the show's target audience, but between sharing space with Blazers players, the women in the nosebleed sections who I could clearly see dancing for their lives a la Camille Grammar and Kyle Richards at Jay-Z from season one of Real Housewives of Beverly Hills, and people between sections posing for their "Who, me?" geo-tagged portraits, it felt like The Weeknd, Gucci Mane, Nav and DJ PNDA could experience us too, if not always see us. It was surreal to see a stadium illuminated by cell phone lights, but maybe that's because I'm a 20th-century relic. But it's the classic representation of our collective presence combined with the advances in technology that make the experience interactive and awe-inspiring.
These men's masculinity allowed for drawing Gaze personified and all its expressions differently, empowering the men to become different figures for the audience, as objects, fiction suits or both. Their musicality shares common links with masculinity and legacy. I'm not speaking of Goraya, Davis or Tesfaye personally because I can't know them personally; I can't even find DJ PNDA's real name. DJ PNDA's performance and mixing introduced the Veil, the one that separates Us (we with under 500 social media followers) from Them (who have access to followings bigger than themselves and who open themselves to the public's scrutiny). Nav is an everyman, who represents the Starboy as he starts burning, perhaps forged in the cracked "Umbrella"-era Chris Brown mold. Gucci Mane's artistry and personal history are filled with drama and violence, swinging between opulence and poverty, and represents the Starboy as a successful survivor who overcame The Fall to create work influencing artists across genres and generations (now maybe Starman?). The Weeknd is space between these stages that allows for angst, existentialism and nihilism alongside charisma, nerve and talent, and is the Starboy before a personal or professional downswing, The Fall.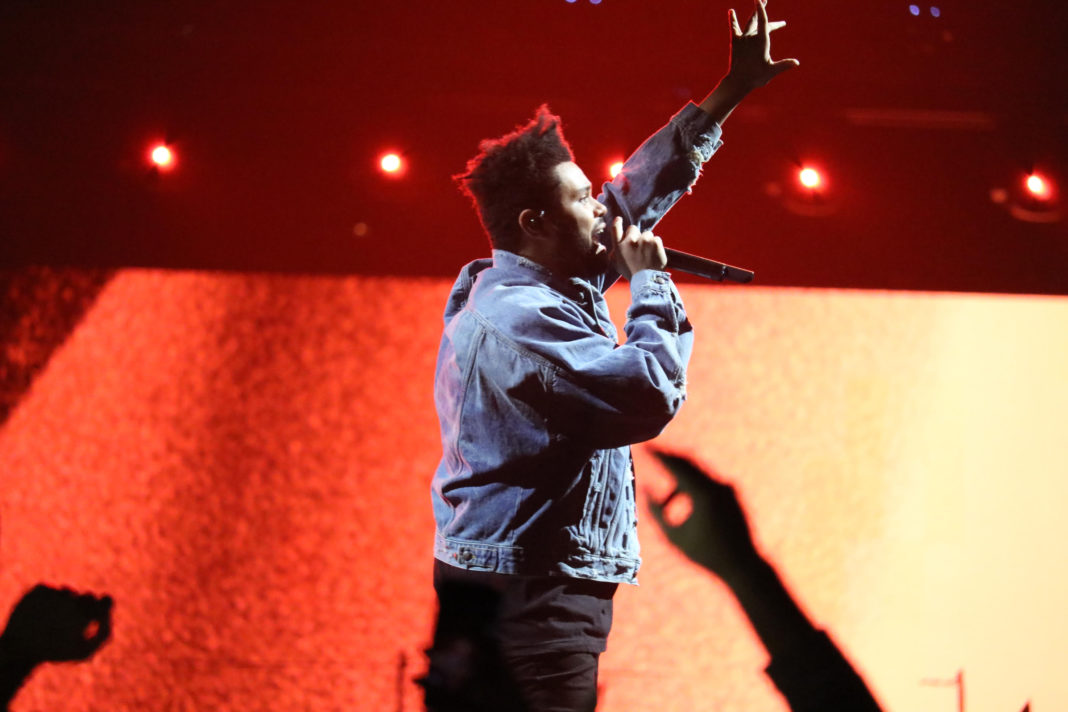 But I'm probably way the fuck overthinking all of this. The Weeknd worked the catwalk stage as triangles bloomed and fluttered around him, and people around me were dancing, screaming and documenting the moments significant to them. The energy exerted through dance combined with cheers and roaring screams so loud my ears physically rang are not anything that can yet be documented on film. You had to be there, in the moment and space, to have really experienced it.
I left the MODA Center, learning a lot about the thousands of screaming people around me, the thousands whom The Weeknd & Co. couldn't individually see but collectively could feel and influence, and the technology we use. I learned that amateur concert footage is awful for two reasons: first, the sound waves can affect your phone camera even when you make a conscious effort to remain still. Second, some social media filmmakers see the camera as directly representative of their view, swaying in motion with the camera without caring about footage perspective or clarity. They dance, and they want people to see what they saw as they saw it in their moment, as the songs reflected their performer's lived realities. It doesn't always look great when replayed, but in the moment it feels right.