'TEDsex Talk' tackles taboo topics
Last Thursday, the Jean Vollum Natural Capital Center on Northwest Ninth Avenue hosted Portland's first "TEDsex Talk."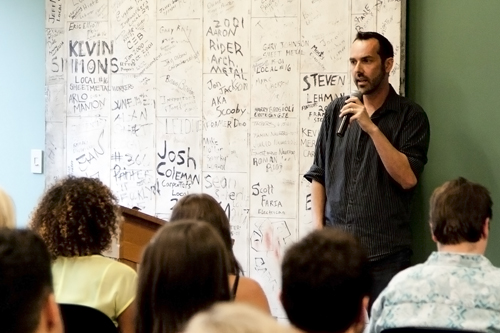 Last Thursday, the Jean Vollum Natural Capital Center on Northwest Ninth Avenue hosted Portland's first "TEDsex Talk." Organized by Portland State senior Brian Forrester, the event drew so much interest in the days preceding it that it had to be moved from its previously arranged location at the Pacific Northwest College of Art to accommodate more guests, and the talk drew a crowd large enough to fill the new space.
"I guess if you put the words 'sex' and 'free' in the title of something, it will draw a lot of interest," Forrester mused. Host Ecotrust waived a portion of their usual event fees, and Hot Lips Pizza provided refreshments. In keeping with the format of the popular TED Talks, the evening featured three 15-minute presentations followed by a brief question-and-answer period.
The event started with a presentation by Viva Las Vegas, a published author (her memoir Magic Gardens was released by Dame Rocket Press in 2009) and a performer at Mary's Club in downtown Portland. Las Vegas' presentation, titled "Are Strippers Sex Workers?" centered primarily on a conversation she had with her father about her profession and the mutual understanding at which they arrived, as well as how society views strippers. During her talk, Las Vegas raised a rhetorical point, wondering aloud why female nudity was readily embraced in art museums but otherwise shunned to strip clubs.
Second presenter and PSU professor Ben Anderson-Nathe used a question raised by his daughter about "girlfriends" and "boyfriends" to talk about sexual orientation. Anderson-Nathe seemed interested in the countercultural aspect of getting people to talk about sex. "We live in a culture that is saturated with sex but almost totally lacking in terms of authentic opportunities to talk about the real questions, experiences, joys and fears about sex, our sex lives and our bodies," he said. "'TEDSex' is a chance to come together and start some of those conversations. Not all of the questions were answered, but maybe this is a step toward creating space for more of this dialogue down the road."
The third presentation was by PSU alumna and sex education advocate Shelagh Johnson, whose resume includes time at organizations such as the Cascade Aids Project and Planned Parenthood. Johnson embraced sex education after taking women's studies courses as a science undergraduate. During her lecture, Johnson encouraged the crowd to look beyond stereotypes of "us" and "them," which she implied lead to shame and a lack of mutual understanding. Johnson said that college is a good time for students to stay open to experiences that will help them form their own identities.
The question-and-answer that followed included audience members wondering what steps they could take to move beyond stereotypes and a brief discussion about how the recent Jeff Cogen scandal has put sex in the headlines in Portland. Chairman of the Multnomah County Board of Commissioners, Cogen is currently being investigated for an extramarital affair he admitted to having with a Multnomah County employee.
Forrester is considering a sequel after the success of the first talk. "I'm still in awe of how many people showed up. For an event that was conceived and executed all in about three weeks, it was pretty impressive. I think everyone had a good time, lots of laughs and learned a few things," he said.
"About half a dozen people approached me wanting to help throw a 'TEDsex' 2.0," he continued. "The question on the table is whether or not we keep the format and change the theme or if we just focus on different aspects of sexuality all the time."