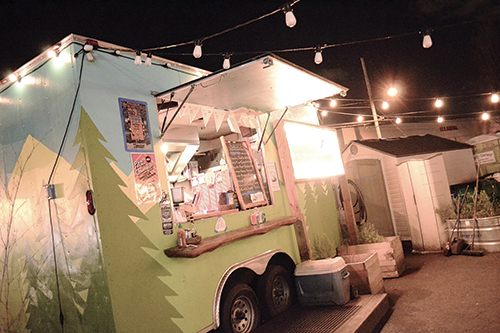 Chez Dodo
3441 N Vancouver Ave.
Open Monday–Friday until 11 p.m.

Chez Dodo is the Mississippi neighborhood's diamond in the rough. This cart may be the winner for most successful food fusion in all of Portland.
Serving up hot Mauritian food nightly, eating here means experiencing a rare and delicious blend of French, Indian, African, Creole and Chinese cuisine. Come here to get your fill on unique, soulful food that's filled with flavor.
Pyro Pizza
Southeast 12th Avenue and
Hawthorne Boulevard
Open Tuesday–Sunday until 3 a.m.
Pyro Pizza is the place to go when you're craving late night cheesiness on top of the best crust in town. Locally sourced, fresh ingredients join forces to create each flawless wood-fired pizza.
Pyro is king when it comes to some of the most savory sausage and creamy mozzarella in town, both of which are made in-house. After a night of boozing at Hawthorne bars, let this be your crunchy, melty, saucy safe haven of good eats.
Grilled Cheese Grill
1027 NE Alberta St.
Open Friday and Saturday until 2:30 a.m.
When you're leaving the bar and your stomach needs comfort food something fierce, Grilled Cheese Grill has got a sandwich for you—and it's even better than Mom made it.
The grill's spectacular grilled cheeses come with delicious add-ons like roasted jalapenos, thick-cut bacon, pesto, avocado and more. Order up a glorious golden sammy and scarf it down on the big, heated yellow bus for a guaranteed great night.
Elmasry
Southwest Third Avenue and
Washington Street
Open Monday–Thursday until 10 p.m., Friday and Saturday until 4 a.m.

Looking for some kickin' chicken schwarma? Perhaps a colossal falafel? Gyros fit for late-night heroes? Elmasry is a sensational Middle Eastern destination for all you night owls.
With budget-friendly prices and later hours than all the watering holes downtown, this cart is your one-stop spot for last-call munchies. So hunker down with some warm, soft pita, spicy, savory fillings and fresh tzatziki sauce while you wait for that cab ride home.

Potato Champion
1207 SE Hawthorne Blvd.
Open Tueday–Sunday until 3 a.m.
Weeeee are the chaaampions, my friends—Potato Champions, that is.
Poutine is the solution for all your late-night cravings. Finish your night with a basket of fresh Belgian-style fries topped with squeaky cheese and savory gravy and seasoned to perfection.
Totally sober or sloshed to the floor, you'll find yourself wandering back to this pod just to dine like a Canadian champion every chance you get.