The Portland Winter Light Festival saw light installations scattered all across the city this past on Feb. 7–9, spanning from Portland State's Peter W. Stott field into the inner-east side of Portland. This is the first year since the festival's inception in 2015 that PSU was involved.

Jeff Schnabel, festival organizer and associate professor at PSU's school of architecture, said it was always the festival's intention to incorporate the entire geography of the city.

"It became natural that Portland State would become a major location for that expansion," Schnabel said. "It fits perfectly with the mission. Portland State's motto is to serve the city and this festival does just that."

Many professors had the opportunity to include their classes in the festival, and some even designed their courses with the festival in mind.

Stephen Lee, assistant professor of graphic design, incorporated a creative coding project into one of the courses he teaches, where students got the chance to code animations and other interactive features to be projected in the PSU Urban Center.

"I built this into our second big project," Lee said. "The idea was to make these animations…For the students, I think it's really been eye-opening to see stuff that was just on a flat screen projected onto a physical surface."

Students from Inza R. Wood Middle School in Wilsonville, Ore., created ceramic lanterns to be displayed for the festival.

The festival also featured artists who presented their proposals during the summer and fall.

"We have a general call-out to artists that happens in the summertime," said Michelle David, communications director for the festival. "For the 2020 festival we'll be opening up the call to artists and people can submit their proposals."

"We have a preference for people who are from this area geographically—-the Pacific Northwest—-it's pretty broad so we also mean Idaho, Washington state and Northern California when we talk about that."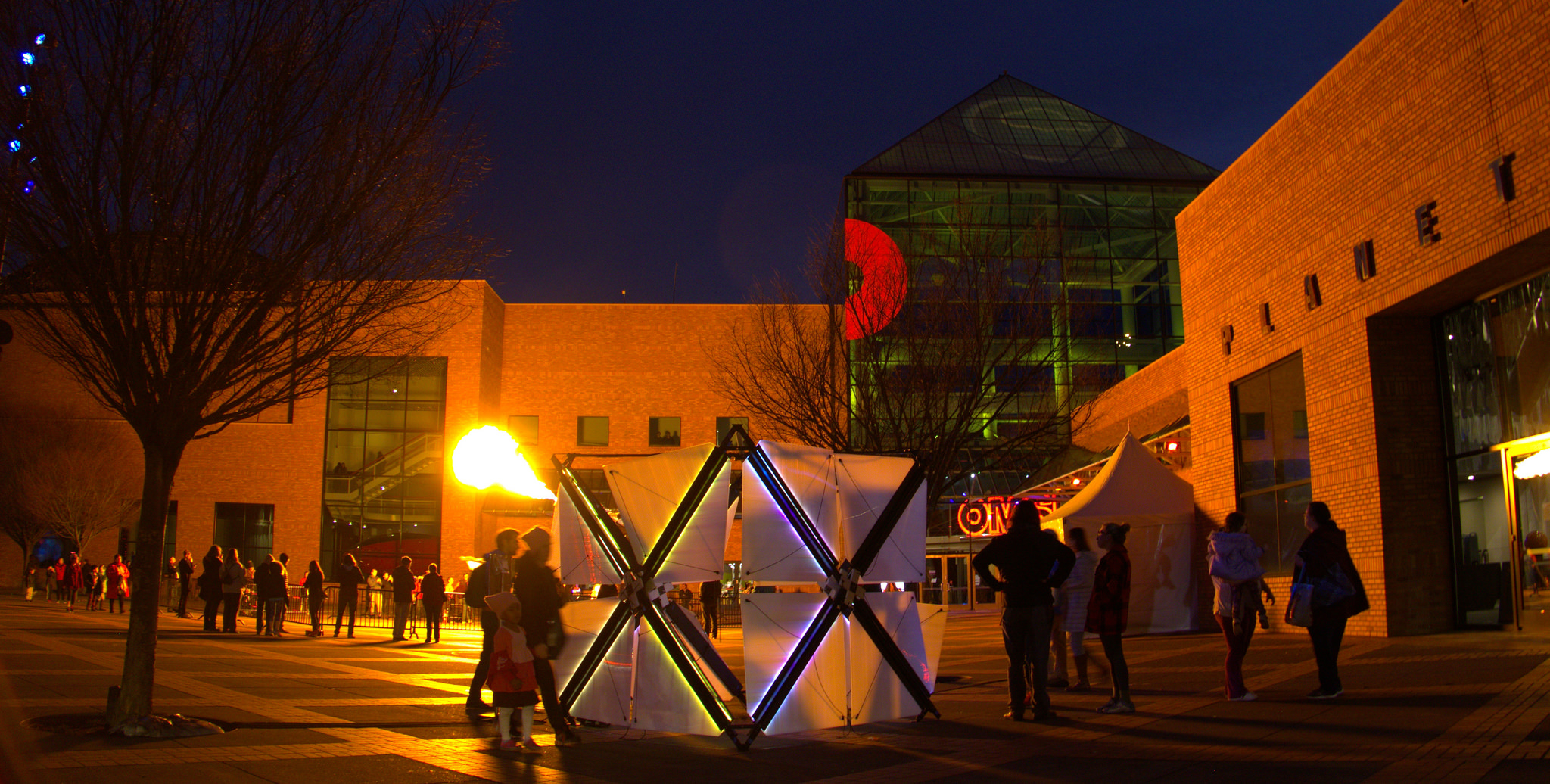 According to David, the installations were designed to withstand the winter weather.

"We really make sure that in addition to being light-based art that is interesting, thoughtful, thought-provoking and interactive, that it's also things the artist would feel comfortable just having out and getting snowed on," David said. "So it's a pretty rare and neat thing and we're always excited when we find that."

The Portland Opera, a sponsor of the event, donated the use of their Crystal Dolphin Ferry to transport visitors along the Willamette River and provided free entertainment on board.

The Willamette Light Brigade, the parent organization for the festival, lit the bridges of the Willamette River.

The festival itself spawned from the Illuminated City Symposium where Chris Herring, the artistic director for the festival, introduced the idea of the Portland Light Festival to Schnabel.