Oktoberfest is perhaps the premier autumn festival and, for Munich, the largest volksfest in the world where naturally Germany's, and specifically Bavaria's best is celebrated. German beers overwhelmingly represent the best beers to drink in autumn.
Fall beers should be full-bodied, yeasty, amber in color and potentially spiced with clove. Prost—meaning "cheers" in German—is an excellent bar on Mississippi Ave. in North Portland where the first beer on this list is served. With its full body and hints of clove, the Weihenstephaner Hefeweissbier is pretty much the epitome of an autumn beer. For the colder days as fall begets winter, the Köstritzer Schwarzbier, or black bier, is full, frothy and perfect in a chill.
Germany competes with Belgium and the Czech Republic over the beer supremacy of Europe; no list would be complete without a good Trappist ale. Hailed the "holy grail of beers,"  the Westvleteren 12 has been brewed by monks sporting friar tucks since 1838. It's a strong beer with 10.2 percent alcohol by volume and is consistently ranked the "best beer in the world." However,  a pilgrimage is necessary to try it as it is only sold at the Trappist Abbey of Saint Sixtus in Vleteren, Belgium.
While not a Trappist, Huyghe Brewery is arguably Belgium's most popular brand, although it is better known by its Delirium line with its iconic pink elephant logo and happening bar street in Brussels. The Christmas-themed Delirium Noel will keep you warm in the coming winter as the spicy yeast harmoniously melds with its soft apricot notes.
The Czech Republic is a beer haven and held in high regard in Europe. The first Pilsner was brewed in Pilsen and is famously known as Pilsner Urquell. Although many consider Pilsners to be summer beers, this one is too good to pass up. It is the perfect Pilsner with a light body and honey aftertaste—there really isn't anything more refreshing.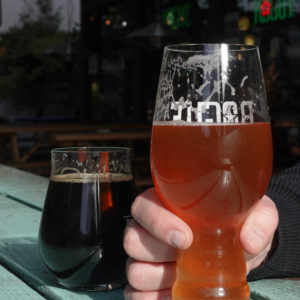 Europe isn't the only place to find good beer, though. Latin America also has many great options. While Colombian Bogota Beer Company produces overall quality, my personal favorite is the Cajica honey ale. With its line of beers bearing the names of the Greek pantheon, Ecuadorian craft brewery Abysmo yields the Ares, a robustly bitter, strong bourbon stout aged in oak.
Although I enjoy a good Tsingtao or Green Saigon from time to time, in Asia, Japan stands head and shoulders over the continent; Sapporo, Asahi and Kirin are the country's three beer giants. In the northernmost region of Japan stands a beautiful brick building, formerly a beet sugar factory and currently home to the Sapporo beer garden. The beer garden is the only place in the world where one can enjoy Sapporo's five-star beer paired with Ghengis Khan, a Hokkaido delicacy consisting of lamb or mutton grilled in apple and lemon.