The finest ways to eat at home without cooking
The finest ways to eat at home without cooking
Thai Peacock
219 SW Ninth Ave.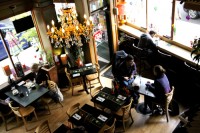 This mecca for Thai lovers never disappoints. Even diners new to the Thai flavor can find something to enjoy here, whether it's one of their specialty curries or prawn dishes. Vegetarian friendly, Thai Peacock has a unique flavor that even the most discerning of taste buds can appreciate. Their house sauces are sweet yet salty, and the underlying hint of peanut is just strong enough to please without overwhelming the flavor.
The restaurant is relatively small, so it can be easier to simply order carryout. Call in or order in person, and your food will be out to you in 15 minutes or so. While they no longer deliver themselves, they do work with several delivery services—so take advantage if you can!
$8–14 per dish
Hot Lips Pizzeria
1909 SW Sixth Ave.
Tucked in the heart of PSU, Hot Lips is everything students want in a restaurant—good food, cheap beer and blaring music. It offers vegetarian and vegan fare on the cheap. The squash and hazelnut pizza, for example, is mouthwatering and smells like heaven. It also offers gluten-free options, sandwiches, salads and signature soda.
And for those who want the food they love in a different atmosphere, Hot Lips does its best to accommodate their requests. As long as your order is at least $20 and you're within 2–3 miles of a store, Hot Lips can get your food out to you. And even if you're a little more out of the way, they'll still make an effort.
Depending on when you make the order, you'll get it anywhere from 30–50 minutes later for a flat delivery charge of $3. And with five stores spread evenly throughout Portland, you can be sure that there will be one willing to deliver to you.
$13–25 per pizza
August Moon
405 NW 23rd Ave.
While there are plenty of Chinese restaurants in Portland, few measure up to August Moon. This restaurant has an extensive menu with flavors to suit any palate, dietary restrictions or age group. It offers all the dishes one would expect from a Chinese restaurant—lo mein, fried rice, General Tso's Chicken and other such options are served with flair and a balance between flavors.
And August Moon allows for its customers to save time by offering both takeout and a delivery service. With any lunch order of $18 or more, for example, the restaurant will bring the food to the diner's doorstep with no delivery charge added. The delivery time is reasonable, and the food arrives nice and hot at your door.
While Chinese takeout and delivery may seem clichéd to some, August Moon proves that the cliché exists for a reason.
$8–15 per dish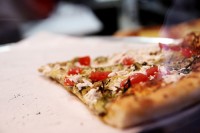 Pizza Schmizza
7535 SW Barnes Rd.
While all Pizza Schmizza locations (and its associated Schmizza Pub and Grub) provide generous portions and low prices, some have more variety than others. The Barnes Road location certainly has plenty to offer. From their characteristically large pizzas (all 12" or larger) to pastas ranging from subtle to in-your-face flavors, there's sure to be something on the menu for most everyone.
Not all Schmizzas deliver. The on-campus Schmizza Pub and Grub offers carry out, but not delivery. However, the Barnes location—within the proper radius for PSU students—does. For a $2 fee and at least a $10 total, this restaurant will get you your order, hot and exactly as you like it, within an hour.
Other locations in Northwest Portland, Milwaukie and Happy Valley deliver as well, but only the Barnes location serves PSU and its surrounding area.
$14–25 per pizza
Old Town Pizza
226 NW Davis St.
Committed to excellence and celebrated by many Portland residents, Old Town Pizza boasts good food and a great atmosphere. Among the gems on its menu are salads, pastas, sandwiches and, of course, its own classic pizza. With its focus on sustainability, one can feel comfortable eating what they have to offer—it's mostly local.
Their takeout and delivery service reflects this devotion to sustainability. When you order Old Town Pizza to go, your order comes to you on a tricycle. That's right—your food can be delivered to your door on trike. Depending on your order, the fee may vary, but delivery to downtown Portland is an affordable option regardless.
$10–18 per pizza
Extra option!
Delivered Dish
www.d-dish.com
Portland is among the lucky cities to have an independent delivery company available to its residents. This service, which boasts over 150 restaurants to choose from, will pick up your order and deliver it to you. The fee is a little higher than the ones restaurants charge for their own delivery services ($5–10), but the convenience is worth it sometimes.
For those whose favorite restaurant doesn't have a delivery service, Delivered Dish is a place to check out. And especially given their guarantee—delivery in 60 minutes or less—it couldn't hurt to give it a try.