The '90s were alive in Portland on Thursday, May 10 when Nada Surf played the Wonder Ballroom with for the second stop of the Let Go 15th Anniversary Tour. Although the show didn't end until midnight, Nada Surf's guitarist and lead vocalist Matthew Caws stayed after and stood on top of the Wonder's merchandise counter to perform an acoustic rendition of "Rushing" for a small group of fans. Afterward, Caws and bassist Daniel Lorca met fans and offered photos and autographs. This wasn't a typical Portland show, but then again, Nada Surf isn't a typical band.
Nada Surf is widely known for the song "Popular" off their 1996 debut album High/Low, or the unusually peppy "Always Love." Both of which were played in the encore—and yes, they are better live. But as the story normally goes, there's much more to Nada Surf's music career than two Portland-radio-friendly singles. The band's legacy has spanned over the last 26 years and with a total of eight albums; most notably, the 2003 album Let Go. The critically acclaimed album was recently revisited by artists such as Rogue Wave, Manchester Orchestra and Aimee Mann for the charity cover album Standing At The Gates: The Songs of Nada Surf's Let Go.
While concerts typically feature an opening performer for a headlining group, the entirety of the night's performance was all Nada Surf. The first hour was a complete playthrough of Let Go, while the second hour featured a relatively brief rundown of their seven other albums. Some of the most memorable songs performed from Let Go were "Neither Heaven nor Space," "Là Pour Ça," and "Paper Boats." I know "Inside of Love," or "Blonde on Blonde" are popular, but these three particular tracks stuck out.
First of all, the tracks of Let Go feature songs with lyrics written like a correspondence; between who is anyone's best guess. The album is obviously personal, painful yet bitterly optimistic. Let Go's lyrics—on the page—surpass the normal amount of allegorical rhetoric in mainstream alternative music.
Secondly, if you're a neurotic and hyper-sensitive person like me, you'll find yourself resonating with the melancholic theme on a deeper level than anticipated. Great songwriters have that effect. For example, "Neither Heaven or Space," starts with the lyrics:
"So quiet/ It's neither heaven nor space, it's just high/ And the ring around the moon looks like light and love/ Neither of which I get enough of down there/  where a lot of people lie/ in a deep sleep/ and months on end go by/ in a single week…"
This song could easily be an anthem for any sun-deprived Portlander, a struggling student, an overworked individual or all of the above. But it doesn't just touch on the dreary effects of a meaningless routine and the sometimes-emptiness of purpose. "…as if the city speed is just in our brains, and coke's close as we get to sugar cane," appears to be Nada Surf touching the topic of addiction. But there are many ways to interpret a song, if only a song could ever be as much.
https://www.instagram.com/p/BipE3lYgqeJ/
"Là Pour Ça" is performed in French, and the song is romantic, except the mood is betrayed by the lyrics. In translation, both through melody and word, the song is nearly an apology for the heartbreak caused by another:
"Let yourself go and do not be afraid/ Guys are bastards/ But maybe not all/ Fill your glass and our loves/ I'm here for that."
Perhaps it's a breakup apology from one man on behalf of all men, or a goodbye letter with a preemptive apology for loss:
"The sea does not know the course of time/ Which brings us closer and pulls us apart/ Long live the high tide and long live the low tide/ But especially, long live the difference. I'm here for that."
The theme of drowning in sorrow and ambiguity continues into "Paper Boats" as the chorus chants, "All I am is, a body floating downwind," and before asking:
"What's wrong? Nothing. Are you sure nothing's wrong? Yeah. But you're sad about something? Yeah. So tell me what. I don't know. I can't tell you. I can't tell you."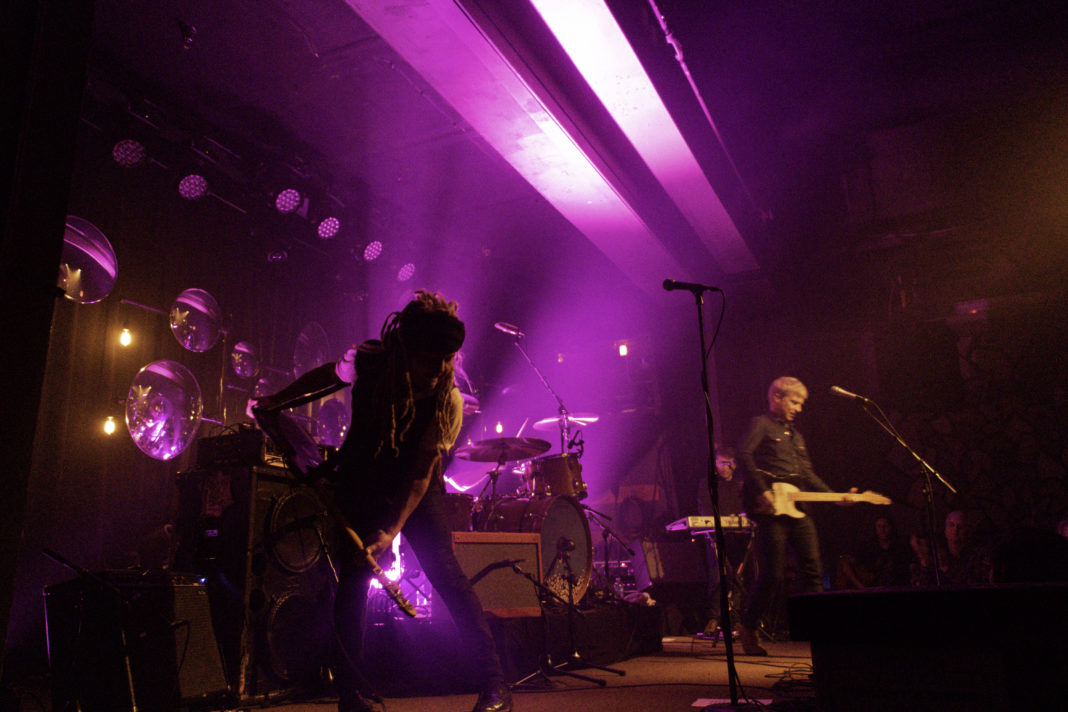 There's a hint of Marxism in Let Go, but it's possible I'm biased from observing how politically active Nada Surf is, both artistically and in the most-outspoken sense possible. But if you're wondering why I'd bother to preface certain songs for the purpose of a review, it's important to note how the main title of Let Go's cover album utters the common idiom, "standing at the gates," an overlooked connotation stemming from the Old Testament where Jesus states:
"I tell you, you are Peter, and on this rock I will build my church, and the gates of hell shall not prevail against it" (Matthew 16:17-18).
It's within this passage where Jesus stands at the foot of Mount Hermon—the root of evil from the Old Testament and Greek world—where war is declared on evil and death, and the foundation Jesus decides to build the church on top of.
I'm not trying to write about Christianity, but the context for this phrase is indicative of Nada Surf's public display of political discourse. "Standing at the gates," is directly used in the chorus of "Inside of Love:" "I wanna know what it's like/ on the inside of love/ I'm standing at the gates/ I see the beauty above." There's no evidence to support how the song was inspired by any religious ideology held by Caws as a songwriter, and yet, the album title is important allegorically; why else would it be used in the album title?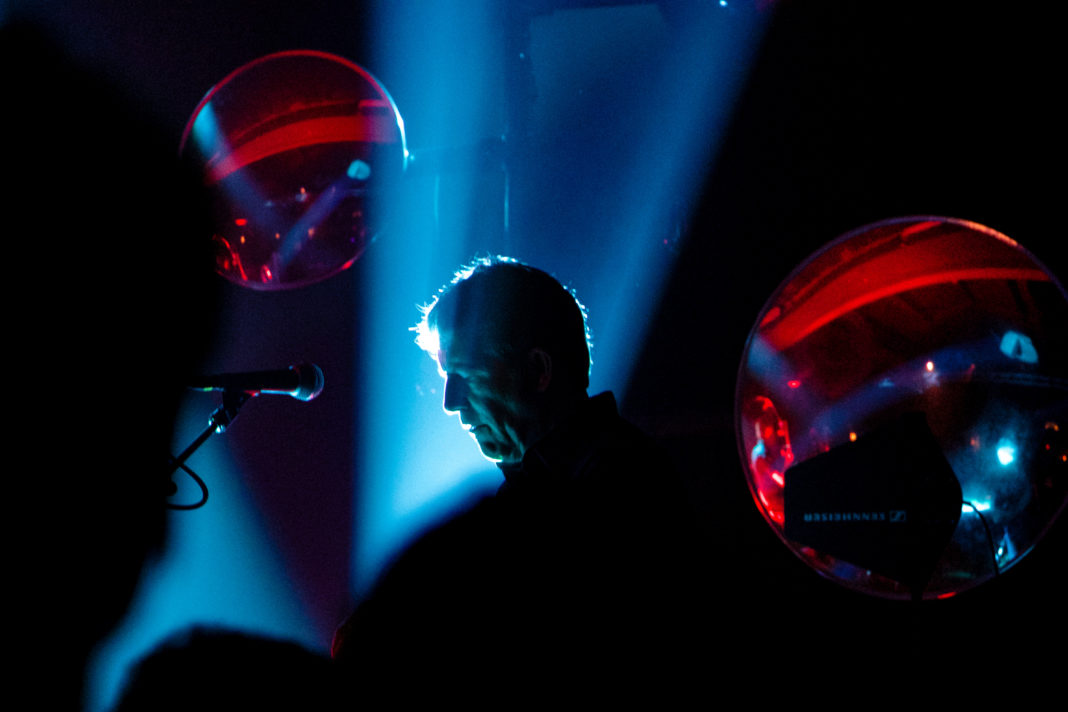 After opening the second part of the show Caws announced how the proceeds from Standing At The Gates would go to the American Civil Liberties Union and The Pablove Foundation, a nonprofit pediatric cancer organization. Shortly after this announcement, Caws led the audience into the song called "The Fox," from the 2008 album Lucky by dedicating it to Fox News (note the water theme, again):
"We're in a different war/ With ourselves, and with some of you/ so many things that don't hold true. With the fear that dims our light/ with the barnacles on our right."
In reality, there's nothing remarkable about the criticisms made against Fox in the song, as it reflects much of the public discourse involving the so-called news agency's lack of fact-checking, biased sourcing and historically prejudiced broadcasters. However, once the song was over, Caws extended the dedication toward journalists and added, "You're all doing great work." The statement wasn't elaborated any further, and it's possible that many other people didn't give it too much thought.
But wait; does Caws really believe Fox News and the broad term of journalism are all one of the same? As a fan and member of the media, am I then reduced to as much?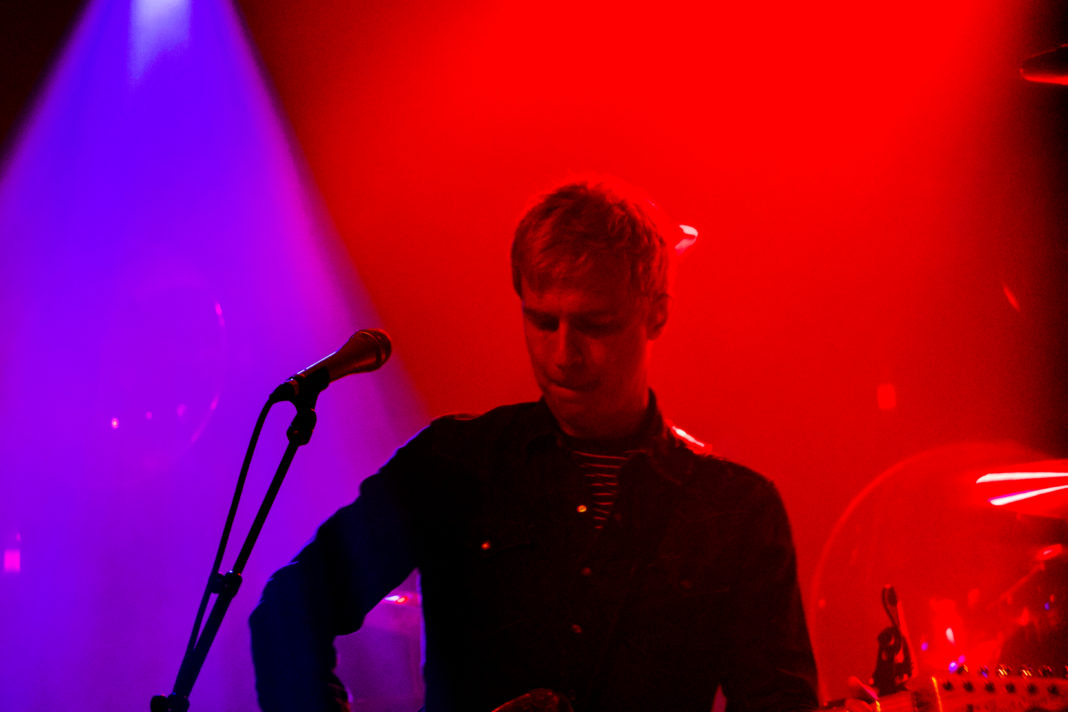 It's not surprising that Caws would make a relevant political statement in conjunction to a song released 10 years prior. In 2017, Caws was one of 278 individual artists, bands and 70 music labels who signed an official statement addressed to Ajit Pai, Chairman of the United States Federal Communication Commission, in opposition to Pai's efforts to diminish net neutrality protections. Caws also uses Twitter to share criticisms of current events such as the recent scandal involving Sinclair Broadcast Group, where dozens of local news stations operated by Sinclair were coerced into broadcasting a warning for fake news, while inadvertently propagating fake news in itself.
To be fair, it's not as though Caws' Twitter page represents an overwhelming force of political critique when it's actually more of him interacting with fans and promoters. However, there remains a presence of criticism extending beyond what the group explicitly supports. Outside of celebrating Nada Surf's enduring career, what does the Let Go Tour, the subsequent cover album title and its beneficiaries really represent? Are we standing at the gate because we're actually in hell? If so, are the arts and music the solution for prevailing?  
Politics aside, Nada Surf put on an amazing show. There was a moment when I found myself lost in melancholic thought, when I realized Nada Surf had transitioned into a cover of Joy Division's "Love Will Tear Us Apart." I was so thrown off and yet so overjoyed that I completely forgot about all the drunk men who were constantly pushing me over and sandwiching me between their shouted conversations. I didn't feel so invisible in the crowd, although that's exactly what I was. But I'm pretty sure that's the whole point, right? So for now, I'm just going to let "The Fox" go.
https://www.instagram.com/p/BipFad7ggh_/