Around 100–150 people turned up to the Rally for Freedom, Solidarity, and Justice. Activist groups from around Portland turned up to show their support at the Aug. 6 rally, including the International Socialist Organisation, Socialist Alternative, and masked members of antifa. The Unpresidented Brass Band opened the event with live music.
JoAnn Hardesty, NAACP Portland's president, acted as MC for the event and began her speech with a reminder that the event was to remain peaceful and no form of violence was welcome. This included no weapons, no escalation as a response to provocation, no property damage, and no projectiles.
"I want to be clear," Hardesty said. "I don't want anyone to leave here today and assume that free speech and hate speech are the same thing. Hate speech is about a divide and conquer mentality. It's about isolation. It's about discrimination. It's about 'anti-ism'…When we talk about freedom of speech, freedom of speech is about inclusivity. When we talk about freedom of speech we are talking about bringing people together."
Hardesty then introduced the protest's first speaker, Seemab Hussaini, who spoke of his experience as an Indian-Fijian kid, his take on the experience of minorities in this country, and the first amendment.
"I understand the anger," Hussaini said. "I understand the fear that drives the anger. But I also understand the fear that can drive the ignorance, because it's the same fear that is what is our opposition. You have to understand when you're being infected by the same fear you utilize the same fear to act for justice. There is a bit of irony involved. What separates us from them is the fact that we're willing to read the language and to read and interpret it and deliver it. This is the separation. I refuse to give them a name. I refuse to give them an identity. I refuse to name their cause. You should too."
The opposition he is referring to is the Patriot Prayer group that was holding its own rally for freedom just a little further south on the waterfront.
"We are peace," Hussaini continued. "We are the example of the word. We push it, we perpetuate it, and we try to inform those who believe less or otherwise. It's all we can do. I bring words to a stick fight."
Hussaini and Hardesty also spoke about the stabbing that happened on the MAX train in Portland earlier this year. Hussaini urged Oregon's congressmen to step down from their positions, stating that their "white ass is doing a horrible job."
Hardesty then confirmed she is running for Portland City Council. She retold a story about marching into the Portland City Council office and asking one of the council members to retire, asserting they have been in office too long.
"I think the city of Portland is ready for some new leadership," Hardesty said. "I think most of us share a lived experience that is radically different than our current city council member in position three. I think most of us are struggling to put food on the table, to keep a roof over our head, to make sure we have healthcare. I think that's most of us. I think those are the people today who are not well represented by our city council, and that's what I want to change."
About halfway through this peaceful event, the masked members of antifa and other anarchist groups left and headed southbound, toward the Patriot Prayer rally.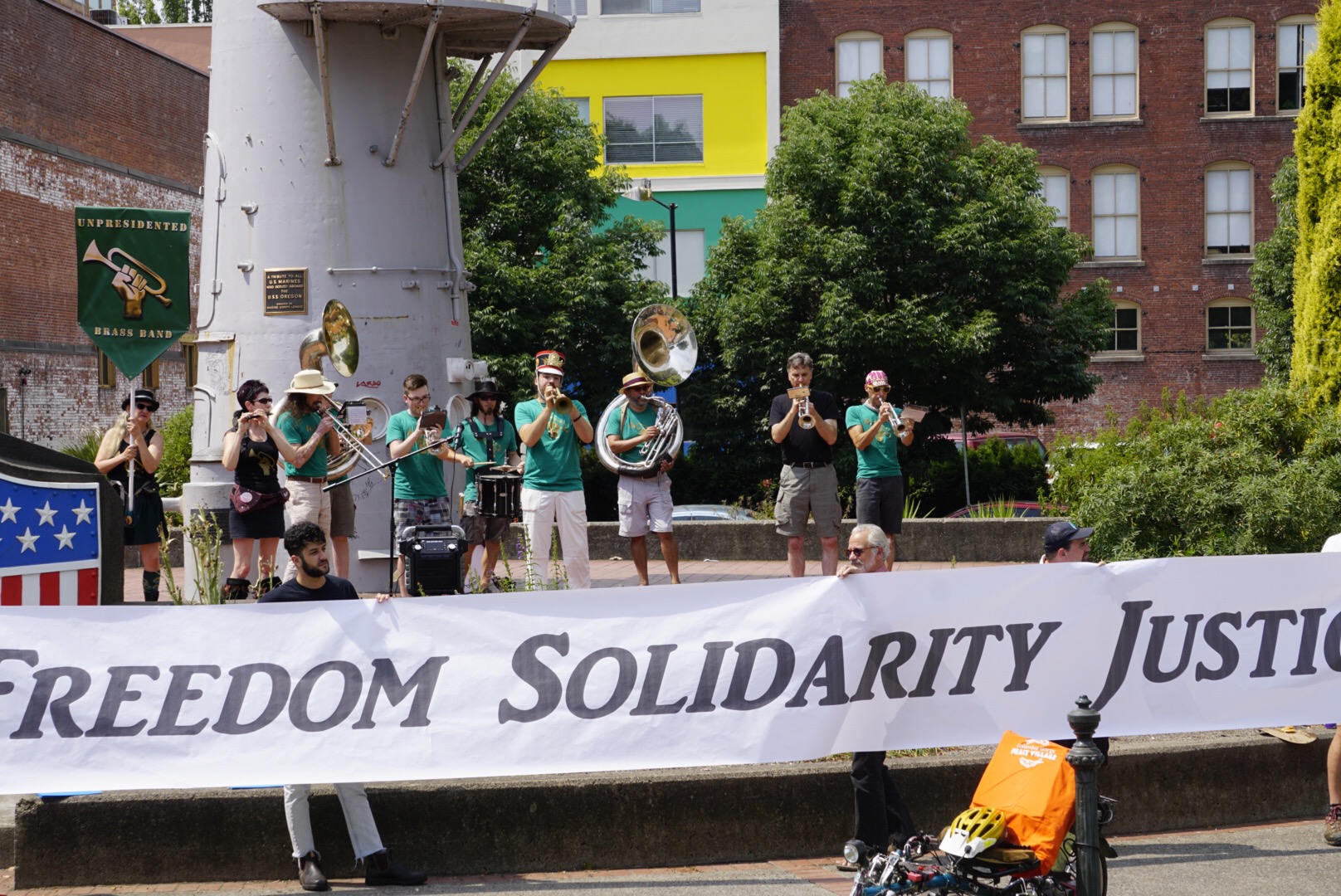 Later that day, the antifa and the Patriot Prayer groups collided in a violent confrontation. At around 3 p.m. the Unpresidented Brass Band was still playing music in an effort to drown out the chants of the Patriot Prayer protesters, and the police had not yet shown up.
As fights were starting to break, Patriot Prayer organizers could be heard shouting, "Back up or the police are going to come" to antifa and other masked protesters who were getting heated.
Members of the Rally for Freedom, Solidarity, and Justice did not join the violence and remained peaceful for the remainder of the event.