We've all heard a symphony before. There's Beethoven's famous Fifth with its notorious "dun dun dun duuuun." Most of us at least know that one and maybe a few others, but how many can we name? And do we know how to listen to them? Classical music has somehow gained a reputation as background music fit for mall soundtracks and study music, rather than something for enjoyment.
This stigma against the music of Bach, Mozart and Beethoven is unnecessary. It's music meant to be enjoyed just like Radiohead and the Rolling Stones. It may be complex at times, have a vastly different overall moods, and often times uses a larger formal structure, but the goal is the same. It aims to elicit a reaction. The classics have endured for centuries, so there must be something to them besides study music, right?
In a symphony, there are usually no lyrics, no words at all. So instead of words, what do we listen for throughout these pieces? The answer is thematic development. Consider the four note theme from Beethoven's Fifth.

It's pretty recognizable, thanks especially to its catchy rhythm. He uses this melody throughout the piece modifying it in different contexts. We hear it used in its raw form a lot during the first movement.
Much like modern day songs, with their verses and choruses, most symphonies have a musical form. Beethoven followed the classical tradition of composing his first movement in the form of sonata, a structure popular in his day which has remained common in all kinds of classical music.
Sonata form has three basic parts:
Exposition
The traditionally repeated exposition usually has four subsections. There is a first theme (also often repeated) followed by a transition or bridge to a secondary, contrasting theme, which is usually in a new key. Finally, we hear a closing theme with two functions: first leading the audience back to the first theme, and later transitioning into the development section.
Development
The development is when the composer gets to be adventurous. The themes get messed with and disguised, tossed around and played around with, and often go through both major and minor keys.
Recapitulation
It all comes back together and we hear the very first theme again, followed by the rest of the original exposition. However, in the recapitulation portion, this time the original themes are condensed, they don't repeat and they don't change keys, though the music will often reflect subtle variations that emerged during the development. Sometimes the composer adds a tail end to the movement called a coda.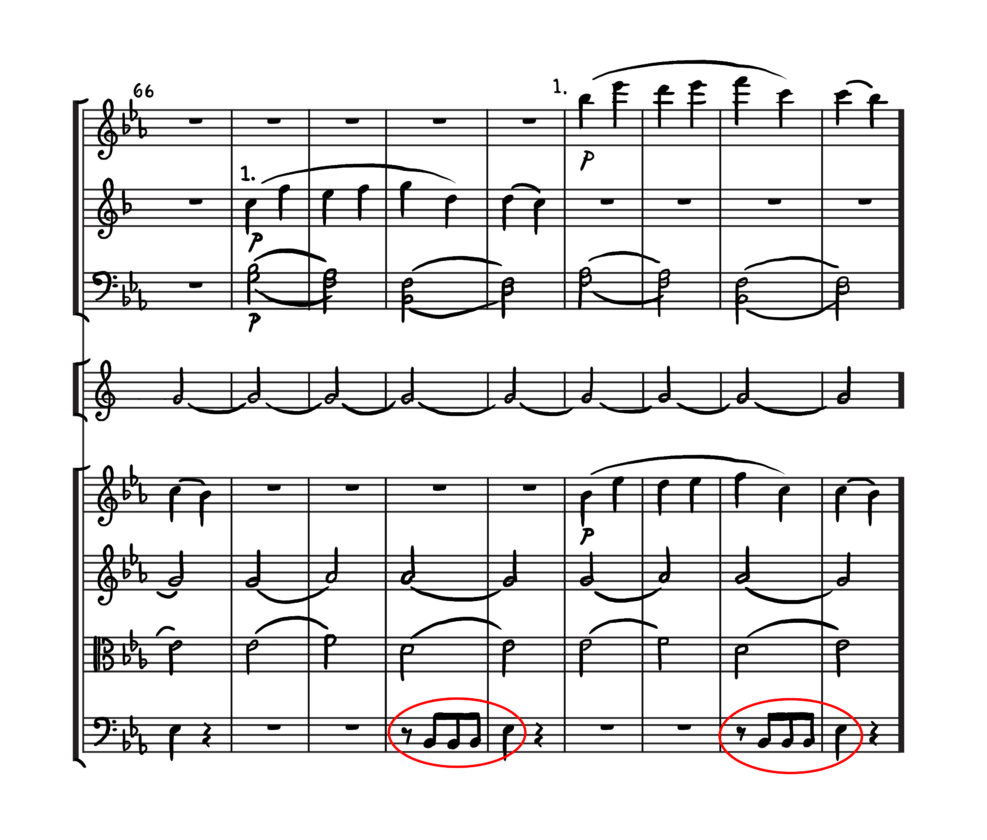 Now let's listen to Beethoven's Fifth together. I'm listening to Carlos Kleiber conducting the Vienna Philharmonic, which you can readily find on the internet. In the first movement, we enter the development section when the horns blast the main theme before a call and answer between strings, winds and brass (2:52 in the Kleiber recording). The music wavers between major and minor until finally (at about 4:21) we enter the recapitulation. The first theme returns with a lovely melody in the oboe. We hear the theme tossed around again in a similar fashion to the beginning until we finally reach a coda (6:55) and the first movement comes to a close.
As for the rest of the symphony, you can listen to the whole thing with these same ideas in mind. Latch onto a theme and follow its development. The second movement takes a new theme and creates variations out of it. The third movement is similar to the first, as the initial theme returns towards the end. The finale explores multiple themes before climaxing in one long coda where Beethoven is determined to instill C major in your head.
The Fifth Symphony has become one of the most iconic and memorable pieces in the classical repertoire. Almost everyone recognizes that four note theme, but most of us don't ever sit down and listen to the whole symphony. It's only a half hour long, longer than a pop song but still shorter than an Ed Sheeran album. And while listening to it on a CD or a streaming service is great, getting to hear it live is a wonderful experience. The Oregon Symphony Orchestra played it a few years ago, and next month locals will get a chance to hear it live again in a performance by Portland's premiere youth orchestra, Portland Youth Philharmonic.
The concert will also celebrate David Hattner, PYP's conductor and musical director as he enters his 10th year leading the youth orchestra. Hattner has led the ensemble on national and international tours. The concert is at 7:30 p.m. on Saturday, Nov. 11 at the Arlene Schnitzer Concert Hall. Ticket prices vary, however PYP offers $5 student tickets to all concerts.
If you're free that weekend, try to make it downtown to hear this iconic symphony performed live. Classical music doesn't have to be a complex or elitist art form reserved for a select few. It's meant to be enjoyed by everyone; all you have to do is listen.
If you'd prefer a different approach to listening, check out some videos online. PDQ Bach's version of Beethoven's Fifth is narrated like a sports game, penalties and all. You can also find animated scores and scrolling scores which show you all the music's details, and there are all manner of classic performances by such masters as Arturo Toscanini, Karl Böhm, and Leonard Bernstein.