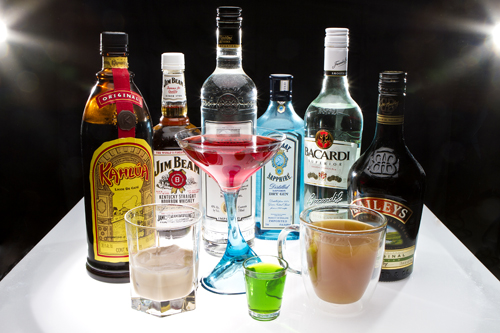 Portland State students come from all over the world. We come from different backgrounds and different families, with all different kinds of holiday traditions. There is, however, one tie that binds most of us together at this most wonderful time of the year: a profound appreciation for alcohol. Whether you want to relax, liven up or simply forget—indeed, whatever Christmas means to you—here are a few holiday beverages to help you along the way.
Coffee Pot Cider
When it comes time for this year's inevitable holiday get-together, impress your family with your cider-making skills rather than how well you hold your liquor. Prepare a batch of this simple-yet-delicious spiced cider for the whole merry clan, and keep your flask (full of spiced rum, of course) handy but hidden. Just don't get your mug mixed up with anyone else's!
1/4 cup brown sugar
1 teaspoon whole cloves
1 cinnamon stick
1/2 teaspoon whole allspice
1/4 teaspoon salt
Pinch of ground nutmeg
Large orange cut into quarters (keep the peel on!)
2 quarts apple cider
Steps:
1. Place all ingredients but the cider in a coffee filter.
2. Pour the cider into the coffeemaker, where the water usually goes.
3. Brew and serve warm.
Add your special ingredient to your cup before pouring the cider. If you don't like rum, vanilla vodka or bourbon also taste delicious with this sweet and spicy concoction.
Homemade Irish Cream
Winter break can be a long, cold, rainy prospect for stuck-in-Portland students. And let's face it: you'll feel better about yourself if the booze in your morning coffee is homemade.
1/2 bottle cheap Irish whiskey
Egg product, equivalent to 6 eggs (this will last a while, so it's wisest not to use raw eggs)
1 tablespoon espresso
1 tablespoon vanilla
1 tablespoon chocolate syrup
1 can sweetened condensed milk
1 pint heavy cream
Steps:
1. Whisk together the whiskey, eggs and espresso.
2. Add in the remaining ingredients.
3. Pour into two airtight bottles and refrigerate.
Other than coffee, a splash of this Irish cream tastes wonderful added to store-bought eggnog or poured over a bowl of vanilla ice cream. The whole bottle goes well with a pint of vanilla ice cream and the salty taste of your own tears.
The Classic Hot Toddy
The deceptively simple hot toddy is a winter classic, and for good reason. No pricey ingredients or complicated cocktail shaking needed here—literally, if you can boil water, you can make this drink.
Technically, any brown liquor will suffice, but bourbon's smooth flavor is the traditional choice for a classic hot toddy.
1 ounce bourbon
1 tablespoon honey
1/4 lemon
1 cup hot water
1 tea bag (optional)
Steps:
1. Heat the water to just below boiling.
2. Coat the bottom of a mug in honey and lemon juice.
3. Add bourbon.
4. Add hot water (if using tea, brew that separately before adding to the bourbon mug).
A hot toddy is best enjoyed in the "curled up" position beside a fireplace, but staring dreamily out a rain-streaked window will do in a pinch.
One Cup Eggnog
Nothing says Christmas like eggnog…but nothing says Merry Christmas like spiked eggnog. You could follow the example of rambunctious uncles everywhere and simply add some bourbon to the store-bought stuff, but let's be adventurous here. It's Christmas, after all!
1 1/2 ounces aged rum (don't go too cheap here, spend at least $15–20/bottle)
1 1/2 ounces ruby port
1/2 ounce simple syrup
1 whole egg*
1/2 cup whole milk
Nutmeg
Steps:
1. Combine everything but the nutmeg in a pre-chilled cocktail shaker (crack the egg, of course).
2. Dry shake to combine the ingredients well.
3. Add ice and shake again.
4. Strain and pour into a wine glass.
5. Dust with nutmeg.
*Disclaimer: Be careful to use a very fresh egg, or use the equivalent amount of Eggbeaters if your mother conditioned you to never eat them raw.
Cheap, Sweet and Creamy
For those nights when you find yourself hosting an impromptu holiday party without the funds to provide proper refreshments, have no fear. Buy a few bottles of cheap, holiday-friendly alcohol and a bag of ice, and you'll be set. As with the best party drinks, the proportions are flexible.
3 parts vanilla vodka
2 parts Irish cream
1 part peppermint schnapps
Ice
Mini candy canes
Steps:
1. Combine all the booze into an ice-filled cocktail shaker.
2. Shake.
3. Pour into a chilled martini glass/wine glass/plastic cup.
4. Crush a candy cane and sprinkle on top.
5. Drink and repeat.
The candy-cane crushing part gets more fun as the night progresses, and will be extra fun to clean up in the morning.