Since a graphic anti-abortion showcase towered two stories high and drew spirited protests in Portland State University's Park Blocks two weeks ago, the University has had to defend its commitment and obligation to the First Amendment, to the chagrin of students facing triggering imagery and language posted by the Genocide Awareness Project (GAP) throughout campus.
However, student government officials have drawn controversy by taking a less cut-and-dry stance on how controversial imagery is discussed and dealt with on campus.
Last week, Shayla Norris-York, student Co-President of the Cultural and Historical Association for Israel (CHAI) and StandWithUs Fellow, penned an op-ed claiming that a senator, later identified as Associated Students of PSU Senator Yasmeen Ayoub, shut her down online for supposedly unrelated political disagreements when asked how students could protest the misuse of the word genocide to the PSU administration.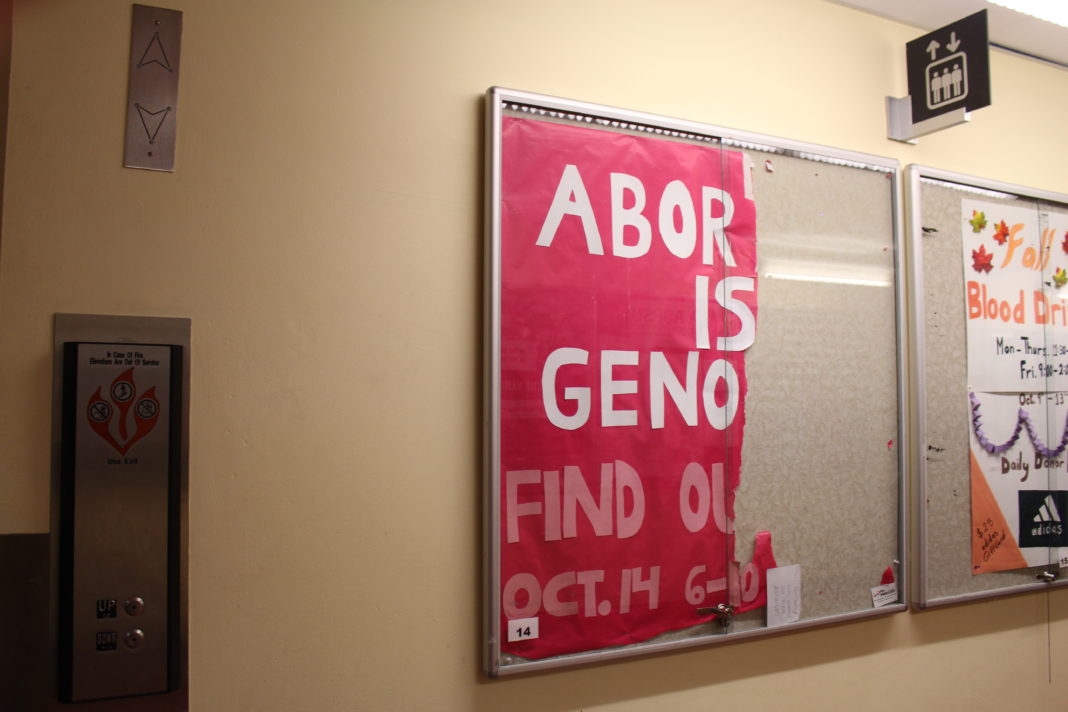 Then a video surfaced, showing ASPSU Vice President Donald Thompson III removing a banner recruiting pro-life students for GAP volunteer training prior to the display in the Park Blocks. The poster torn down in the video was not inside a protected display case as shown above.
What's missing seems to be a unified approach within ASPSU to dealing with disagreements between representatives and constituents. Student leaders say they're working on that.
"I don't care who you are and what you do for ASPSU or any bureaucratic body for that matter: [you] do not owe anyone conversation or access to speaking to you if they choose to use this access to invalidate the struggle of you and the generations you carry with you in your being each and every day," Ayoub said in a statement.
Ayoub added, "Otherwise, sure thing, ASPSU is committed to hearing the voices of students of PSU and fighting on behalf of their real struggles lived every day, specifically on this campus. ASPSU is undoubtedly here for that."
Student Activities and Leadership Programs Associate Director Brian Janssen told Vanguard in its coverage of the GAP display that faculty members are agents under Oregon State government, thus held to specific free speech policies.
"That's why it's challenging," Janssen said, "on a university campus, to shut down events or tell people their content is inappropriate because once you start doing that…it oversteps those boundaries."
However, because ASPSU officials are not technically employees of the University, their jobs are not bound to the United States Constitution in the same way.
"Technically [ASPSU is] the student government, but there have been arguments on both sides of, 'But are they beholden to the same restrictions that [PSU employees] have?'" said the Coordinator of Student Government Relations and Advisor for Greek Life Candace Avalos.
Avalos added that the First Amendment was enacted to protect people from the government, but since the policies ASPSU advocates for immediately impact ASPSU members themselves, the area between taking stances on certain issues and protecting a small group of students' free speech is gray.
Thompson defends his decision to tear down the recruitment banner, in part, because he sees his position as advocating for the "marginalized" rather than the "minority" of students.
Now that Donald Trump is the U.S. President, Thompson pointed out, "pro-lifers in the context of this country are not necessarily marginalized."
Thompson added, "my responsibility isn't to make sure the minority voices are allowed room to speak, it's to make sure the voices of the marginalized [are] brought to the forefront."
Thompson said that during the week leading up to the GAP training on Oct. 15, students had been telling him that advertisements for the training, including a large pink "Abortion is Genocide" poster in the Smith Memorial Student Union, were making them feel like they were not welcome.
Because Thompson has experience with the meticulous process of requesting permission to hang posters and banners, he was suspicious as to whether PSU Pro-Life had gone through the proper administrative channels to hang its banner. Feeling confident it had not, Thompson pulled down the banner. Thompson said he then found out the group had not gotten proper permission.
Though, said Thompson, it's not common for ASPSU members to enforce poster or banner codes in SMSU because most messages displayed are celebrated on campus, Thompson claimed he took advantage of his authority in this situation and enforced the rules by pulling the banner down.
Later, however, Vanguard found out PSU Pro-Life did indeed obtain proper permission from SALP to hang the banner. Executive Administrative Coordinator for Planning, Construction & Real Estate Sarah Kenney, who took the phone call from Thompson, said she told him she could not conclusively say whether the group had gotten permission for its banner placement or not.
Kenney claimed she told Thompson the group should go through SALP to get permission. Thompson did not respond to repeated requests for comment about his seemingly false claim.
In any event, Thompson said he believed the conversation the GAP display was attempting to bring to campus was an attempt to attack the right of students with uteruses "to choose and [the] right to define who [they are]."
As a result, Thompson said, the voices of marginalized students were being silenced. As an ASPSU leader, he felt empowered to do something about that.
However, Norris-York alleges she was shut down while trying to help with that effort.
When Senator Ayoub posted on their personal page, in a series of now-deleted comments, about the appropriation of the word "genocide" in the pro-life literature on campus, Norris-York commented, "is there any way we can peacefully but actively object to this? What's the best way to let PSU know that students don't support this?"
In response, Ayoub commented, "As a reminder, the correct definition of genocide is clearly exemplified by the State of Israel's atrocities against the Palestinians. I hope that before you peacefully but actively object such a cruel statement, you recognize the one you make by the systems you support. All of those issues are interconnected."
Norris-York said she has neither met nor spoken to Ayoub before the online exchange. She believes the senator made assumptions about her beliefs. "By being co-President of CHAI, I am saying that I recognize Israel's right to exist, which in anyone's eyes who doesn't support Israel, makes me a Zionist," Norris-York said in a statement.
When Ayoub blocked their email after further argumentation about genocide, Norris-York said ASPSU as a whole "signaled to the entire PSU community that they are only interested in representing students who align with their narrow political agenda."
However, Ayoub said they believe Norris-York's support of what Ayoub calls "the apartheid-state of Israel" made it "inappropriate" for her to request help protesting the use of the term "genocide."
"All of these struggles are interconnected, and very much so," Ayoub said. "I know for certain that there is published theory in the world comparing the colonization of people's bodies to colonization of land and states and peoples as a whole. I do not think these struggles are so unrelated that it be unreasonable of me to call [Norris-York] out for the inhumane entities she stands for."
Additionally, Ayoub said Norris-York emailed them a seven-page Word document, complete with a Works Cited page, "explaining why Israel is not committing genocide against the Palestinian people."
Ayoub, who is Palestinian, believed further discussion would be fruitless, so they blocked Norris-York from their personal email.
ASPSU President Brent Finkbeiner said, "Individuals should always feel free to reach out to their representatives when they encounter an issue." At the same time, added Finkbeiner, "governments are made up of individuals [that] get passionate [and take] stances on or against certain things." It is difficult, then, for individual ASPSU members to represent the entire student government.
Finkbeiner said that ASPSU is working to get everyone on the same page about how to interact with constituents they do not agree with.
"Altercations, in general, take place when we become insular [or] when we start to operate in a silo," Finkbeiner said. If the paths of different levels of ASPSU leadership "never cross," he added, the body cannot have a unified approach.
Avalos said ongoing discussions about these interactions happen in student leadership classes, one-on-one meetings with ASPSU leadership, and student government retreats.
Avalos confirmed that no specific social media policy exists for ASPSU members.
In the meantime, added Finkbeiner, students are always welcome to email him at the general ASPSU email address.
Thompson added that ASPSU is in process of forming a free-speech subcommittee to help students figure out how to speak up in the event more messages like those from the GAP project, or more extreme far-right messages like those that brought violence to Charlottesville, Va.
If any minority on campus feels like their voice has been silenced, Thompson said, he understands. "I'm a black person and there are less of me [at PSU] than just about anything else. I understand very powerfully what it means to actually be marginalized."
While Thompson doesn't want anyone to feel alienated from a school they pay to attend, Thompson does not think it's his responsibility to make sure the minority voice is heard if it "alienates everyone that has a uterus."
Thompson said he is not aware any disciplinary action has been recommended against him for tearing down the banner.
Assistant Dean of Student Life & Director of Conduct Dana Walton-Macaulay said her office is investigating a complaint about the incident, as it might violate code related to damaging, misusing or stealing property on campus.
In the meantime, ASPSU members' roles as both students, activists and representatives remain complicated.
A college campus is "the place we are supposed to be having these difficult conversations, [and] this is the place where we are going to be challenged, and our ideas are going to be challenged," Avalos said. "That is an opportunity for you to strengthen your own ideas and values by doing your research and by having your own argument."
[Editor's Note: The online version of this article was edited on Nov. 1 and more definitively on Nov. 3. These changes are as follows:
The headline was updated to directly reflect the content of the article, based on editorial discretion.
A change in word choice seeks to uphold stipulations outlined in the Family Educational Rights and Privacy Act related to PSU Student Code of Conduct Violation investigations.
Edited on Jan. 20, 2018 to correct a statement from Thompson that PSU Pro-Life had not obtained permission to hang its banner, and to clarify that Thompson tore down the banner before inquiring about the group's permission.]