For those sports-lovers out there, Portland offers a variety of options to combine all your vices into one satisfying experience.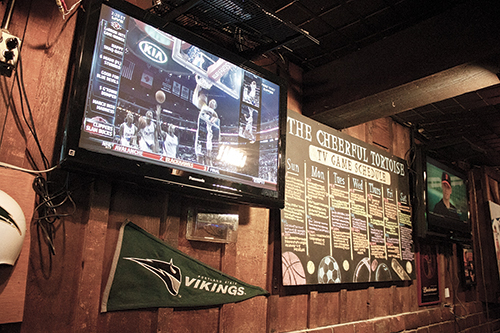 For those sports-lovers out there, Portland offers a variety of options to combine all your vices into one satisfying experience.
Blitz Pearl
Blitz has a few locations in Portland; the best is located in the Pearl District. Blitz Pearl is a two-story sports bar: The lower level offers a large projection screen, pool tables, air hockey, shuffleboard, a full bar and plenty of TVs throughout. The menu is a comprehensive listing of typical pub nourishment, and there are two separate happy hours scheduled every day. Blitz broadcasts local and national games along with select pay-per-view events.
110 NW 10th Ave.
503-222-2229
blitzpearl.com

The Cheerful Tortoise
The Cheerful Tortoise is a big supporter of Portland State Athletics and often ranks among the city's best sports bars. It offers a full bar, pool tables, a staggering 46 TVs, arcade games and lots of food and drink specials to draw you in. It's a convenient stop on campus and a great place to watch your favorite Portland teams throughout the year. Cheap breakfast options and an extensive beer selection make The Cheerful Tortoise a popular port of call for downtown Portland sports fans.
1939 SW Sixth Ave.
503-224-3377
cheerfultortoise.com
Henry's Tavern: American Bar & Grill
Henry's Tavern is a beer-lover's heaven, stocking more than 100 varieties from near and far, without all the standard sports-bar frills. The tavern has a full restaurant serving burgers, sandwiches, pizza, sushi and more. A retreat from the typical sports bar experience, enjoy the game with a good meal and a tall glass, or plan to attend one of the bar's many monthly events, including a whiskey dinner and a St. Patrick's Day bash next month.

10 NW 12th Ave.
503-227-5320
henrystavern.com

On Deck Sports Bar & Grill
Known for its more-upscale style and large outdoor deck, On Deck features 25 TVs, stadium-style food and lots of weekly specials. On Deck hosts occasional live music and is a frequent stop for Timbers Army regulars. The drink menu boasts an exhaustive listing of beer, wine and cocktails.
910 NW 14th Ave.
503-227-7020
ondecksportsbar.com

Spirit of 77
A hidden gem across the street from the Oregon Convention Center and within walking distance of the Rose Garden Arena, Spirit of 77 is named for the Portland Trail Blazers' championship year. It offers a giant 9-by-16-foot TV screen and free arcade basketball, foosball, Skee-Ball and pinball, plus a top-notch menu. It's no surprise the Spirit has received national recognition, including being named one of Esquire's "Best Bars in America" in 2011. The Spirit is the perfect destination for a good game and some tasty craft beers.
500 NE Martin Luther King Jr. Blvd.
503-232-9977
spiritof77bar.com