Food for Thought ventures outdoors
Food for Thought Cafe, a popular student-run vegan/vegetarian eatery on campus, has opened a food cart.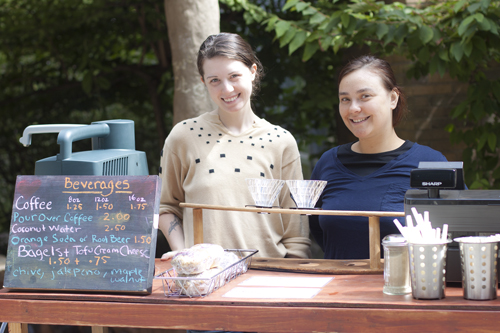 Food for Thought Cafe, a popular student-run vegan/vegetarian eatery on campus, has opened a food cart.
The cart, which passed its health inspection Tuesday, will be open from 8 a.m. to 3 p.m. Monday through Thursday, and 8 a.m. to 1 p.m. on Friday. The cart can be found between Smith Memorial Student Union and Neuberger Hall.
The summer menu will be rotational, with a selection of wraps, salads, onigiri, bagels, pastries and coffee.
"We had wanted to do it last year, but could not get what was needed together in time to make it work," said Elizabeth Bommarito, one of the students spearheading the food cart effort. "So, really, this is the manifestation of over a year's worth of wanting the cart and making it happen.
"The idea came about because we wanted to brainstorm ways to keep our business up during the summer, and thought a food cart would breach the hurdle of getting people into a dark basement in the summertime," Bommarito said.
The cart has held two free sampling sessions in the last month, both of which were successful, Bommarito said. The cart has also been receiving positive feedback on its Facebook page and from people in the Park Blocks.
"The more variety we have here, the more people will come from other places," Dogs and Fries vendor Hossein Talebi said. "The reason everyone goes [to the food carts on Southwest] Fifth [Avenue] is because of the selection…A good place to open up a business is next to a successful business."
There is one downside to opening the cart during the summer, however.
The majority of Food for Thought's customers are students, and with significantly less student traffic during the summer it may be more difficult to make a profit.
"Certainly there is always some concern over financial responsibility when choosing to expand," Bommarito said. "[B]ut at the same time we feel that if the food cart is to stay open into the fall term, having the summer to work out all the kinks will make the future of the cart run smoothly, which will in turn make it more financially successful. Also, by next summer this process will a breeze and the bulk of the investment will have been made."
If everything goes as planned, the food cart will remain open in the fall and help alleviate some of the early-morning coffee line congestion the cafe usually faces. Being able to grab a quick drink or snack outside without trekking down to the SMSU basement would be convenient for hurried students.