Using cars, buses, trains and your feet to get to campus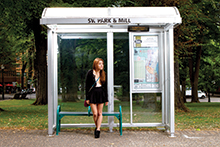 If you are lucky enough to live on or near campus, getting to class shouldn't cost you a nickel—you can literally hit the ground running (though walking may be safer). However, even if you are a campus resident you still may feel the urge to get away.
In these cases, you are subject to the same modes of transportation as the rest of us: driving, public transit and bicycling.
Driving
For drivers, getting to campus is the easy part. Finding a decent parking spot and making sure you have a proper parking permit takes a bit of effort.
Thankfully, PSU offers myriad parking options. One thing to keep in mind is that, except on Sundays and late at night, parking is never free. You must always display the proper parking permit for the garage or lot you are parking in.
We can't emphasize this enough: Always display the proper permit and park within the space lines, and you will save yourself a lot of bureaucratic wrangling over citations.
PSU owns numerous parking garages and lots, which are available to students and the public. A map displaying all the parking areas is available online at pdx.edu/sites/www.pdx.edu.transportation/files/Parking%20Map.pdf.
The three main garages are Parking Structures 1, 2 and 3. Each has its benefits and drawbacks.
Parking Structure 1 is the most central of any of the garages. During peak hours, 10 a.m. to 2 p.m., you may not be able to find a spot, so if you are in a hurry you might try PS3 first.
Parking Structure 2 is across from Cramer Hall on Broadway. This is a small garage that fills up fast and does not offer short-term parking. Purchase your permit from PS1 before you park in PS2; otherwise you will get a citation.
Parking Structure 3 is the largest of PSU's garages. It is also the most removed from the main hub of campus. For this reason it is usually cheaper to park in PS3. Except for peak hours on the first few days of each term, there is almost always a spot in PS3. (Keep in mind that PS3 is also more prone to break-ins, though Campus Safety makes frequent rounds throughout the day.)
If you plan on driving every day to campus, it's a good idea to purchase a term permit. They come in all types to fit your needs but are generally restricted to particular garages/lots and times of day. Make sure you are aware of these
restrictions, and only park within the parameters of your permit to avoid tickets.
One of the downsides of driving to campus is that there are few gas stations in the area. If you are in a bind, your only choice on campus is the 76 station on the corner of Fourth Avenue and College Street. The next-closest place to fill your tank is another 76, on Fourth Avenue and Burnside Street. They both average around the same price per gallon, but be warned—they are also among the most expensive stations in the city. It's better to fill up before you leave your neighborhood.
Public transportation
Public transit is a great option for students who don't own a car or prefer not to deal with driving downtown and competing for parking spaces. PSU campus is served by numerous bus lines, two MAX lines and the Portland Streetcar.
The streetcar is free this year for all students carrying a student ID card. For all other transit options, you might consider purchasing a FlexPass. This is a sticker that goes on your ID card—the most expensive sticker you'll likely ever buy!—and works on all TriMet buses, light rail and streetcars. This year's rate is $205 per term, a 30 percent discount on regular TriMet rates. Visit TriMet's website to plan your trip: trimet.org.
Biking
Portland is considered one of the most bike-friendly cities in the country, and PSU shares in this honor by providing hundreds of bike racks for parking all over campus.
All of the uncovered outdoor racks are free for anyone to use. If you are looking for more security, there are several bicycle garages you can purchase a permit to use. These spaces are limited but are still reasonably priced.
Portland has an active bicycling culture that blends well with the DIY attitude of the city's creative class. These two elements converge at PSU's Bike Hub, located on the corner of Southwest Sixth Avenue and Harrison Street. For a small fee you can become a member.
First, you get a discount on gear and accessories they sell on site. Second, and perhaps most importantly, you gain access to tools and professional help anytime you need to make repairs on your bike.
With the options available for getting to and from campus, transportation should be the least of your worries as a PSU student.
Visit the Transportation and Parking Services website for more detailed information: pdx.edu/transportation.
---
Permit Prices
FULL TIME
General
$339
Valid in Primary Parking areas
9 credits
Parking Structure 3
$315
Valid in Parking Structure 3
1 credit
University Place
$339
Valid in University Place lot
1 credit
Fourth Avenue
(SOLD OUT)
$352
Valid in Fourth Ave. garage
6 credits
Blumel Hall
$339
Valid in Blumel Hall Lower
garage
Available for housing
residents only
6 credits
Ondine: Lower
$339
Valid in Ondine Lower garage (entrance off SW Fifth Ave.)
Available for housing
residents only
1 credit
Ondine: Upper
$352
Valid in Ondine Upper lot
(entrance off College St.)
1 credit
Motorcycle/Scooter
$85
Valid in designated motorcycle spaces campus wide
Complimentary with regular permit purchase
1 credit
Carpool
$315
Valid in Primary Parking
areas, the Fifth Ave.
lot and Carpool Reserved spaces in Parking 1 & 2
PART TIME
Morning
$252
Valid weekdays until 1 p.m., all day on weekends in
Primary Parking areas
1 credit
Afternoon
$168
Valid weekdays after 12:30 p.m., all day on weekends in Primary Parking areas
1 credit
Evening
$84
Valid weekday after 3:30 p.m., all day on weekends in
Primary Parking areas
1 credit
Non Peak
$168
Not valid between 11 a.m.
and 3 p.m. weekdays. Valid
in Primary Parking areas
1 credit
Part time Fourth Ave.
$282
Valid weekdays until 3 p.m.
P2 level only
1 credit
Mon/Wed/Fri General
OR
Tue/Thur/Fri General
$207
Valid in Primary Parking areas
6 credits
Mon/Wed/Fri PS3
OR
Tue/Thur/Fri PS3
$192
Valid in Parking 3 only
1 credit
Mon/Wed/Fri UPL
OR
Tue/Thur/Fri UPL
$207
Valid in University Place only
1 credit