Czerwony Barszcz, is a traditional Polish soup dating back to the 1500s, but variations of the dish exist in other parts of Eastern Europe. The soup is one of a 12-dish vegetarian Christmas Eve dinner called the Wigilia meal, a notable Polish tradition according to Dr. William Comer, director of the Russian Flagship Program at Portland State.
Ingredients
4 beets

3 qts veggie broth

2 parsnips

2 bay leaves

2 onions, chopped

10

–

15 mushrooms

2 apples– chopped

1 leek

1 bunch parsley

Sauerkraut – chopped

1 lemon– juiced

1 cup fermented beet juice

2 tbsps apple cider vinegar

2 tsps cumin

2 tbsps dill

2 tsps thyme

garlic

salt and pepper

sour cream and/or pierogi to top
Instructions
Peel and slice beets thinly and add to pot of vegetable broth. Simmer for 20–30 minutes. Chop remaining vegetables and add to pot. Add vinegar, lemon juice, beet juice and spices. Cover vegetables with broth and let simmer an additional 30 minutes. Blend the soup before serving if a creamier soup is preferred. Top with sour cream and/or pierogi.
The sticky, orange twisted dessert is one of the most common foods associated with Diwali, the Hindu holiday known as the festival of lights (due to the clay lamps left outside the home). Traditionally, jalebi is made using a fermented batter. However, there are other variations, and it's often served with milk.
Ingredients
1 cup all-purpose flour

2 tbsps besan (also known as gram or chickpea flour)

1/8 tsp turmeric

1/4 tsp baking powder

1 1/2 cup water

1 cup sugar

1/4 tsp saffron

1/4 tsp lime/lemon juice

ghee or oil to deep fry
Instructions
Mix both flours, baking powder and turmeric together and add 3/4 to 1 cup of water. Stir briskly for a few minutes. Cover and keep warm for around 15 hours. Stir the batter again, adding a tbsp or two of all-purpose flour to thicken. Pour batter into piping bag and prepare syrup.
For the syrup, add 1 cup sugar with the saffron and 1/2 cup of water to a pan on low heat, stirring continuously to dissolve the sugar. After the sugar dissolves and the syrup has an even consistency, add the lemon or lime juice. Keep the mixture warm.
For deep frying at home, add ghee (preferred) or oil to wok or kadai pan and heat until the temperature reaches 350 degrees Fahrenheit. Squeeze the piping bag in circles, moving from the center to the outside. Turn over once one side is done, and remove with tongs once both sides are fried. Place the jalebi into the syrup for a few minutes while ensuring both sides are coated. Repeat for each jalebi.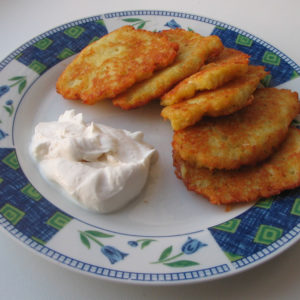 Arguably the most widely associated food with Hanukkah, latkes are made with potatoes and fried in oil and therefore often dubbed the Jewish potato pancake. Latkes as a tradition of Hanukkah are largely associated with the miracle of the oil when, after the Maccabees took back the Temple in the 2nd century, oil meant to only last for one day, lit the menorah for eight instead.
Ingredients
2 1/2 lbs Yukon potatoes

1 large white onion

3/4 cup matzo meal

2 large eggs

1 tbsp potato starch

1 1/4 tsp salt

1/2 tsp pepper

1 1/2 cups peanut or grapeseed oil
Instructions
Cut the potatoes into chunks, shred using a food processor and cover with cold water in a mixing bowl. Grate the onions using a food processor. After straining the potatoes, wrap both the potatoes and onions together in a cheesecloth and squeeze to remove any excess liquid. Put the onions and potatoes back into a mixing bowl and stir together evenly. Beat the eggs, and add the matzo meal, eggs, potato starch, salt and pepper to the mix.
Place the oil in a skillet, amounting to 1/8-inch-thick, and heat up to 350 degrees Fahrenheit. Using about 3 tbsps of the latke mixture, press into compacted disks and carefully place in oil. Fry each side for a few minutes, then place them aside on a wire rack to drain. Pair with applesauce and sour cream.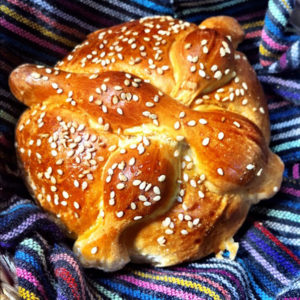 The "bread of the dead," as its literal translation, is a critical element of Día de los Muertos. The Mexican sweet bread, while enjoyed by many, is often used as an offering for ofrendas in order to replenish spirits from their journey. The shape of the bread itself has an implied meaning, with the cross formation often representative of the bones of the dead, while the center nub may be interpreted as a teardrop, skull or the heart.
Ingredients
4 cups all-purpose flour

2 tbsp active-dry yeast

1/2 cup + 2 tbsp sugar

1 tsp salt

1/3 cup butter

1/3 cup margarine

5 large eggs

2 oranges for zest

1/4 cup water

1 tsp orange blossom water
Instructions
Mix 4 eggs, margarine, salt and half the amount of sugar in a mixing bowl with a dough hook, gradually adding the flour and water at the same time, followed by the yeast. Add the butter, orange zest, the remaining sugar and the orange blossom water until mixture is even. Knead the dough on a flat surface for a few minutes, then transfer to a margarine-lined bowl. Cover and set aside for a couple hours in a warm place as it rises.
After the dough has risen, set a small amount aside and separate the rest into portions, taking each one in the palm of your hand while applying pressure in the center with your finger. Roll into a ball on a flat surface. Using the portion of the dough set aside, roll into small logs to form the bones, placing two on each roll with a ball of dough in the center. Brush each roll with a mixture consisting of a beaten egg and water. Cover and let rise for a couple hours, then brush again with the egg and water before baking at 350 degrees Fahrenheit for around 15 minutes while they become a golden brown color. After the bread cools, brush with butter and dust with sugar.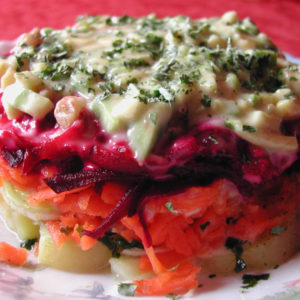 Shuba – Herring Under a Fur Coat
This dish, which translates literally as herring under a fur coat, is a popular Russian dish for celebrating New Year's Eve, as is the pickled vegetable salad, vinegret. As the name implies, it consists of herring as the main attraction, pickled and then covered in beets and mayonnaise.
Ingredients
12 oz herring fillets

milk, as needed

2 lbs russet potatoes

12 oz pickled beets

2 Granny Smith apples

1 cup mayonnaise

2 carrots

3 hard-boiled eggs

1 onion, large

1 1/2 to 2 cups chopped fresh parsley
Instructions
Cover the herring with milk and let soak for 30 minutes in the fridge. Peel, dice and boil the potatoes until tender. Drain and dice the beets and grate the apples. Peel and grate the carrots, finely chop the onions and chop the boiled eggs. After the herring is done soaking, drain the milk and chop the herring. On the serving platter, arrange the potatoes and top with a layer of beets, then a layer of apples, making sure to reserve half of each for later. Cover with a layer of mayonnaise, then carrots, eggs and onions, again making sure to reserve half of each for later. Use all the herring in the next layer, then cover with a layer each of the remaining onions, eggs and carrots. Add another layer of mayonnaise and cover with layers of the remaining apples, beets and onions. Cover with mayonnaise, garnish with parsley and let sit in the fridge before serving.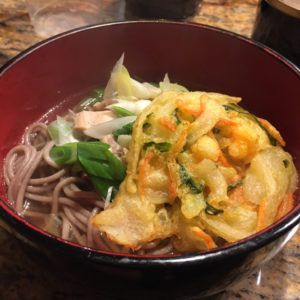 Celebration of Omisoka, the Japanese New Year, is a time of ridding oneself of impurities in order to enter the new year in good fortune. Soba noodles are an extension of this practice, and as such, toshikoshi-soba has become the meal of choice for Omisoka.
Ingredients
2 1/2 cups water

4-inch piece dried konbu

1 cup katsuobushi flakes

3 tbsp dark soy sauce

1 tbsp mirin

2 tsp sugar

2 oz dry soba noodles

1/3 kamaboko

1 green onion or 4-inch negi

1 small yuzu

shichimi togarashi
Instructions
Soak the konbu in water for about 20 minutes. Bring to a boil and add the katsuobushi flakes. Let the stock stand for a few minutes before straining. Add the soy sauce, mirin and sugar. Bring to a boil. Cut the heat and let stand.
In a separate pot, bring water to a boil. Add the soba noodles. Let simmer until the noodles are done, then drain and rinse. Cut the kamaboko into slices, dice the negi/green onions and cut off two pieces of yuzu peel. Add the soba noodles to stock and heat again, then serve into bowls. Top with kamaboko, green onions/negi, yuzu and shichimi togarashi.