LGBTQ+ advocacy group Won't Be Erased PDX held a rally on Nov. 16 at Portland City Hall to protest an unreleased Trump administration memo proposing a strict definition of gender based on one's genitals at birth.
Protesters held signs bearing the slogans, "Fight transphobia, homophobia, racism, sexism"; "Non-binary, queer, still here"; "LGBTQ+ united against Trump"; and "Trans-inclusive Medicare for all," as the self-described "social action-oriented" Unpresidented Brass Band played.
"[We started organizing] probably a month ago or so," event organizer Cherry Garcia said. "With [the memo] essentially erasing queer people and denying their right for correct documentation, alienating queer and trans folks."
The event, chosen to land on International Stand Up to Bullying Day, featured speeches about the experiences of members of the trans community and their struggles with identification, healthcare, suicide and self-harm—issues that deeply affect the LGBTQ+ community.
Devina Bookbinder spoke about her reaction to the memo's release. "[We] can and should use [the bad] to empower ourselves and to fuel our passions and our fervor, to remember that there is so much good out there," she said. "We need the crap to empower us and make us angry because justice comes about through being angry at injustice, but it also comes about because we have hope that things can change and get better."
Other speakers cited statistics on houselessness and job discrimination among members of the transgender community.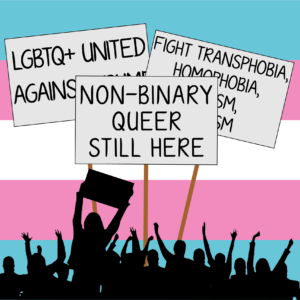 Speaker Mirror Meadows said he wanted the protest's message to focus on "forming community, on building each other up and on supporting each other…because we go through a unique kind of hell being trans."
"I think that the whole point is that my speech is just one of many," Meadows continued. "I think that's part of the beauty. I like that I heard my sentiments echoed [among] all the speakers, the sentiment of 'stick together,' that we are stronger when we are together [and] that we are united."
Over the course of the evening, the crowd on the steps outside City Hall grew to about 200 people. "I'm incredibly happy with the turnout," Garcia said. "I'm really happy to see so many community members and activists from other organizations…I'm proud of my community."
The rally was part of a series of three protests nationwide, with the other two being held in Washington, D.C. and New York City.
"Just seeing the community gather in Portland is really significant," Portland State student Cassie Nelson said. "As far as local spaces where queer youths can actually gather to support things, it's hard to find places that are inclusive and open, so it's good to see."
Fellow PSU student Avery Clifton added, "It's important to make sure our voices are heard, wherever, whenever possible."