Kjerstin Johnson: Editor, Writer & PSU English adjunct professor
An exceptional writer walks the halls of Portland State. While humbly eschewing recognition, she works tirelessly to help students succeed in both learning and teaching realms. Kjerstin Johnson is a hidden gem of PSU's academic ecosystem, highly spoken of throughout the publishing and journalism communities.
Portland State Vanguard sat down with Johnson to gain insight for young writers, hear more on her experience as a professional writer and editor and as part of the PSU community.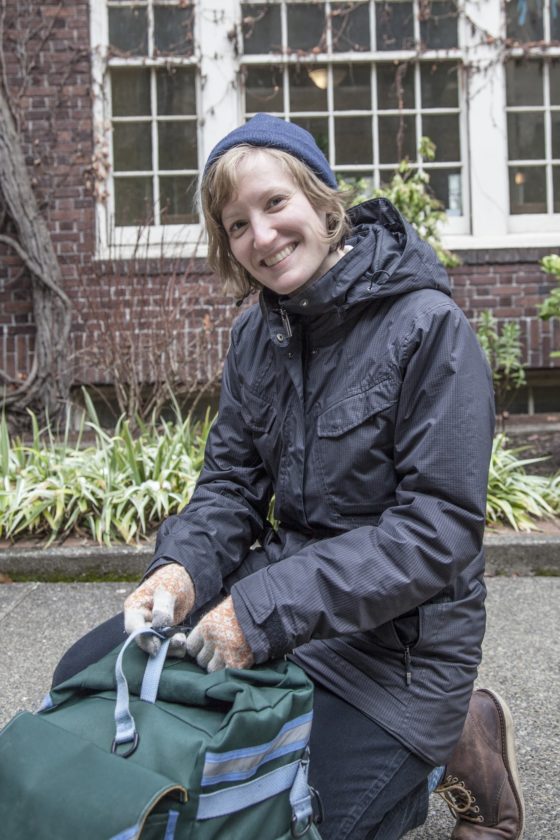 Q&A
Vanguard: What brought you to PSU? How did you end up as a professor?
Kjersten Johnson: I attended the PSU book publishing program for graduate school in 2010. While I worked at Ooligan Press, I was also working at Bitch magazine as the web content manager. The skills I picked up from grad school really helped me get promoted to Editor-in-Chief of Bitch. I was asked to teach [magazine writing] in 2015, given that my full-time job was with writers on magazine pieces, and I was embedded in the magazine industry.
VG: Do you have any time management tips, especially for writers?
KJ: Deadlines are really good for me, I'm motivated by deadlines—by fear. Whether that's the fear of not being prepared for class or the fear of making my editor mad, that's pretty motivating. Also, taking care of yourself and making sure that you've had enough sleep, food and water so you're in a good place to get your work done. Take care of yourself so you can create the best work possible.
VG: How do you go about finding inspiration, especially with freelance writing?
KJ: Pursuing what you're passionate about is always a good starting point. I encourage people to get assignments from Vanguard. You'll produce good work in seeking out the story when you're invested in it.
For example, I wrote a review about an anthology of comics by women from the 1970s, which is a little passion interest of mine, and I feel like I produced good work because it was something I cared about. If you're passionate about it, then somebody else is probably passionate about it, and it will show in your work. Your curiosity, your passion for that will come through, so start with something that catches your attention; there is something there for you to pursue.
VG: Do you do other forms of writing?
KJ: I have done some screenwriting recently, and one of the short films I've worked on will be showing at the Portland International Film Festival. It's called We Have Our Ways, and it's in the Oregon Shorts Program-Wilderness. I like independent films—seeing a story that hasn't been told before.
VG: Do you have any advice on learning new forms?
KJ: All different kinds of writing can inform each other. I watched a lot of short films—especially from Sundance—and would dissect them. Whether you're a short fiction writer, screenwriter or novel writer, I think you have to start to build that muscle of asking yourself, "What did the author do, and what are the mechanics of the plot?" and study those.
We Have Our Ways will screen Sunday, Feb. 25 at Portland International Film Festival in the Oregon Short Cuts: Wilderness category.
---
"People of PSU" is an ongoing column. Know of a noteworthy person, group or project in the PSU community Vanguard should feature? Email [email protected]