A group of Portland State students marched through downtown Portland Monday, March 5 to simulate a funeral for fossil fuels and raise awareness of society's dependence on non-renewable energy. PSU students focusing their senior capstone project on fossil fuels partnered with environmental activist organization 350PDX for the march, which included a trumpet solo, eulogies and a cardboard coffin.
"We gather here this afternoon to pay our respects to fossil fuels," said organizer and PSU senior Damon Flick. "After a long battle with climate science, fossil fuels have proven to be incompatible with our way of life on this planet and have been put to rest."
Eight students making up the capstone team led the march and an additional 10 joined them on the street. Capstone supervisor Celine Fitzmaurice, Senior Instructor in university studies, and 350 PDX Representative Maya Jarrad accompanied the attendees.
The procession began with a trumpet solo and two participants hoisting the coffin onto their shoulders. Starting at the Science, Research and Technology Center on SW 10th Ave. and SW Mill St., the group made its way through the PSU Park Blocks, to the Urban Center, then down SW 6th Ave. to Pioneer Courthouse Square.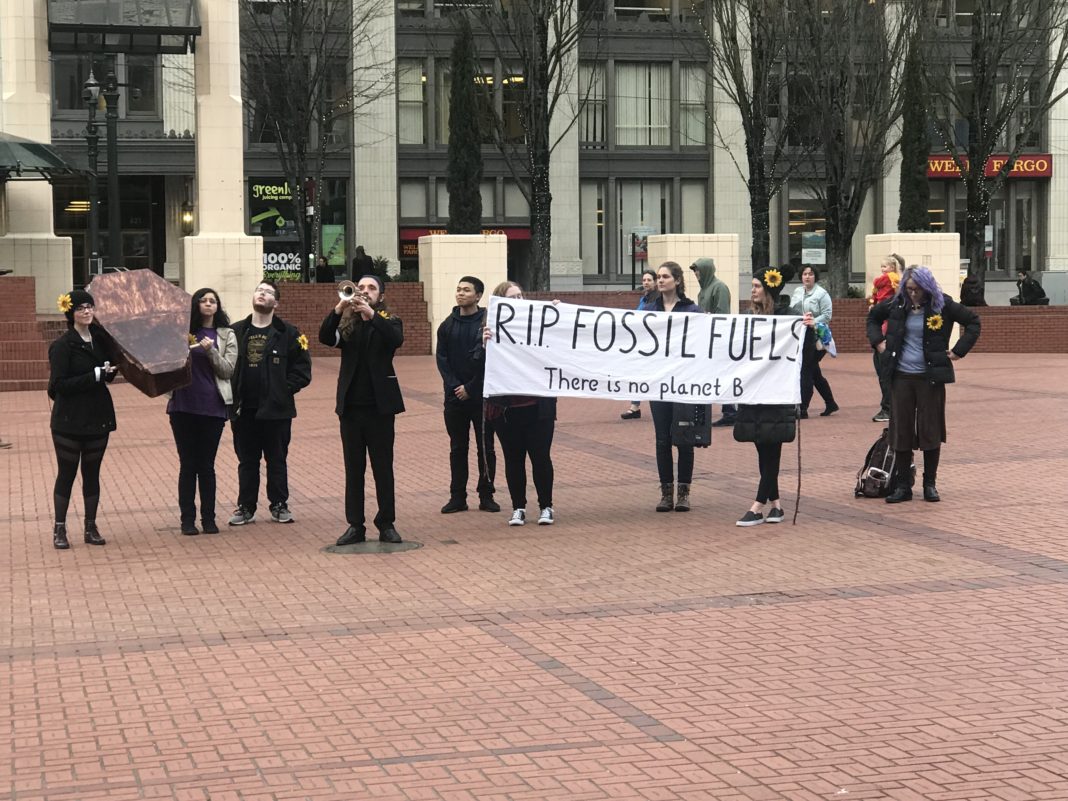 Marchers handed out informational flyers and 350PDX pins to individuals on the street. A few people in apartments and office buildings opened windows and watched as the group chanted and blew the trumpets. Car passengers and drivers honked their horns and shouted in support.
Marchers chanted, "Lay to rest fossil fuels! There is no planet B!" throughout the procession.
Once the group arrived in Pioneer Square, attendees gathered around the cardboard coffin and bowed their heads as Flick and Jarrad spoke to the audience about the impacts fossil fuels have on climate change.
Although Flick and Jarrad acknowledged the fossil fuel industry has benefited "life quality, healthcare, and global community," they claimed continuous use of non-renewables will eventually result in climate catastrophe. Remaining fossil fuels still in the ground should remain in the ground, the speakers emphasized, in order to temper the effects of climate change.
The procession concluded with one last trumpet sound, a moment of silence for the fossil fuel industry, and a call to action for all listeners.
"Please join us in honoring the death of the fossil fuel industry," Jarrad said, "and join us in continuing to bury fossil fuels deep, deep in the ground for a long, long time to come."