Tips and Tricks to ease the way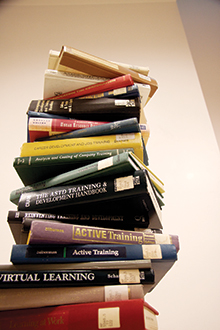 After 13 first days of school, hundreds of thousands of sheets of wide-ruled notebook paper and several million little cartons of milk, you've finally made it. Welcome to university: a Pandora's box of debt, ramen noodles and washing your own boxers. College may seem overwhelming at first, but add these tips to your arsenal and avoid making a few common faux pas.
Save your recreational brain-cell killing for weekends and days off. Professors won't find your answers nearly as concise or hilarious as you do when you're under the influence.
Shop around for textbooks. Online retailers like Amazon and Barnes and Noble might have deep discounts or used copies for much less than the Portland State Bookstore. Look for stores that buy books back or outlets that rent out textbooks, like the PSU bookstore and other online retailers. Be sure to triple check your ISBN before purchasing anything.
Wash your tees and socks after each use. As a rule of thumb, jeans can be worn 5–10 times before needing a wash, and things that don't touch your skin directly, like jackets and sweaters, can go a good chunk of time without being washed. You could employ the sniff test a time or two, but no amount of speed stick is a replacement for proper washing.
If you're looking for personal services like haircuts or tanning, take a bus out of downtown and save money. The same applies to grocery shopping (the Safeway near campus tends to be depressing and overpriced) and household items (take the MAX Green Line to Target for pens and shampoo).
Avoid fast food. McDonalds might be tempting, but Portland is a foodie's paradise waiting to be explored. Check out the food carts and various food cart pods all over the city. There are options other than Safeway: Whole Foods and Fred Meyer have locations in the Pearl District, and don't forget about the various farmers' markets across the city.
Schedule and/or list tasks to be done around your dorm or apartment. This isn't the kind of chart that your mom affixed metallic stickers to whenever you did what you were told; rather, it's a way of organizing what needs to be done at home while splitting the workload. If your roommate has a legitimate excuse, help him out. Chances are that one day you'll need him to cover you.
Take the time to close your books and get a decent night's sleep. Sleep deprivation does lead to insanity, so keep that in mind. Don't romanticize the all-nighters. Manage your time to include periods of studying.
The most detrimental thing you can do is stress yourself out. Keep a notebook to track things you need to get done, take care of yourself and keep your head up.