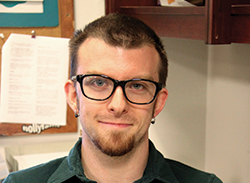 Hey there, fellow Viking! If my calculations are correct, you may be reading the most useful publication of your college career. For as we skid to the end of another moody Pacific Northwestern summer, we are reminded that the daunting specter of fall term at Portland State increasingly bears down on us.
While most of us prepare to settle once again into our academic routine and reacquaint ourselves with the campus, approximately 6,800 of you are completely new to PSU. And a hefty portion of you, roughly 3,300, are entering university for the first time.
It is for these rising students that we at the Vanguard, your student-run newspaper, produced the 20-page special section you now hold in your hands.
The Vanguard Orientation Guide 2012 is intended to help you transition into college life, an experience often replete with…well…disorientation. Consider this guide a personal primer, a survivor's shortcut custom-designed to help PSU newbies gain their bearings and be successful students from day one.
Our goal is nothing less than to equip you with the sort of breezy one-stop shop we would like to have had in our possession when we took our maiden step onto PSU's labyrinthine urban campus.
Imagine all the hassle we could easily have avoided if only we'd, say, known our transportation options from the get-go, or our renter's rights during our first attempt to boldly live off-campus! Oh, the lessons learned the hard way. Oh, the humanity.
Fear not, folks: We at the Vanguard have done the heavy lifting for you. Everything you need to navigate your way through the PSU experience is contained in the print and online versions of this colorful and titillating user-friendly volume.
Here you'll find survival tips for freshmen; reviews of campus resources, computer labs, popular study sites and student groups; a profile of your student government; a snapshot of Viking sports; a guide to living off campus; transportation and parking options; surveys of nearby cafés, bars, downtown Portland mainstays and local arts, culture and entertainment; and so much more!
For quick reference, turn to our handy centerfold for list versions of several articles—and a nifty PSU timeline. Be sure to visit our brand new website at psuvanguard.com for online features, including an interactive campus map!
As our toolbox ad campaign shows, our mission at the Vanguard boils down to one thing: Serving our readership. It is in this spirit of service that we hope to escort you by tender hand through many of the amenities, facilities, resources and recreational opportunities that make the PSU community truly unique.
Look for our first regular issue on newsstands Tuesday, Sept. 25, as we continue to report on the Portland State narrative as it unfolds.
Here's to a great year!
Erick Bengel
EDITOR-IN-CHIEF