Open-faced artichoke tuna melt
Canned tuna never tasted so swanky
This recipe is a classy twist on a hearty diner favorite.
Canned tuna never tasted so swanky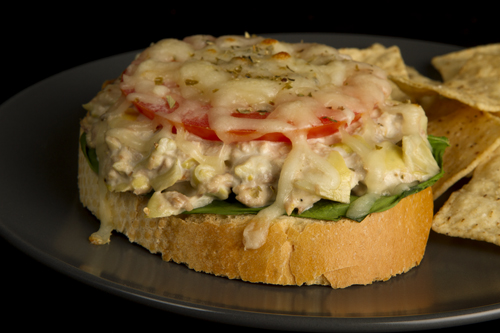 This recipe is a classy twist on a hearty diner favorite.
Open-faced artichoke tuna melts are perfect for brunch with a group of pals. The ingredients are cheap, and because the sandwiches are broiled instead of fried, you can cut down on calories and cooking time! The finished product is a golden melty sandwich that looks decadent and tastes delicious.
This meal is also easily transformed into an appetizer. Instead of a French loaf, use multi-grain crackers to serve up your tuna. Roughly chop spinach and dice tomatoes before incorporating them into the tuna salad mix. For an even more healthful option, serve your tasty tuna concoction with a side of celery sticks for dipping.
Ingredients
2 cans albacore tuna in water
1 can artichoke hearts, drained and chopped
1 loaf French bread
1 tbsp olive oil
1 cup fresh spinach
1 cup mozzarella
2 tomatoes, sliced
1/2 cup mayonnaise
1 tbsp Dijon mustard
1/4 tsp garlic powder
1 tbsp dried oregano, divided
Salt and pepper to taste
Drizzle sliced French bread with olive oil and place under oven broiler for 3 to 4 minutes until bread begins to crisp. Remove and set aside.
In a bowl, combine tuna, mayonnaise, artichoke hearts, garlic powder, mustard, and salt and pepper to taste. Lay spinach leaves on bread, cover with tuna mixture, then layer sliced tomatoes. Sprinkle mozzarella over sandwich and finish with a dash of oregano.
Place open sandwiches on a baking sheet and place under broiler another 2 to 3 minutes until cheese has melted. Serve with your favorite side of chips and enjoy!