Three competing rallies will converge simultaneously in downtown Portland on Sunday, June 4, 2017.  
Mayor Ted Wheeler has criticized the most controversial of the three, a pro-Trump "free speech" rally, for its alleged connections to hate speech and violence that may have inspired white supremacist Jeremy Christian on May 26 to threaten two women of color and kill two men.
The other two rallies will organize in opposition to the "free speech" demonstration and to the value systems that supposedly inspired Christian's crimes.
The Portland Police Bureau and several social organizations planning the rallies have observed online threats of violence and report that some participants plan to be armed. While no permits have been issued for a march, PPB has alerted the public that traffic near downtown will most likely be disrupted.
Pro-Trump "free speech" rally sets sights on Portland
Joey Gibson, the leader of the pro-Trump group Warriors for Freedom, has organized a pro-Trump "free speech" rally from 2 p.m. to 5 p.m. at Terry D. Schrunk Plaza at 364 Southwest Madison Street. Gibson said he will be promoting free speech and spirituality, but not one race or religion over the other. In a promotional video on Facebook, Gibson encourages his supporters to "change the West Coast" from its liberal reputation.
On Gibson's Facebook event page, an image of a man in a gas mask flying an American flag with the caption "Kyle Chapman Based Stickman" acts as the event's cover photo.
Chapman, 41, of San Francisco, is a first and second amendment proponent who has made a name for himself antagonizing liberal communities. Chapman calls himself a "protector of freedom" and "destroyer of antifa" or anti-fascists. "Stickman" rose to fame at a pro-Trump rally in Berkeley, California, on March 4, 2017. Video footage of the event shows Chapman beating a supposed member of antifa with a stick, from which Chapman got his nickname. Chapman will speak at Sunday's rally.
Gibson told The Oregonian that he plans to use 50–60 unofficial security personnel, many of which have military backgrounds. These personnel are able to patrol the perimeter of the plaza with concealed, permitted guns, but under federal law are not allowed to enter the plaza with guns.
At Gibson's last rally on 82nd Avenue on April 28, Jeremy Christian was asked to leave for his erratic behavior, wielding a plastic baseball bat and shouting anti-Muslim threats.
Gibson said anyone attending the rally with an intention to fight will not be there "to make a difference."
"I'm going to do everything I can to use my voice so that people understand we're not here to fight," Gibson said. "If we have to defend ourselves like we did in Berkeley because the police stand down, that's one thing. But the police aren't going to stand down."
Close to 500 people have RSVP'd for the "free speech" rally, and Gibson said participants will be flying in from other states to attend.
Portland stands united against fascism
In response to Gibson's event, anti-fascist groups Rose City Antifa and Pacific Northwest Antifascists Workers Collective will organize a "Portland stands united against fascism" rally in Chapman Square just north of Schrunk Plaza beginning at noon. The event flier calls for attendees to "oppose alt-right bigot Kyle 'Based Stickman' Chapman." The event's website does not specifically warn ralliers of violence, but a spokesman for Anarchists in the Pacific Northwest who asked to be called "Mr. Berkman" told The Vanguard, "We will be focusing on defensive tactics and protecting people who are being targeted [by 'free speech' rally participants]."
Berkman claimed that attending the "free speech" rally will be members of white supremacist groups, some of whom are labeled hate groups by the FBI. These include the KKK Knight Riders, Proud Boys, Northwest Hammerskins, Stormfront, Alt-Knights, Pioneer Little Europe, and Volksfront. Also rumored on social media are "plans by attendees to bring deadly weapons to their protest and will be targeting Muslims and people of color, as well as antifa. Some of them are people who support [Christian]," Berkman said.
Portland stands united against hate
A second rally responding to Christian's murders will organize at City Hall from 12:30–4 p.m. "Portland stands united against hate," sponsored by over 70 social justice, labor, and religious organizations, desires to "mobilize the greatest number of people in front of City Hall; separate from, but adjacent to, the right-wing rally," according to the event Facebook page. "This will be a peaceful event to show, through our numbers and our voices, that the vast majority of Portland will not stand for racism and bigotry."
The Portland State International Socialist Organization and Portland State's American Association of University Professors are among the rally's sponsors. Legal observers from the National Lawyer's Guild and American Civil Liberties Union will monitor police activity. "Peacekeeping" volunteers, trained in de-escalation techniques, will hand out fliers to participants that ask them to "carry no weapons," "avoid escalation in response to provocation" and "commit no property damage."
Police activity
The Vanguard cannot independently verify claims that there will be weapons in Schrunk Plaza or that specific groups will be targeted. PPB, however, has said that "there will be a robust law enforcement presence due to online threats of violence between different groups." PPB has discouraged participants from bringing any weapons or items that can be used as weapons to the rallies.
PPB, Oregon State Police, Multnomah County Sheriff's office, Federal Protection Service, Department of Homeland Security, FBI, United State's Attorney's Office, Multnomah County District Attorney's Office, and Portland Fire and Rescue are partnering to provide public safety for the events.
Child-friendly alternative
A child-friendly alternative rally in Northeast Portland has been organized by Don't Shoot Portland. The permitted event at Dawson Park from 1–3 p.m., "Black is beautiful and our voices matter" will host free barbecue and music thanks to a grant from the Mackenzie River Group Foundation.
Don't Shoot Portland will be hosting civic engagement workshops with VOZ Hispania. "It's an amazing opportunity for people who want to grow in community and build relationships with families, so it's a great place for children to come" said spokesperson Teressa Raiford. All races are welcome, Raiford said, but they hope "comrades" will show up in case their rally is targeted by violence.
Vanguard coverage of Sunday's event
The Vanguard will have live coverage from the event starting at 11:45 a.m. and running throughout the day. Initial coverage will be led by news contributors Anna Williams, Jake Johnson and news editor Alex-jon Earl.
Their twitter feeds can be reached through the Vanguard's own twitter feed at http://twitter.com/psuvanguard or directly through their own user accounts:
@paruatsabi (Alex-jon Earl)
@mrsannawilliams (Anna Williams)
@fancyjenkins (Jake Johnson)
Initial positions of these live reports, and a general overview of the area is visible on this map: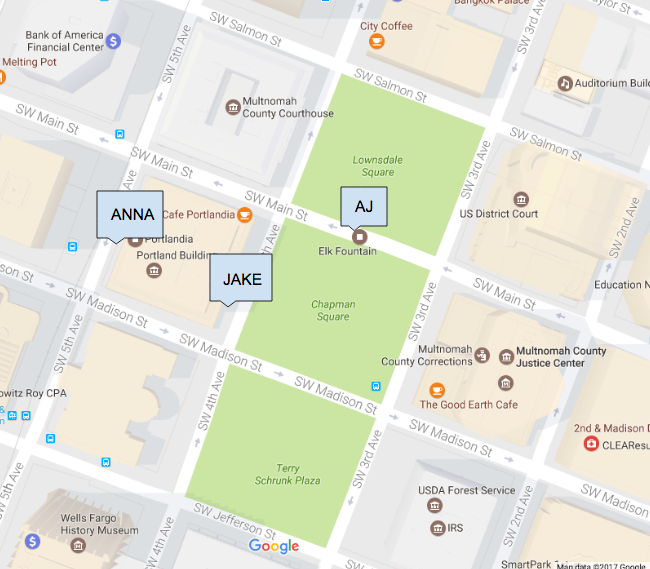 Sunday's map
Livestreams will also be archived and viewable after the end of the event.